Annex 1: Regional Workforce and Skills Priorities
On this page
Tāmaki Makaurau is home to one of New Zealand's largest populations and economic hubs. By 2028, Tāmaki Makaurau's workforce will reach 1 million, up about 7% from its current 33% of the nation's total. However, skills shortages have hampered economic progress in the region. The RSLG has interacted with key stakeholders to better understand the region's labour market requirements to support our people into meaningful professions, and good jobs to strategically position Tāmaki Makaurau for the future.
In Auckland, talented people are most needed in industries driven by innovation, technology, and the future. The region lacks skilled workers in construction, hotels, manufacturing, engineering, logistics, healthcare, and IT. Due to a shortage of training and education options, job seekers lack these skills employers and businesses need to grow. Immigration laws have made it harder for companies to attract skilled migrant workers which has made recruiting qualified candidates even harder. According to the 2023 EMA Skills Shortage Survey, 71% of respondents indicated highly skilled jobs were the hardest to fill and that businesses were investing in training and upskilling initiatives to strengthen their present staff and close knowledge gaps.
Addressing the skills gap will require increasing investment in training and education, tailored immigration policies to attract qualified employees from overseas, and targeted programmes to encourage more young people to work in these fields. Tāmaki Makaurau's growing elderly population means businesses must recruit younger staff and invest in training and upskilling to create a future-ready workforce.
Employment rates and wages in Tāmaki Makaurau are similarly unequal, especially among Māori, Pacific, and ethnic populations who are still taking home lower pay for like jobs. In an even tighter labour market, inclusive participation—removing barriers to encourage more women, embracing older workers as assets, overcoming hiring discrimination for Māori, Pacific, and migrant workers, and better skills matching for many new migrants—is the only solution. RSLGs submission for Tertiary Education Commission guidance explores Auckland's jobs and qualification needs in further detail and pathways to support our communities to access Auckland's labour market opportunities. An excerpt of this report is provided in Annex 3 – Sector based roles and qualification details for Auckland.
Advice for the Tertiary Education Commission
Annex 3: Sector based roles and qualification details for Auckland
Construction
Auckland has experienced significant population growth in recent years, which has driven demand for new housing and infrastructure. This is expected to continue, leading to a sustained demand for workers with skills in construction, engineering, and related trades.
Hospitality
Auckland is a popular destination for domestic and international tourists, and the sector is expected to continue to grow in the coming years. This is likely to lead to a demand for workers in areas such as hospitality, tourism management, and event planning.
Manufacturing
Auckland's manufacturing sector will adapt to economic and technical changes. In this fast-paced sector, problem-solvers, communicators, and adapters are in demand. Automation, robotics, and additive manufacturing are becoming more common. As firms seek efficiency and cost savings, these abilities will be in demand.
Information and Communications Technology (ICT):
Auckland has several technology enterprises in the ICT sector. Software developers, cybersecurity experts, data analysts, and AI experts will be needed as organisations continue to digitise.
Healthcare
As the region's population ages and Auckland's grows, healthcare demand will rise. This will boost nursing, aged care, and related health jobs.
Māori, Pacific, ethnic, and recent migrants
Māori, Pacific, ethnic, and other groups in Auckland have very different employment and salary rates compared to Auckland working age population as a whole. Introducing pay transparency legislation is a big step towards closing the gender, Māori, Pacific, and other ethnic pay gaps. Solving this discrepancy is crucial to ensuring that everyone has access to Auckland's opportunities and that it attracts migrant workers with new skills, perspectives, and international links. The Tāmaki Makaurau population has declined two years in a row for the first time in over 2 decades. Tāmaki Makaurau has 19,000 fewer residents than in 2020, according to Statistics NZ projections (Subnational population projections: 2018(base)–2048 update). Aucklanders are leaving as foreign migration decreases. By 2040, Tāmaki Makaurau will have over 2 million people. Although most tertiary institutions are in the centre and isthmus, this expansion will take place in Franklin, Papakura, Rodney, and Upper Harbour. Upskilling and training employees requires investment in these outskirts.
Māori and Pacific communities in Auckland have higher unemployment rates despite the labour market recovery. Historical and systemic barriers to employment, education, and workplace discrimination contribute to this. Compared to 2021, 22,000 Pacifica and 39,000 Māori are unemployed, while Pakeha and Asia unemployment is similar. The past decade has seen 2,075 more project builders in Tāmaki Makaurau, up from 748 in 2012. The Group promotes lifelong opportunities for Māori and Pacific to upskill, learn, develop, and maintain employability and pay equity during growth and disruption.
COVID-19 impact
The Covid-19 pandemic has had a major impact on Auckland, New Zealand's largest city and economic hub, with significant workforce challenges. Auckland had pre-pandemic issues like ageing workers and rising demand for skilled workers. STEM talent is hard to find, causing a skills gap in key industries. Employers face opportunities and challenges as migrants and international students join the ageing workforce. Our stakeholder interactions with industry, learners, and employers have highlighted the need to adopt innovative strategies to attract and retain skilled employees, such as on-the-job training and development programmes and a more inclusive work environment that values diversity.
Rangatahi
Rangatahi Māori and Pacific youth are shaping the regional workforce. Māori and Pacific people make up 27% of Auckland's population but 40% of recent school leavers—Tāmaki Makaurau's future workforce. Over 50% of Māori and Pacific residents of Tāmaki Makaurau are under 25, compared to 32% and 34% for European and Asian residents. The region has 67% of school leavers with NCEA levels 3 and above, compared to 56% nationwide. The COVID-19 pandemic has closed schools and disrupted learning. This may have hindered some students' education. Rangatahi from low-income families often face financial stress, a lack of resources and support, and school disengagement. South and West Auckland are disproportionately affected by school completion, dropouts, and part-time work. Systemic bias, discrimination and lack of contextualised learning in a culturally-safe environment may prevent Māori, Pacific, and some ethnic students from graduating. NEET youth are even worse off. South Auckland, which includes Māngere-Ōtāhuhu, Ōtara-Papatoetoe, Manurewa, and Papakura, had 37% (11,800) of Auckland's NEET youth in 2021. The Group supports The Southern Initiative's Social Procurement, Amotai, Uptempo, Pacific Peoples Workforce Challenge, Māori, and Pacific Trades Training programmes, as well as the initiative to centre these rangatahi.
Construction and infrastructure sector
The residential construction boom of the last few years that was reported in our last RWP has started to ease off. This has seen a growing number of company liquidations and subsequent redundancies in the region. We understand that major suppliers of construction timber in Aotearoa are cutting back production with further redundancies forecasted. However, recent investment in major transportation, infrastructure and public facilities projects has made this industry a regional priority. Therefore, the current skills and labour gaps in the construction and infrastructure sector will need to be addressed in order to leverage sustainable job opportunities for the local workforce.
Tāmaki Makaurau's Construction and Infrastructure sector employs 14.7% of Aucklanders and averaged 139,813 jobs in March 2022. Construction & Infrastructure employment in Tāmaki expanded 5.3% in 2022, compared to 3.2% citywide. Over the past decade, employment grew 5.3% compared to Tāmaki's 2.6%.
Business confidence affects employment growth in the industry. This summer's severe weather and flooding in the region delayed projects and forced businesses to prioritise clean-up and repairs. Infometrics forecasts a peak in regional labour demand in 2023, although flood recovery may prolong a slump as there might be a pull on labour skills by other regions that have been more severely affected by the weather events that could be more of a recovery priority, and retired or leaving workers will need to be replaced.
Infometrics forecasts 29,321 Tāmaki Makaurau WDC Construction & Infrastructure sector employment vacancies between 2023 and 2028. Most job opportunities are projected to be nett replacements. Additionally, there is a forecast shortage of workers with higher level qualification in the industry – diploma level and degree level. These are occupations such as quantity surveyors, structural engineers, planners.
Infometrics estimates that 33,764 people will need to be trained over the next 5 years until 2028 to replace building and infrastructure workers who retire or leave the sector Annex 3 contains sector roles and credentials recommended to the Tertiary Education Commission. Programmes like Apprenticeship Boost (which has been extended to the end of 2024), and Targeted Training and Apprenticeship Funds (TTAF), that support learners to train without fees and support employers to take on apprentices with subsidies, have contributed to more workers coming through at the level 4 or trades qualified levels to meet future demand in 2028.
Job openings in the Construction & Infrastructure sector in Auckland

Text description of graph
Forecast job opening and detailed occupations - Construction & Infrastructure sector in Auckland, 2023-2028

Text description of graph
Manufacturing Engineering & Logistics
Tāmaki Makaurau, New Zealand's largest manufacturing centre, employs roughly 34% of the nation. According to Infometrics' 2022 economic estimate, manufacturing contributed 0.9% or $11,521 million to the nation's GDP. Infometrics forecasts 1,523 manufacturing jobs in 2028. Most of these openings will be replacement job openings. Most workers are 40+, male, Pakeha (50.5%), Asian (26.4%), and Pacific (18.9%). 23.2% of manufacturing workers are technicians and tradespeople. Managers roles account for 18.4% and labourers 16.9%. The industry primarily comprises of a significant number of high-skilled and low-skilled jobs, with limited positions in between. As a result, progression into higher-skilled roles is made more difficult due to the significant change in skill and responsibilities that come with higher-skilled roles as there is a shortage of mid-tiered roles to support that progression .
In the year up until March 2022, 208,053 Manufacturing, Engineering, and Logistics positions were filled in Auckland Tāmaki Makaurau and employs 21.9%t of Aucklanders. Tāmaki Makaurau's Manufacturing, Engineering & Logistics industry historical and forecast trends: In 2022, employment expanded 2.3%, compared to 3.2% in Tāmaki Makaurau Over the past decade, employment grew 1.6% compared to Tāmaki Makaurau's 2.6%. Infometrics forecasts71,277 Manufacturing, Engineering, and Logistics jobs in Auckland between 2023 and 2028. of the forecasts openings, approximately 80% of these will be replacement jobs. Labour supply in this sector is on the decline. Furthermore, it looks to be one of the sectors to use Artificial Intelligence (AI) to supplement its loss of labour supply. While there are concerns about new technology displacing human employment, its adoption also produces jobs that require more technical skills, meaning higher pay, and sometimes more rewarding. The degrees required are drastically different, with experts in mathematics, computer science, and data science more probable, as well as potential AI credentials
Job openings in the Manufacturing, Engineering & Logistics final sector in Auckland

Text description of graph
Hospitality
At a macro level, after 2 years of shocks caused by pandemic lockdowns, restrictions and border closures, employment in the hospitality sector is starting to bounce back. Hospitality is the only sector to increase online job advertising in Tāmaki Makaurau in December 2022. However, severe labour shortages in particular categories continue to exist, for example businesses continue to struggle to find and retain chefs. Part of the challenge is high turnover and largely seasonal labour demand, making it harder to maintain adequate staffing levels through the year. Overall, this is costly for businesses as there is a need to continuously recruit and train employees.
Looking to the future, the employment outlook is optimistic. Employment is expected to return to pre-COVID levels by the end of this year, and exceed these levels by next year. Infometrics forecasts that in the next 5 years there will be 26,807 job openings, 8,856 of which will be new jobs. In the future it is expected that:
1,810 more chefs will be needed.
654 more waiters will be needed.
918 more restaurant managers will be needed.
597 kitchenhands will be needed.
Our region's Accommodation and Food Services sector is a significant contributor to GDP ($2, 027m in 2022), and therefore a significant source of employment for our people. In March 2022, this portion of the hospitality sector averaged 58,061 employees which accounts for 6.1% of employment in Tāmaki Makaurau. Regional data suggests employment in Tāmaki Makaurau's Accommodation and Food Services sector expanded by 3.2% compared to the national expansion of 2.4%. Between 2022 and 2028, it is estimated that employment in this sector will continue to expand by 2.6% a year in Tāmaki Makaurau, compared to 2.4% nationally.
While employment for the sector as a whole looks optimistic, the more localised impacts of Cyclone Gabrielle cannot be understated. At a macro level, recovery from adverse weather events is well on its way, however pockets of the industry continue to experience hardship.
Insights on the impacts of Cyclone Gabrielle provided by a February 2023 Restaurant Association NZ member survey showed:
96% reported being impacted by the cyclone through either damage, cancellations of people travelling to the region, substantial downturn in business, or other reasons.
87% experienced a decline in number of customers.
5% reported damage to their businesses.
75% could not operate (for a period).
Job openings in the Accommodation & Food Services sector in Auckland

Text description of graph
Forecast job opening and detailed occupations - Accommodation and Food Services sector in Auckland, 2023-2028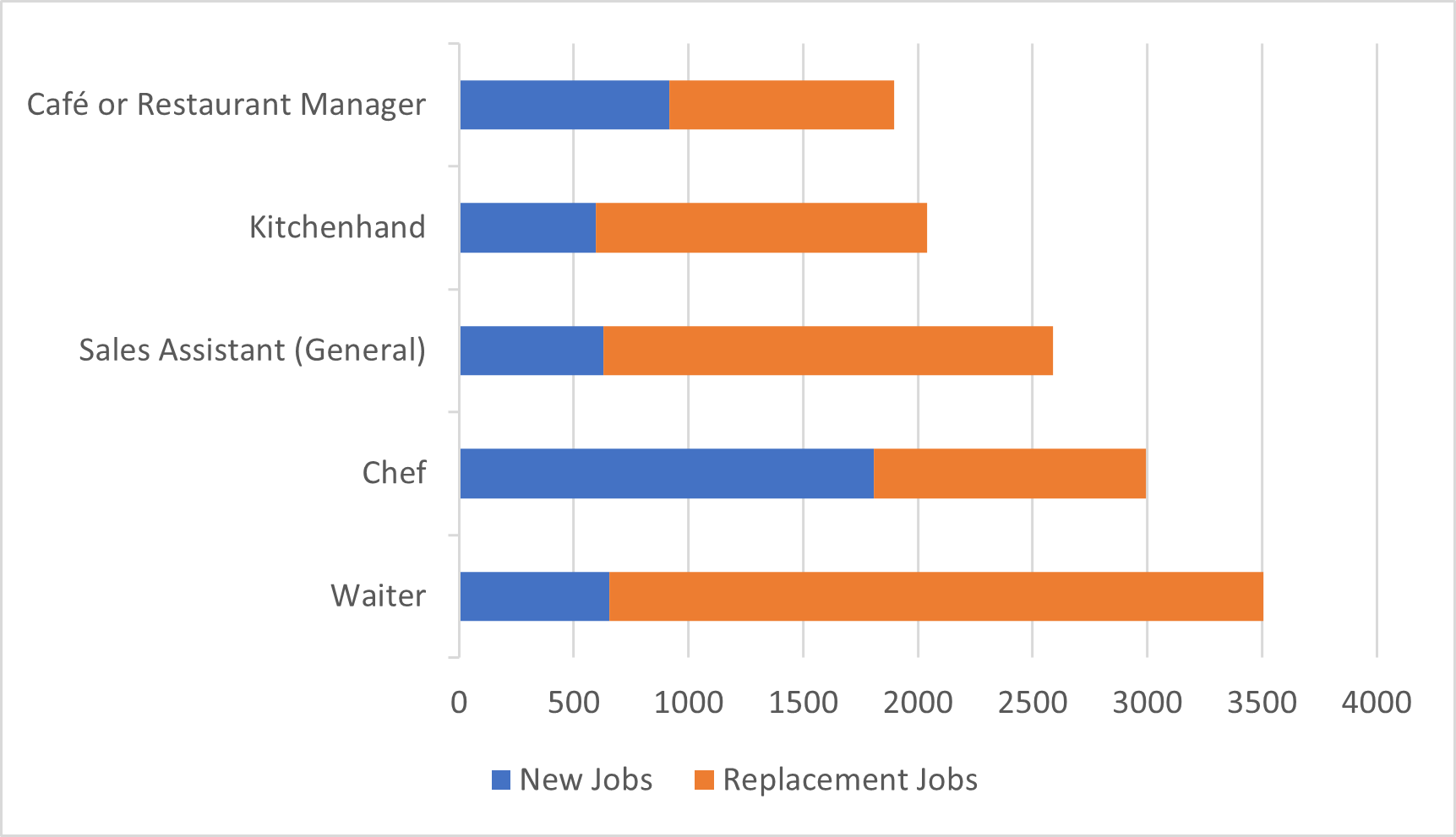 Text description of graph
Health
Tāmaki Makaurau has an ageing population, who will require more care in the future which generates employment opportunities in the health sector. Other labour market sectors might experience flow on effects from this nature of our ageing population, as workers retire or reduce hours, creating opportunities for students, returning workers or those seeking a career change.
Infometrics forecasts that by 2028, employment in the health sector will increase by 13% putting the total number of workers at 93,052. It is forecasted that the health sector will generate forecasts 26,805 job opportunities between 2020 and 2028, 80% of which will replace departing workers.
Given completion rates for level 4 and above health courses, there will be adequate supply of labour into high skilled roles such as nursing. However, it is likely there will be insufficient numbers of kaiāwhina and health care assistants to meet the needs of the population.
Infometrics forecasts 26,806 Health Care & Social Assistance jobs will be needed in Tāmaki Makaurau between 2023 and 2028. Of this total, 5,259 will be new jobs and 21,547 will be replacement jobs (vacancies created by kaimahi/employees leaving their roles).
Between 2023 and 2028, 40.2% of Auckland Health Care & Social Assistance employment vacancies are predicted to be in the top 5 detailed occupations. 30% of this sector's job vacancies will be replacements.
Some sectors are predicted to perform better than others in 2023 and beyond, but the economic outlook is bleak. However, both the RBNZ and the Treasury predict a technical recession this year, with the latter predicting a 0.8% drop over 3 quarters. Analysts think New Zealand is in a recession. In times of economic uncertainty, firms cut positions and unemployment rises. More businesses are closing than opening, resulting in layoffs. It may be a good time to maintain capacity while job training possibilities decrease. In 2023, a recession, rising material prices, and borrowing rates may force some industries to downsize, but others will thrive.
Our future workforce priorities
Tamaki Makaurau lacks skilled workers in construction, hospitality, manufacturing, engineering, logistics, healthcare, and IT. Addressing the skills gap will require increasing investment in training and education across the region, tailored immigration policies to recruit qualified employees from overseas, and targeted recruitment programmes to attract more young people to into these industries. Given the region's skills and unique labour market characteristics (in terms of size, diversity, a growing elderly population and major infrastructure projects), the RSLG's view is that an intergenerational approach will be required to develop the pipeline of education and training needed for Tāmaki Makaurau, and to capture opportunities to create sustainable, long-term, skilled employment for the local workforce. The role of the RSLG will be supporting initiatives through advocacy, monitoring and regional coordination of workforce development activity across Tāmaki Makaurau, with a particular focus in Franklin, Papakura/Drury, Rodney, and Upper Harbour. Some options discussed by the RSLG to achieve this are:
Whānau should initiate cross-generational learning opportunities - RSLG recommends prioritising workforce relationships between whānau and community members, fostering a sense of belonging and identity while promoting the well-being of all individuals by developing their skills and supporting workforce development initiatives that support the community, such as the whānau Ora Support by Te Pae Herenga o Tamaki Collective.
Foundational abilities are essential for tertiary student success and professional success - In Auckland. Māori, Pacific, recent migrants, and ethnic learners in Auckland face many foundational learning obstacles.
Language and literacy barriers—New literacy standards may discriminate against Māori, Pacific, and non-English speakers. Auckland is culturally diverse with many non-native English speakers. This can make it hard for certain students to understand and speak English, the language of teaching in most schools. Cultural disparities in teaching and learning can also challenge different learners. Some students prefer collaborative or participatory learning, while others prefer lecture-based techniques. Low-income households, homelessness, and food hardship can also affect diverse learners' core learning. These students may have trouble getting educational resources and support. South and west Auckland low-income families face this. Foundational learning may be difficult for students with learning difficulties. These students may need extra help to profit from educational possibilities.
Addressing fundamental learning challenges – Māori, Pacific and ethnic students may struggle at school due to cultural disconnection and socioeconomic inequality. Educators, governments, and communities must work together to provide all kids, especially Māori, with high-quality foundational education and the support they need to succeed. We can improve Auckland and global education by addressing these issues.
The RSLG supports foundational skills to address these sector challenges, which require a multi-faceted approach that includes creating inclusive and culturally responsive learning environments, providing targeted support and accommodations for diverse learners, and addressing systemic inequalities that affect access to education and success. Given Auckland's broad and multicultural student body, this urgent necessity must be addressed.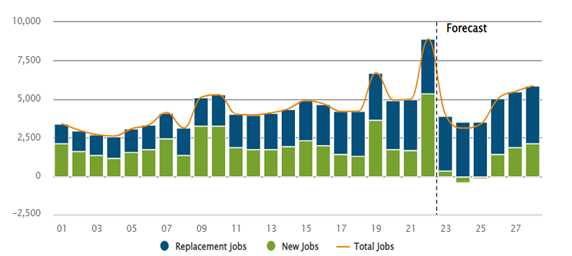 Text description of graph