Ngā Hangarau Matihiko | Digital technologies
On this page
Horopaki | Situation
Digital technologies are vital for our future economy and productivity. The digital technology (tech) sector is high value and a key enabler and productivity enhancer for many other sectors. Growing the sector will support a more productive, sustainable, inclusive and resilient Canterbury economy. Growth in this sector is high across New Zealand. Nationally there are more than 20,000 tech firms, most of them small businesses. These firms employ over 114,000 people and have an average wage that is significantly higher than the national average.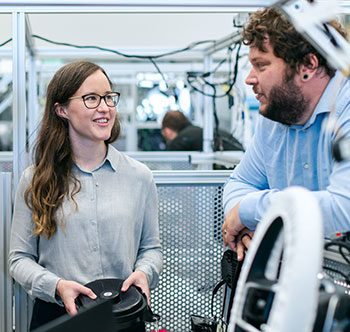 Canterbury has one of the largest tech environments in the country with the tech sector contributing $2.4 billion worth of GDP and over 15,000 jobs. This is made up of several different software, services, electronics, high-value manufacturing, health-tech, aero-tech and agri-tech businesses – from small start-ups to global multi-nationals. This sector is not like other areas of the labour market economy as it is not restrained by an industrial base and geography. Products in the sector are often 'weightless', in the sense that output can often be scaled up without the use of additional natural resources.
There are numerous examples of Canterbury tech firms succeeding on the international stage, and the flow-on effects of that success are significant. Current job data shows employment in the sector is trending upward, and at a rate faster than the national average. Compound annual employment growth from 2015-2020 was 4.5% – well above the national average of 2.4% over this period.
Ngā taero | Complications
Attracting, retaining, and developing an appropriately skilled and experienced tech workforce is a significant issue, not only within Canterbury, but also nationally and globally. It has become clear that there is a need to develop both a stronger domestic talent pipeline whilst also supporting immigration settings that allow specialised overseas talent to support the current and future needs of this sector.
These workforce challenges have only been further emphasised by the changes to immigration and border settings in recent years, brought on by the COVID-19 pandemic. Recent industry feedback has made it clear that the biggest barrier to growth and success across numerous parts of the industry, is their ability to attract and retain the suitably skilled staff that they need.
The sector also has clear diversity and inclusion challenges, particularly evident when considering the numbers of women and Māori and Pacific peoples within the industry. A recently completed 2021 Digital Skills Survey showed that:
only 27% of digital teams were women
Māori make up just 4% of staff in IT teams and Pacific peoples just 2.8%
54% of respondents had no Māori staff and 59% no Pacific staff.
Whakapae | Summation
With significant growth anticipated and high levels of competition for talent expected to continue into the future, Canterbury must position itself to make the most of the opportunities the tech sector presents. The region needs to focus on attracting a more diverse workforce and provide accessible pathways into the industry. It must take a joined-up approach that addresses short term business needs, whilst also developing pathways and pipelines into and across an industry that is more welcoming of diverse backgrounds. The Canterbury RSLG highlights some key issues and actions for this sector below:
Ngā take| Issues
There is a shortage regionally and nationally of qualified and specialised staff that have the skills to match industry/business needs.

Immigration settings need to enable highly skilled and specialised positions that cannot currently be filled in New Zealand, to be sourced from overseas.

The sector has diversity and inclusion challenges, particularly evident among the low proportion of women, Māori, and Pacific peoples within the industry.

University and other training courses need to be more agile to adapt their training to include modern technologies and methods.

There is a lack of visibility of the career options and pathways available in the technology sector for rangatahi and those with transferable skills within the workforce.
Ngā mahi | Actions
See Hei mahi | Summary of actions for full details
Cross cutting actions on:
Migration settings – Promote migration settings that enable Canterbury to recruit the skilled and experienced international workforce that they need (that cannot be found nationally) to thrive.
Promote Canterbury – Support industry- led campaigns to attract more workers across key priority sectors to Canterbury as an ideal destination to live and work – both from within New Zealand and overseas.
Workplace diversity – Support programmes that aim to improve diversity in under-represented workforce sectors. In particular this includes groups such as women, Māori, Pacific peoples and the neuro diverse.
Training pathways – Facilitate the development and uptake of new training pathways that provide ways of recognising prior learning, upskill new or returning staff and support meeting immediate training needs in a cost-effective way.
Up-to-date training – Facilitate closer connections between training providers and industry to ensure training courses are up-to -date, use relevant tools and methods, build current worker capability, and develop work -ready graduates.
Best practice workplaces – Research and map best practices that foster supportive workplace environments and a positive culture among staff, where diversity and safety in the workforce is valued.
Sector perceptions – Work with sectors and industries to educate and change outdated perceptions of the focus sectors, promote why they could be a good choice, and the diversity and range of opportunities available in them.
Area-specific actions:
Digital Technology workforce diversity – Support and align programmes that look to specifically increase diversity in the advanced digital workforce. Specifically with the neuro diverse community.
Digital Technology perceptions – Support a sector-wide approach to specifically changing the perception of working in advanced digital, promoting the sector's diversity, flexible work options and wide range of opportunities.