Appendix 1 — Implementation
The following section provides an overview of how accreditation for AEP will work in the future, as well as a timeline of how it is proposed ACC will implement the changes through contractual arrangement.
On this page
Future state accreditation
It is proposed ACC will implement accreditation as follows:
Assess if an employer has the financial strength and stability to meet the costs of their employees' cover and rehabilitation.
Require an ACC-approved external health & safety assessment that is current for at least 12 months and has met a level acceptable to ACC
Proposal 1
Check the employer has passed the revised and strengthened Claims and Injury Management Audit
Proposal 2
Assess performance to determine if an AE can get reaccredited and what product choices they can access.
Proposal 3
Proposal 4
Transitional arrangements
The graphic below shows a timeline of how ACC intends to implement the proposed changes to AEP. All AEs will have renewed contracts reflective of these changes by 2025.
Transition arrangements from current to new AEP framework conditions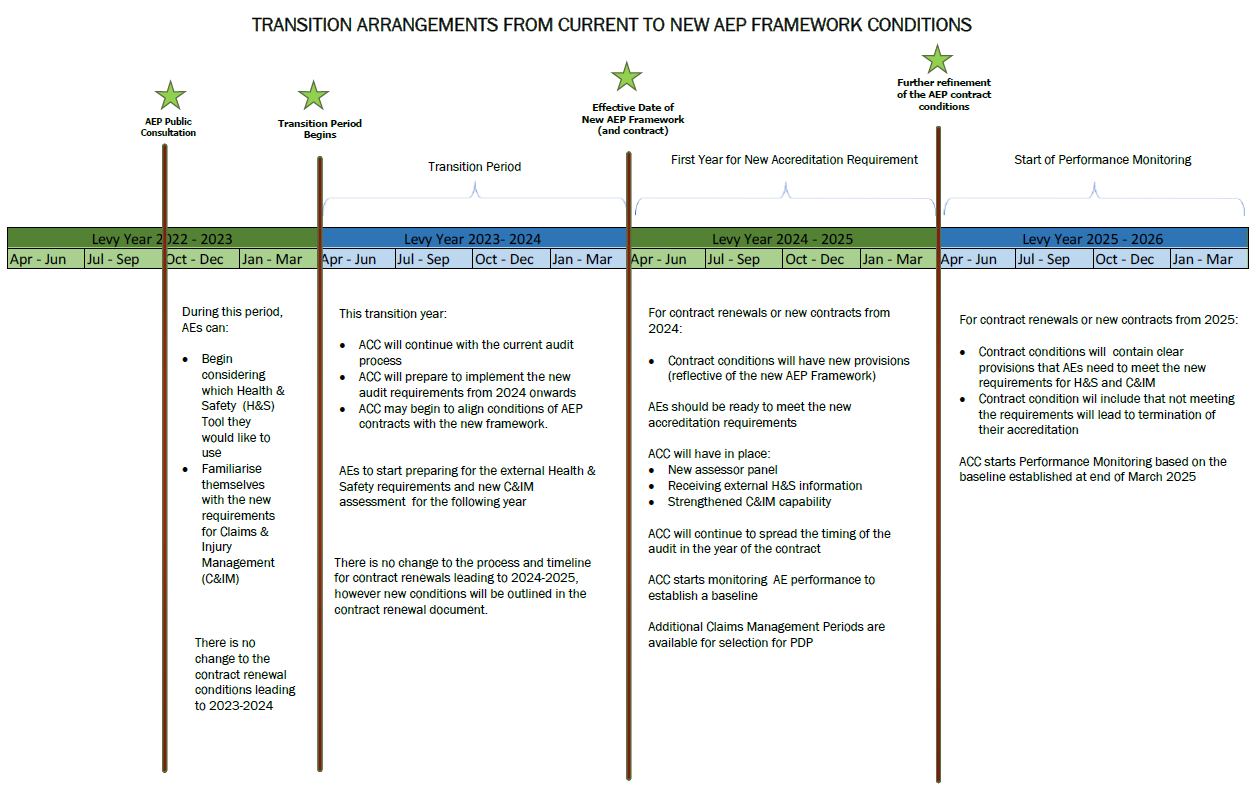 Transition arrangements from current to new AEP framework conditions text
Levy year 2022-2023
AEP Public Consultation
From October 2022 to March 2023
During this period, AEs can:
Begin considering which Health & Safety (H&S) Tool they would like to use
Familiarise themselves with the new requirements for Claims & Injury Management (C&IM)
There is no change to the contract renewal conditions leading to 2023-2024
Levy Year 2023-2024
Transition Period Begins
Transition Period from April 2023 to March 2024
This transition year:
ACC will continue with the current audit process
ACC will prepare to implement the new audit requirements from 2024 onwards
ACC may begin to align conditions of AEP contracts with the new framework.
AEs to start preparing for the external Health & Safety requirements and new C&IM assessment for the following year
There is no change to the process and timeline for contract renewals leading to 2024-2025, however new conditions will be outlined in the contract renewal document.
Effective Date of New AEP Framework (and contract)
First Year for New Accreditation Requirement
April 2024 to March 2025
For contract renewals or new contracts from 2024:
Contract conditions will have new provisions (reflective of the new AEP Framework)
AEs should be ready to meet the new accreditation requirements
ACC will have in place:
New assessor panel
Receiving external H&S information
Strengthened C&IM capability
ACC will continue to spread the timing of the audit in the year of the contract
ACC starts monitoring AE performance to establish a baseline
Additional Claims Management Periods are available for selection for PDP
Further refinement of the AEP contract conditions
Start of Performance Monitoring
April 2025 to March 2026
For contract renewals or new contracts from 2025:
Contract conditions will contain clear provisions that AEs need to meet the new requirements for H&S and C&IM
Contract condition wil include that not meeting the requirements will lead to termination of their accreditation
ACC starts Performance Monitoring based on the baseline established at end of March 2025