Construction sector trends monthly media and information overview: September 2021
An overview of the key research, data, and media releases in September 2021.
On this page
The key themes were:
Data releases show six months of record highs for the number of building consents issued
Media focus on challenges moving building products through the Auckland boundary to other regions
Building Consent Authorities under pressure to meet demands of the current building boom
General summary
Construction-related media highlighted challenges relating to the COVID-19 alert level restrictions — particularly the manufacturing of products in Auckland and moving products and materials across the Auckland boundary into other parts of the country.
Research releases focused on the current and potential future state of the building and construction sector. Findings highlighted the high level of resilience the sector has maintained in the face of COVID-19 alongside challenges including rising construction costs and shortages in terms of construction materials and labour.
Data releases showed that building consents continue to reach record highs over the last six months, while economic activity in the construction sector also grew in the June quarter.
Research releases
2 reports released in September highlighted the current state of the building and construction sector.
MBIE's Sector Trends Annual Report 2021 found that the sector remained strong in the past year despite
challenges faced as a result of the COVID-19 pandemic. Building consent numbers reached record-level highs and the workforce grew and became more diverse, alongside a steady pipeline of domestic students and apprentices. The building landscape is also changing with the introduction of innovative building designs, technologies and materials.
Research commissioned by the Construction Sector Accord increased understanding of current supply chain challenges facing the construction and infrastructure sector. Key issues identified included: increases in the price of materials and supplies; shortages of materials and supplies, particularly structural and non-structural wood products; and shortages of experienced/skilled staff.
Supply chain research Stage 1 — final report(external link) — Construction Sector Accord
Data releases
Statistics New Zealand data shows that a record 4,490 new homes were consented in August 2021, continuing a trend of six months of record highs for new home consents. In the year ended August 2021, new homes consented were up 24% on the previous year at 46,453. In August 2021, the seasonally adjusted number of new dwellings consented rose 3.8%, following a 2.2% rise in July 2021. Multi-unit homes continue to be a growth area. There were 21,164 multi-unit homes consented in the year ended August 2021, up 35% from the previous year. The number of new stand-alone houses rose 16% in the latest year to 25,289.
Record number of new homes consented(external link) — Stats NZ
Economic activity rose 2.8% in the June 2021 quarter as measured by the gross domestic product (GDP). This follows a rise of 1.4% in the March 2021 quarter. Average annual GDP rose 5.1% through the year to June 2021. Construction activity grew by 1.3%, following a 4.0% rise in the March 2021 quarter. This was driven by construction services and residential building construction, offset by falls in heavy and civil engineering construction and non-residential building
GDP rises in the June 2021 quarter(external link) — Stats NZ
Media
There were over 820 building and construction-related media articles generated in September 2021, a slight decrease from the over 850 articles produced throughout August.
Trending media content included themes of:
the resumption of building and construction work under alert levels 3 and 2
manufacturing and the moving of building products through the Auckland border to the rest of the country
Building Consent Authorities under increased time & capacity pressures alongside a building boom
Kāinga Ora increasing capacity of new prefabricated buildings.
With the resumption of building and construction under levels 3 and 2, some firms reported delays with the restarting of work due to contractors taking gear and heavy machinery off-site to more secure locations to prevent theft and vandalism, Stuff.co.nz reported concerns about an increase in construction site thefts over the past year.
Manawatū developers get back to work at alert level 3(external link) — stuff.co.nz
Media continued to focus on the moving of building products through the Auckland border, with Radio New Zealand reporting that Auckland warehouses were overflowing with building products that were prohibited from being moved out of the region due to border restrictions. The government eased restrictions on the manufacture of some essential building products in Auckland during early September, which prompted calls for more products to be allowed through restrictions to meet demand. The increased demand for building products also raised concern that more builders were looking to substitute products which could result in issues with compliance and potentially delay the consenting process.
Warehouses in Auckland 'completely full' with building materials(external link) — RNZ
Builders look to cut corners with squeeze on construction supplies face risks(external link) — RNZ
Radio New Zealand reported that some builders would struggle to get Certificates of Compliance for their developments, due to cutting corners when it came to building products in short supply.
Product supply issues, the building boom and labour shortages have impacted on Building Consent Authorities, creating added pressure on the timely processing of applications. The Bay of Plenty Times reported that Tauranga City Council were taking on extra contractors and seeking support from other councils to help mitigate further delays.
Hundreds of building consents stalled as Tauranga City Council scrambles to clear 'backlog'(external link)
Kāinga Ora announced plans to purchase thousands of prefabricated homes, to address the country's growing need for transitional housing, many of which will be built offshore and shipped over.
Kāinga Ora to build thousands of prefabricated homes for transitional housing(external link) — stuff.co.nz
Monthly new residential dwellings consented, by building type, January 2011 to August 2021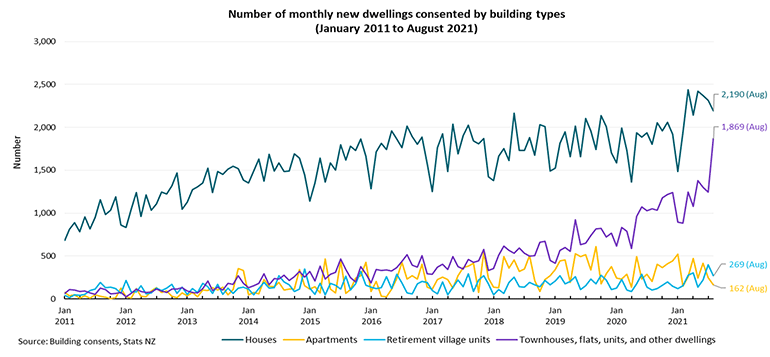 Last updated: 20 October 2021