Construction sector trends monthly media and information overview: November 2021
An overview of the key research, data, and media releases in November 2021.
On this page
The key themes were:
Media focus on supply chain impacts from COVID-19, particularly product supply delays and shortages
Construction costs continued to rise, and at a faster rate than over the previous three years
Building Consent Officers 'swamped' with work as the number of consents under application rise
General summary
Building consent figures remained at record-level highs. Canterbury consent volumes rose above the post-2014 earthquake levels demonstrating the strong volume of building work and the current "boom" context for the sector.
Media focus on the building product supply chain and challenges such as product delays and shortages continues unabated, further positioning this story as one of the most prevalent of 2021 for building and construction.
Research releases
MBIE released its COVID-19 pandemic and its impact on building system actors report on 5 November. This research captured how the first wave of the pandemic in New Zealand was experienced by almost 4000 people in the building system, including builders, workers, and end-users (such as current and future homeowners). Key findings included:
Supply chain issues were widespread and effected both NZ-made and imported products; with timber products the worst affected.
Businesses faced project management difficulties and completion delays.
Construction costs rose (particularly for products and freight).
Behaviours such as stockpiling and workers completing tasks outside their skill set were reported.
End-users had difficulty getting quotes from tradespeople for the work and/or to do the work.
Spending more time at home led to increased interest in better quality building design and products (particularly for design specifications with less environmental impact); with home offices and more flexible residential design options becoming more commonly specified.
On balance, there was more optimism than pessimism for the future, particularly in relation to the pipeline of future work.
Data releases
According to Stats NZ, there were 47,715 new homes consented in the year ended October 2021, an increase of 26 percent when compared with the year ended October 2020. In October 2021, 4,043 new dwellings were consented across New Zealand. Regionally speaking, Auckland had the highest number of new homes consented at 19,936, in the year ended October 2021. The number of new homes consented in Canterbury was now higher than during the 2014 post-earthquake peak when a record 7,308 homes were consented.
Consents remain at record levels(external link) — Stats NZ
Stats NZ data also showed that hardware and building supplies contributed to a significant fall in overall sales volume in the September 2021 quarter, compared with the June 2021 quarter.
Auckland region leads the retail sales fall(external link) — Stats NZ
The Cordell Construction Cost Index (CCCI) for Quarter 3 2021 reported a 1.6 per cent growth in construction costs when compared with Quarter 2 2021. The annual growth in costs for the year to Q3 2021 was 5.5 per cent. This annual rate increase was the fastest since the first quarter of 2018. CoreLogic stated that "demand for new builds was likely to continue to drive demand and prices."
Cordell Construction Cost Index (CCCI) New Zealand Quarter 3, 2021(external link)
Media
There were over 820 building and construction-related media articles generated in November 2021. Trending media content included themes of:
Building product supply delays and shortages
Difficulties in finding qualified staff
Building Consent Authorities dealing with capacity issues
Media focus continued to be on the impacts of supply chain issues, particularly around delays and price increases of products, and subsequent delays to builds. Stuff.co.nz reported work on some construction sites was "grinding to a standstill", with smaller-scale builders awaiting materials as orders were being cancelled, and suppliers prioritising major developments.
Unfinished homes as severe building supply shortages stall construction(external link) — stuff.co.nz
Some articles reported that major developments were being impacted by the COVID-19 pandemic. For example, the University of Otago's capital development agenda is currently effected, with the university stating that the pandemic was increasing the cost of building material, and effecting project timeframes. The new $344 million Scott Base to be built at PrimePort Timaru was also mindful of supply impacts, as well as current issues in getting qualified staff for the development, due to labour shortages within the region.
Uni predicts $4.7m deficit citing construction, staffing costs(external link) — Otago Daily Times
With the current "building boom", the average number of building consents lodged in one month jumped from 19 in 2020 to 32 in 2021 for the Ashburton District Council, leading to increased pressure on Council staff. While for the Tararua District Council, they engaged a Christchurch-based firm to mitigate the shortfall in building consent staff.
Swamped Ashburton council staff 'coping' with building upsurge(external link) — stuff.co.nz
In anticipation of the release of the latest Building Code Update in November, the media focused on potential changes to insulation requirements, as well as supply chain stresses effecting industries' ability to implement the required changes.
Supply strain stresses hit building standards change(external link) — New Zealand Herald
Number of new residential consents by building type, 12 month rolling total (January 2011 - October 2021)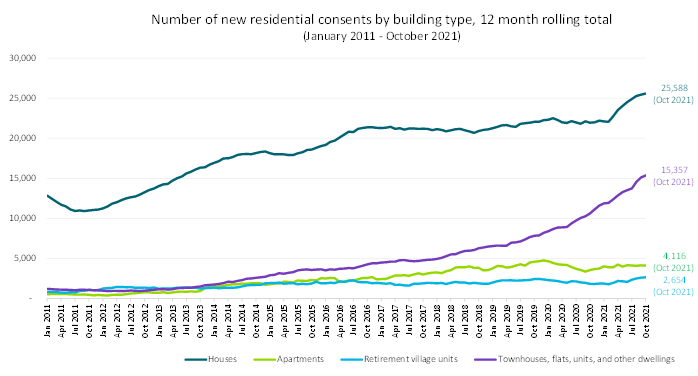 Last updated: 20 October 2021