Construction sector trends monthly media and information overview: August 2021
An overview of the key research, data, and media releases in August 2021.
On this page
The key themes were:
Building product supply chain issues continued to be a focal point for both media and research releases
Tightening construction labour supply is resulting in higher wages and "poaching" of staff
Building consent volumes remained high, while filled construction jobs increased to meet market demand
General summary
Supply chain concerns, rising construction costs, and labour shortages continued to be the trending media content in August 2021.
Research released in late August further delved into supply chain issues, with research from BDO and EBOSS reporting that: delayed receipt of materials were affecting project timeframes; rising freight costs were being passed onto customers; and there were concerns about the current and future availability of labour.
Data releases showed that the high level of building activity continued, with consent volumes for residential builds remaining high, while filled jobs for construction rose to meet the strong demand for labour in a busy building and construction sector.
Research releases
2 reports were released at the end of August, each highlighting challenges relating to building product and labour supply within the sector.
The 2021 BDO New Zealand Construction Sector Report, a survey of the current state of the sector, found that over 60% of industry respondents were concerned about material shortages and inflation. 70% reported increased cost of materials eroding margins, as a major adverse impact of COVID-19 on their business. Just over half (56%) reported delayed projects due to delayed receipt of materials, while 32% had delays which exceeded 2 months. More than half were actively looking for skilled on-site workers.
2021 BDO New Zealand Construction Sector Report(external link) — BDO
The EBOSS Construction Supply Chain Report 2021 reported that supply issues were widespread (regardless of product category, business size or revenue level), and that the majority of suppliers were experiencing supply issues. 90% of all product sold in NZ were either imported or contained imported components not easily replaced by domestic supply. 4 in 10 reported that they did not have enough staff to meet current demand, while 56% did not believe that they had enough staff to meet anticipated future demand. (The survey was conducted with senior managers from 240 building product and material suppliers in July 2021.)
EBOSS Construction Supply Chain Report 2021(external link) — EBOSS
Data releases
Stats NZ highlighted that there was a 6.7% rise in filled construction jobs for July 2021 (compared with July 2020). This rise was the second largest out of all industries, with 12,097 filled jobs in construction added.
Employment indicators: July 2021(external link) — Stats NZ
The number of new homes consented rose 20% in the year ended July 2021, compared with the year ended July 2020. 45,119 new homes were consented, with the volume of new residential building consents rising across all regions, except for Marlborough and Otago. In terms of non-residential builds, the annual value of non-residential building work consented was $7.8 billion, up 15 percent from the July 2020 year.
Annual number of new homes consented up 20 percent(external link) — Stats NZ
Media
There were over 850 building and construction-related media articles generated in August, a slight decrease from the over 870 articles produced throughout July 2021. Trending media content included themes of: further escalating supply chain concerns; rising construction costs (due to supply issues and increasing freight costs); labour shortages; rising wages; the "poaching" of skilled workers; as well as the strong market performance of Fletcher Building.
The building and construction supply chain remained a strongly trending topic for media, with the latest focal point being the pre-dominance of New Zealand building products supplied from Auckland, and difficulties moving products into other regions due to Auckland being in Level 4 lockdown.
Building industry fears shortages if supplies remain stuck in Auckand(external link) — RNZ
Media focus on the interrelationship between production supply chain and construction costs also trended through the month. BDO partner, James McQueen, was quoted by Radio New Zealand as saying that the cost of new construction builds could rise by 20% due to material shortages and inflation. Rider Levett Bucknall (RLB)'s Managing Director was quoted in stuff.co.nz as stating that "while the NZ construction market has navigated the COVID-19 pandemic well, labour shortages coupled with global supply chain disruptions could continue to put pressure on construction costs".
Covid-19: New Zealand 'dropped off global supply chain' by many construction material suppliers(external link) — stuff.co.nz
The tightening labour supply and increasing wages also trended through the media content. The combination of supply and wage inflation, coupled with high-levels of building activity and supply chain issues, were believed to create the settings for a "perfect storm". Registered Master Builders CEO, David Kelly, also emphasised the difficulties of finding qualified and experienced tradespeople, in a Radio New Zealand interview, claiming that this was resulting in staff being "poached" from firms.
Wages rise as building and construction industry booms(external link) — RNZ
"Staff poaching" was also portrayed as an issue for regulatory and planning bodies, with Manawatū Mayor, Helen Worboys, reporting that the Manawatū District Council had lost 5 staff members from their building and planning team to Kāinga Ora. She understood they had been offered an average increase of $40,000 to their annual salaries.
Kāinga Ora salaries too attractive to resist for building staff(external link) — stuff.co.nz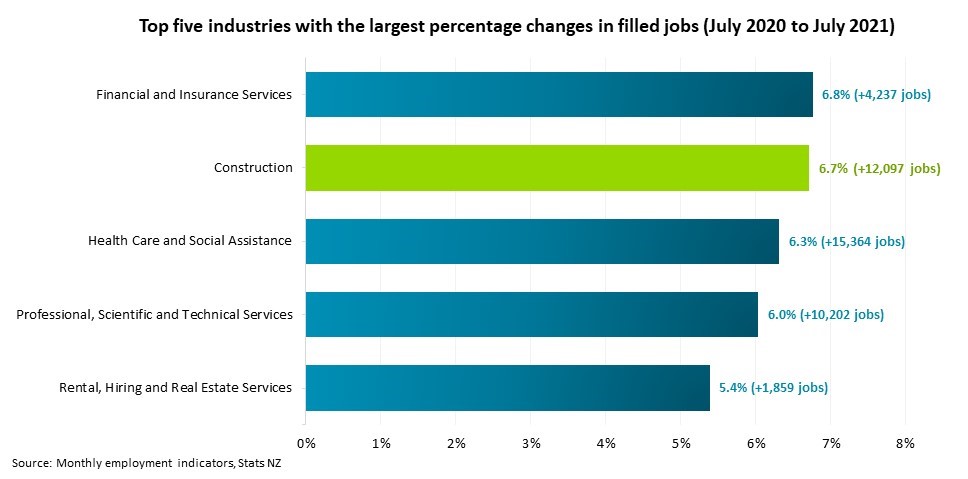 Last updated: 13 September 2021