Innovative partnerships
Our innovative partnerships programme is dedicated to helping research and development intensive businesses connect, collaborate and invest in New Zealand.
On this page
The Innovative Partnership programme
Our Innovative Partnerships programme is run by a team of experts dedicated to helping research and development intensive businesses connect, collaborate and invest in New Zealand.
We engage with innovative companies that are pushing the boundaries of technology and solving the world's big problems, and assist them in finding their New Zealand opportunity.
We can help connect you with the right people, businesses, agencies, research organisations and universities.
A collaborative approach
New Zealand's small size and inter-connected research system makes global collaboration easy. While the programme is led by us, we work closely with Callaghan Innovation, New Zealand Trade and Enterprise, as well as multiple agencies across local and central governments to support and facilitate the elements that influence a decision to undertake R&D in New Zealand.
New Zealand has clear competitive advantages in agritech, digital technologies, health technologies, high-value nutrition, clean energy, advanced aviation and space. However Innovative Partnerships isn't restricted to just these areas.
We are keen to discuss transformative technology areas and emerging sectors, as well as emerging challenges for the economy, environment and society.
Why New Zealand?
Our business-friendly environment and future-focused policy and regulatory settings make New Zealand an attractive choice to research and develop new ideas and products.
With unique expertise, talent and technology, coupled with our size and location, New Zealand offers surprising advantages when it comes to making things happen.
Our advantages for R&D activities
There are many factors that make New Zealand an attractive destination to undertake R&D including:
New Zealand is ranked among the best and easiest places to do business. We have a straightforward, business-friendly taxation system that supports capital development, R&D and international investment.
We have a stable and globally competitive economy powered by a highly skilled workforce.
New Zealand is the gateway to the Asia-Pacific region, located in a key position between Asia and the Americas. We have free trade agreements (FTA) with 15 Asian countries with access to over 2 billion consumers. We were the world's first country to negotiate an FTA with China.
Finally, we have a proud culture of innovation, from splitting the atom to reaching space. We are nimble and ready to respond to new opportunities. We welcome you to explore your New Zealand advantage.
How our Government supports innovation
The Government has committed to raising economy-wide research and development (R&D) to 2% of GDP by 2027 and is supporting businesses in growing their R&D activity to achieve this ambitious goal.
The Government supports innovation through a number of mechanisms, including:
contestable investment funds that support scientific research and R&D in New Zealand
a dedicated innovation agency, Callaghan Innovation, which provides innovation advice, services and grants to businesses to support their R&D activities
an internationally competitive 15% R&D tax incentive for businesses investing in R&D in New Zealand
a Pre-Seed Accelerator that supports publicly funded research to reach commercialisation.
Innovative Partnerships can connect you with our vibrant innovation network and help you navigate the system of support.
Government support for investors
Investors who wish to gain residence in New Zealand may apply for an Investor Visa.
Currently there are 2 visa categories:
investors who wish to invest at least NZD 3 million in New Zealand over 4 years
investors who wish to invest NZD 10 million in New Zealand over 3 years.
The latter may apply for an Investor Plus Visa.
New Zealand Trade and Enterprise (NZTE) is the Government's international business development agency. It has 46 offices worldwide. Its primary function is to work with New Zealand companies to grow their exports. NZTE's Capital Team helps investors find and capitalize on investment opportunities in New Zealand.
The New Zealand Government established the New Zealand Growth Capital Partners to build a vibrant early stage investment market in New Zealand. International partners are actively encouraged to co-invest with this fund.
Success stories
Axiom
Axiom has already successfully completed its first private mission on the International Space Station (ISS) and is currently building the first commercial space station, set to launch in 2024.
With a new memorandum of understanding between Axiom and the Ministry of Business, Innovation and Employment (MBIE), Aotearoa New Zealand's researchers are set to benefit from Axiom's capabilities and learn from their experience carrying out research on the ISS.
The partnership was facilitated by the Innovative Partnerships programme and initially involves two feasibility studies in the areas of protein crystallisation in microgravity and Artificial Intelligence (AI) models for clinical decision support tools monitoring astronaut health and performance.
Other areas of research will include in-space manufacturing and space-focused STEM education initiatives — opening up substantial future R & D opportunities that could lead to exciting new industry niches for Aotearoa New Zealand's growing space sector.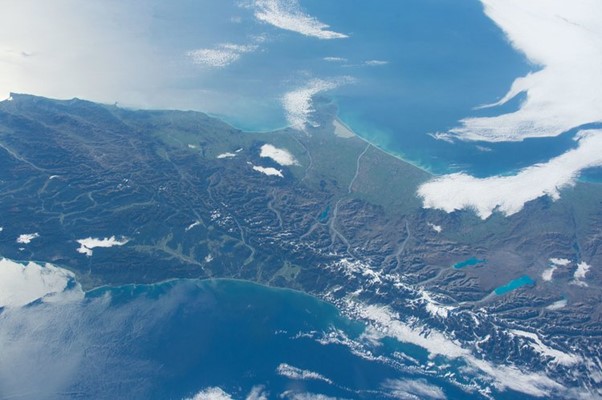 JP Games and CODE
The Innovative Partnerships Programme were instrumental in bringing together Japanese gaming development company JP Games and the Dunedin-based Centre for Digital Excellence (CODE), who connected over their aligned values of fostering diversity and exploring new territory in game development.
Their relationship has resulted in New Zealand Paralympian Holly Robinson being immortalised in the official video game of the Tokyo 2020 Paralympics 'The Pegasus Dream Tour,' one of just nine real-life athletes included.
Global connections such as these are an excellent example of how the Innovative Partnerships team can facilitate bespoke research and development collaboration opportunities, which are key to growing New Zealand's gaming sector.
Read more information about the Pegasus Dream Tour and CODE(external link)
Maxar Technologies
In February 2021, MBIE signed a memorandum of understanding with space and data analytics company, Maxar Technologies. This agreement will provide important opportunities for New Zealand organisations to partner with a top innovator in Earth observation and Space Infrastructure.
Maxar and MBIE have agreed on potential areas of collaboration, including use of advanced Earth observation satellites and data analytics, space technologies and science-technology-engineering and mathematics (STEM) education programmes.
Maxar Technologies is a trusted partner and has a history of providing timely, high-resolution satellite imagery to the New Zealand government. Establishing an MOU is an important step in enabling collaboration between Maxar and New Zealand entities/organisations, as it enables us to explore further partnerships around data, as well as supply chain opportunities for New Zealand's commercial firms to complement Maxar's work.
Maxar Technologies(external link)
TakiWaehere – The Geospatial Hackathon
New Zealand Universities: 17 – 18 April, 2021
The first project between MBIE and Maxar, TakiWaehere – The Geospatial Hackathon, will take place over the weekend of 17-18 April 2021. Maxar will grant New Zealand university students access to portions of its vast imagery archive of high-resolution Earth observation data, which includes full coverage over New Zealand dating back almost 20 years. Access to this data will enable the students to learn from and analyse economic, health and environmental challenges, and create innovative solutions to real world cases.
Wisk
In March 2018, Zephyr Airworks (now trading as Wisk New Zealand), credited the Innovative Partnerships programme as part of the reason it is testing its revolutionary air taxi technology in New Zealand.
Cora is an air taxi which combines electric power, self-piloting software and vertical take-off to pioneer an entirely new way to fly.
We are proud that Wisk has chosen New Zealand to undertake this exciting R&D work and is one of our flagship companies for the programme. Furthermore, Wisk is on board as the first industry partner in a new Airspace Integration Trials programme to facilitate the safe testing, development and market validation of advanced unmanned aircraft, and accelerate their integration into our aviation system.
Find out more in the Cora video.
LeoLabs
In October 2019, American space innovator LeoLabs unveiled their first 'next-generation' space radar in Naseby, Central Otago, after one year of construction. The phased-array radar tracks small satellites and space debris – the first of its kind in the Southern Hemisphere.
The radar will track objects as small as 2 centimetres in low Earth orbit and is 1 of only 3 currently operating in the world.
LeoLabs' pioneering technology provides high resolution mapping data and services to mitigate the risks of collisions that could potentially create thousands of new particles of space debris and damage expensive equipment.
LeoLabs announces expansion of its Space Network to New Zealand
LeoLabs unveils Kiwi Space Radar
Shiratori and AgResearch
In September 2019, AgResearch, a Crown Research Institute (CRI) and Shiratori, a medium-sized Japanese pharmaceutical and high-value-nutrition product company, signed a joint research agreement to develop an AgResearch-discovered-and-patented probiotic bacterium for human use. Probiotics are live microorganisms in certain foods that provide health benefits when consumed, especially for gut health.
Shiratori is interested in developing this bacterium as an ingredient in functional foods and/or health supplements, with the aim of launching probiotic products containing the bacterium into the sizeable Japanese market. Innovative Partnerships is facilitating and enabling Shiratori to build a long-term, multi-faceted R&D partnership with New Zealand.
Airbus
In October 2018, Europe's largest aeronautics and space company, Airbus, signed a new agreement with us committing to work together to develop capability in New Zealand's emerging Unmanned Aircraft (UA) and space data technology sectors.
The Letter of Intent, enabled through the Innovative Partnerships programme, sets out a commitment to seek opportunities for Airbus to test and trial its UA technologies in New Zealand, and to work together to support the development and adoption of new and innovative space data technologies and applications.
International Events
The Innovative Partnerships team attends international conventions and conferences to enable research and development intensive businesses to connect, collaborate and invest in New Zealand.
Airspace Integration Trials
Our Airspace Integration Trials programme is dedicated to supporting the safe testing, development and market validation of advanced unmanned aircraft in New Zealand.
Cleantech
Our Cleantech portfolio is designed to support the exploration of new and emerging technology that enables industries to transition to a low to no emissions operation.
Last updated: 23 December 2022