Strategic Tourism Assets Protection Programme
The Strategic Tourism Assets Protection Programme (STAPP) is intended to protect the assets in the tourism industry that form the core of our essential tourism offerings to ensure their survival through the disruption caused by COVID-19. The programme will also consider assets that are culturally, environmentally and/or historically significant.
On this page
ARE YOU ELIGIBLE FOR ASSISTANCE FROM THE STRATEGIC TOURISM ASSETS PROTECTION PROGRAMME?
The objective of this programme is to support assets that are strategically important and that significantly contribute to their local region and tourism in New Zealand. Eligibility is very targeted and many assets/businesses will not be eligible for support through this programme.
Eligiblity criteria
You must meet ALL THREE eligibility criteria below:
Is the asset a tourism asset?

For the purposes of this Programme the definition of a tourism asset has been adapted from the statistical definition of a tourism characteristic industry use in the Tourism Satellite Accounts to describe tourism operations in scope.

Tourism Operations - a tourism characteristic business is one where either:

at least 25 percent of the operations' output is purchased by tourists, or the operations output includes a tourism-characteristic product.

Tourism Assets: you must meet one of the following types of assets:

Attractions – visitors need things to do and see - For STAPP this includes activities and natural attractions
Access – visitors need to be able to get to where they want to visit safely. For STAPP the tourism asset covers the means of access (note assets eligible under Ministry of Transport funding are not eligible for STAPP)
Amenities – services and facilities.

Intangible assets (for example intellectual property) can be considered eligible if they fit into the three asset categories

Is the asset a tourism asset of strategic significance (national or regional, cultural, environmental and/or historic)?

An asset is likely to be considered strategic and eligible for the STAPP if it:

Is a nationally and/or internationally recognised, AND
Is a key attraction for New Zealand or a region of New Zealand, AND
Is responsible for significant visitation to the region where it is located and in its absence, visitation to the region would be significantly diminished, AND
Generates significant spill over benefits to the region where it is located. Spill over benefits to the community (regional or New Zealand) means that the benefits of the tourism asset are shared with other businesses (including non-tourism businesses).

Has the applicant exhausted all other avenues of support (government broad-based and private)?

Note: businesses with applications to Government funds (e.g. the Provincial Growth Fund) are eligible, but the STAPP will not provide support for the same purpose.

Applicants must be able to demonstrate that there is both a need for support to safeguard the asset and they have exhausted alternative options for support.

Are there insurmountable costs/challenges to pausing and resuming operations?
Is the applicant reliant to a high degree on revenue from visitor flows that are currently severely reduced?
Is the applicant facing severe financial stress, for example unable to meet the minimum costs necessary to survive/hibernate until demand recovers and/or re-pivot their offering to the domestic market? E.g. have other sources of cash flow, working capital been exhausted?
Example of a strategic asset that will be eligible:
Strategic asset X drives demand for New Zealand as a destination and provides significant spill over benefits to the community in which it's located. The business could receive support for fixed overheads, fleet maintenance to a viable standard required for a period of time until the business is in a position to sustain itself or another option is identified.
Examples of Strategic Tourism Assets eligible for support:
A tourism operator located in a small community. Losing this operator would result in a notable loss of visitors to the community, severely impacting the community's economic viability.
A tourism operator that is internationally recognised, forms part of New Zealand's core tourism offering and has a significant impact to the community they operate in.
Assets that are not eligible for STAPP:
Those assets that do not meet all three eligibility criteria
Tourism assets that can be readily repurposed
Those eligible for support via other sector-specific COVID-19 recovery packages (such as the transport and aviation support package)
New capital developments or upgrades
Generic features of the tourism system, such as food and beverage, accommodation, transport and retail. Exceptions could include assets that are iconic, of notable cultural, environmental and/or heritage status, and/or feature prominently within the conservation landscape, and/or are uniquely critical elements of the tourism supply chain.
Please note that eligibility does not guarantee support. A full assessment of all eligible applications will be carried out and final decisions will be made by the Tourism Recovery Ministers Group.
Application and assessment process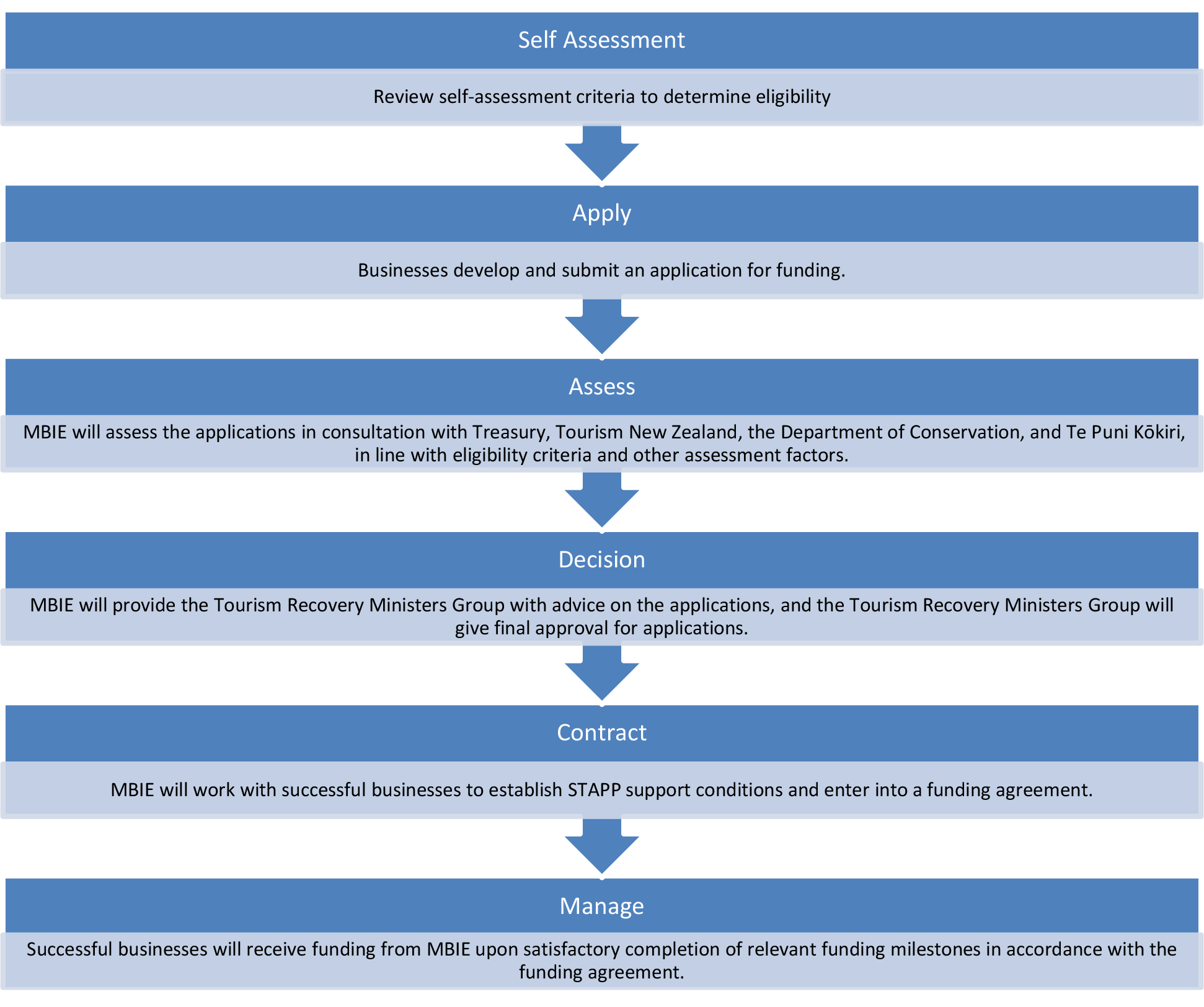 Applications
Applications open on 4 June 2020 and will close at 5pm on 18 June 2020.
How to apply
A downloadable Application Form is below:
Application Form [DOCX, 179 KB]
All applications and supplementary information must be sent by email to strategictourismassets@mbie.govt.nz
FAQs
Are all tourism businesses eligible?
No, this is a bespoke programme that will ensure that strategic tourism assets that generate a wider range of benefits aren't lost. Please review the self-assessment criteria to determine your eligibility.
How much support could I receive?
The Tourism Ministers Recovery Group decides on the appropriate support and amount based on the information firms have included in their application and advice provided by MBIE.
Who's making the decisions and when?
The Tourism Ministers Recovery Group decides on the appropriate support and amount based on advice provided by MBIE.
The intention is to make decisions as quickly as possible so funding can be provided by mid July.
How soon will I get the money?
The intention is to provide the support as soon as possible, to ensure the businesses have the support they need to safeguard the asset.
Why is the application period so short?
The intention is to make decisions as quickly as possible so funding can be provided by mid July to ensure New Zealand's Strategic Tourism Assets are safeguarded.
Who can I talk to if I want to find out if my business qualifies?
Information is available on this MBIE page. Please refer to this page in the first instance, however if you have a specific query that is not answered by the material available, please contact MBIE.
Contact
To contact us;
STAPP for Regional Tourism Organisations
As part of the Government's Strategic Tourism Assets Protection Programme, $20.2 million is available to the 31 Regional Tourism Organisations (RTOs) across New Zealand.
RTOs play an important role in supporting the tourism system. The tourism sector depends on capable, secure and adequately resourced RTOs that lead and coordinate activities alongside the tourism industry, stakeholders, Māori/iwi and communities.
Funding is available for the 2020/2021 financial year for RTOs that can demonstrate a commitment to:
Advance the goals of the New Zealand-Aotearoa Government Tourism Strategy and create a more productive, sustainable and inclusive tourism sector;
Retain RTO investment from Local Government e.g. Government funding is not a substitution for local government funding;
Domestic marketing activity that complements Tourism New Zealand's domestic marketing; and
Adopting a destination management approach in line with MBIE's Destination Management Guidelines which includes working with industry, communities and stakeholders to plan for the future, supporting industry capability and product development opportunities.
MBIE is working in partnership with Tourism New Zealand and Regional Tourism New Zealand on this initiative. We intend to allocate funding as follows:
Small-RTOs with funding less than $500,000 are eligible to receive up to $400,000.
Medium-RTOs with funding less than $3 million are eligible to receive up to $700,000.
Large-RTOs with funding over $3 million are eligible to receive up to $1 million.
RTO's would need to complete a short investment proposal and a template will be distributed to RTO's in the week of 8 June 2020.
Last updated: 04 June 2020