Destination Management and why it's important
On this page

Destination Management (DM) involves the management of all aspects of a destination that contribute to a visitor's experience, including the perspectives, needs and expectations of:
visitors
Māori/iwi/hapū
tourism industry
wider businesses
local residents
central & local government.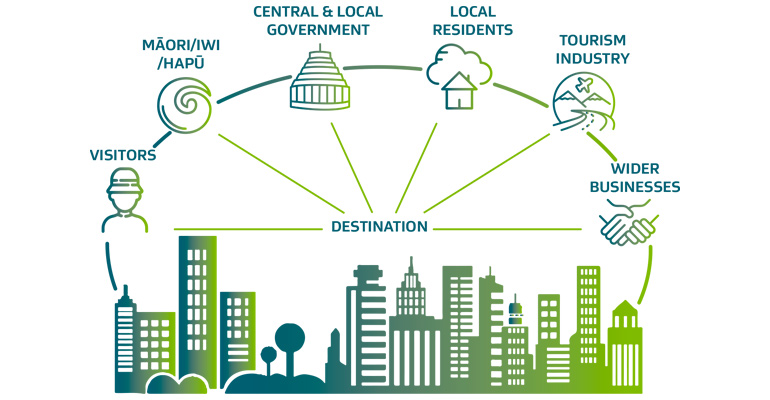 DM brings together different stakeholders to achieve the common goal of developing a well-managed, sustainable visitor destination. It is an ongoing process that requires destinations to plan for the future and considers the social, economic, cultural and environmental risks and opportunities.
Adopting a DM approach enables communities and destinations to respond to changing conditions and determine the type of tourism they would like to have and the benefits they would like to receive, taking an active role in managing these.
Every region is different, with unique attributes, assets, challenges and opportunities. There is no 'one-size-fits-all' approach to DM; solutions should be customised for the destination. However, we can learn from international experiences and enable productive, resilient, inclusive and sustainable destinations across New Zealand-Aotearoa, creating better value for visitors and residents alike.
Making the most of the benefits of tourism
Tourism helps to support local jobs and adds diversity, vibrancy and prosperity to communities. Whilst New Zealand has seen steady growth, visitor numbers and spending have not been distributed evenly across regions and the percentage share of international visitors travelling to the non-gateway regions has remained unchanged over the past several years. In addition, growth in off-peak travel has not been sufficient to address the ongoing seasonality challenge for many regions, affecting the productivity and viability of many tourism enterprises and the destination's ability to attract investment.
Māori/iwi/hapū increasingly want to be involved in the sector and visitors are seeking authentic cultural/indigenous experiences.
DM and DM planning require inclusive engagement with Māori and where appropriate, respectfully incorporate an understanding of the destination's unique Māori culture and protocols (tikanga). It can provide opportunities for product development that will enhance the visitor experience and the destination's identity and brand expression.
Tourism is integral to economic development and is a key driver and tool to achieve wider economic development goals. DM and visitor attraction strategies can play a role in building the reputation of a region/place and attracting new residents, businesses and students.
---

DM involves collaboration across the multiple stakeholders that make up the ecosystem of a destination.
---
Managing environmental and social issues
In some parts of New Zealand, destinations are under pressure from visitors. This can often be the case during holiday periods when both international and domestic visitors are travelling. There is concern in some places that tourism and recreational activities are negatively affecting the natural environment; this is reducing the sector's social licence in these communities.
TIA and Tourism New Zealand's (TNZ) 'Mood of the Nation' survey in March 2019 showed that general community support for tourism is declining, with more New Zealanders now feeling worried about the pressures arising from visitor growth. This particularly applies to the effects of international visitors, with more New Zealanders thinking that international tourism puts too much pressure on New Zealand.
Mood of the Nation survey on the Tourism Industry website(external link)
The community is a core part of a destination's brand. As visitors seek deeper engagement with locals, it is important that communities' welcome visitors and support tourism. Where local communities and tourism operators are engaged, well informed and involved, visitor experiences are more likely to be high quality, locally derived (unique) and innovative, and the community is more likely to be positive about the development of tourism.

"Welcoming, supportive communities are a vital part of what New Zealand has to offer our visitors. To ensure New Zealanders continue to offer manaakitanga to our visitors, it is essential that our destinations are well managed to meet the needs of both residents and visitors."

Chris Roberts, CE, Tourism Industry Aotearoa