2019/20 Overview
The initial round of IVL programme investments was announced in August 2020. The 10 investments totalled $18.7m funding in the 2019/20 year, with a total of $38.9m across the life of the investments.
On this page
In the first year, the projects have advanced the primary goals of the IVL programme. All projects have progressed well against their milestones despite delays caused by extreme weather events and the COVID-19 pandemic.
Revenue
The IVL was predicted to raise around $450m in its first 5 years, however revenue in 2019/20 was significantly lower due to the impact of the COVID-19 pandemic.
For the first 8 months of the fiscal year, revenue paralleled estimates based on historical visitor arrival trends.
As a result of border closures, very little revenue was raised between March and June 2020. Revenue collected in the first year to 30 June 2020 was $57.3m, approximately 30% lower than the forecasted revenue of $82m.
Conservative management of the fund has ensured that the revenue collected to 30 June 2020 meets full commitments of the first round of investments, including multi-year funding through to 2023/24.
Figure 1: Total funding by region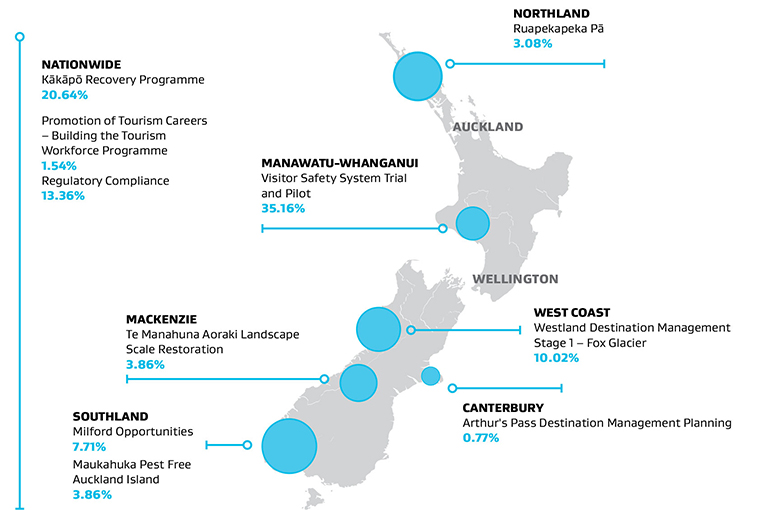 Table showing the total funding by region
| Region | Project | Funding percentage |
| --- | --- | --- |
| Nationwide | Kākāpō Recovery Programme | 20.64% |
| Nationwide | Promotion of Tourism Careers – Building the Tourism Workforce Programme | 1.54% |
| Nationwide | Regulatory Compliance | 13.36% |
| Northland | Ruapekapeka Pā | 3.08% |
| Manawatu-Whanaganui | Visitor Safety System Trial and Pilot | 35.16% |
| West Coast | Westland Destination Management Stage 1 – Fox Glacier | 10.02% |
| Canterbury | Arthur's Pass Destination Management Planning | 0.77% |
| Mackenzie | Te Manahuna Aoraki Landscape Scale Restoration | 3.86% |
| Southland | Milford Opportunities | 7.71% |
| Southland | Maukahuka Pest Free Auckland Island | 3.86% |