Modelled Territorial Authority GDP 2020 release
The Modelled Territorial Authority Gross Domestic Product (MTAGDP) estimates have been developed from Stats NZ Regional GDP estimates. They provide information at the territorial authority area level so that we can better understand local economies and industries.

Territorial authorities include both district councils and city councils. Some of these councils are unitary authorities, which also have the duties and powers of a regional council (Auckland Council, and Nelson City Council, for example).
On this page
This is an interim release
This is an interim release, for the year ended March 2019, that does not contain 2014-17 sub-national population estimates
This release presents annual nominal GDP estimates for the year ended March 2019
Annual nominal GDP, up to the year ended March 2019, is provided for each territorial authority area and regional council region.
A further breakdown by industry group is given, but is only available up to March 2018.
The estimates are of nominal GDP (sometimes known as current price GDP). Unlike real GDP, nominal GDP is not adjusted to remove the effects of inflation. This means that nominal GDP changes with shifts in both quantities and prices.
Population data for 2014-17 is missing because revised subnational population estimates have not yet been published by Stats NZ
Stats NZ have developed a new method for estimating the population of regions and territorial authorities. A revised series of estimates, using this new method, is not yet available for the years 2014-17. It is expected to be released later in 2020.
Our MTAGDP publication normally includes population data and per capita GDP estimates for each territorial authority. However, in this release we do not include population or per capita figures for 2014-17. We do not use old Stats NZ population estimates for 2014-17 because they are incomparable with 2018-19 estimates and would create misleading per capita GDP growth rates.
We will publish a revision to this release when the new 2014-17 estimates are available from Stats NZ. The revision will include population and per capita figures for 2014-17 and will be accompanied by reporting on the main insights.
Nominal GDP estimates are present for all years and are comparable over time
In this release, nominal GDP estimates by territorial authority and industry are present for all years including 2014-17. They are unaffected by the missing population data and can be considered to be comparable across years.
Main findings
Over the most recent five years, nominal GDP grew in 63 of the 66 territorial authority areas, and strong growth was seen in some areas
In the five years from April 2014 to March 2019, 63 out of the 66 territorial authority areas had positive GDP growth.
The highest growth was in Queenstown Lakes, which had a compound annual growth rate (CAGR), over five years, of 13.4%.
Tauranga, Western Bay of Plenty, and Kaipara also showed strong growth, with five-year CAGRs of 9.4%, 8.7%, and 8.3%, respectively.
No growth was seen in Otorohanga and negative growth was seen in New Plymouth (-1.4% five-year CAGR) and Buller (-3.4% five-year CAGR).
These growth rates are compared to an overall New Zealand CAGR of 5.4%. Growth rates exceeding this New Zealand average were seen in 17 of the 66 territorial authority areas.
Figure 1: Five-year growth in nominal GDP by territorial authority area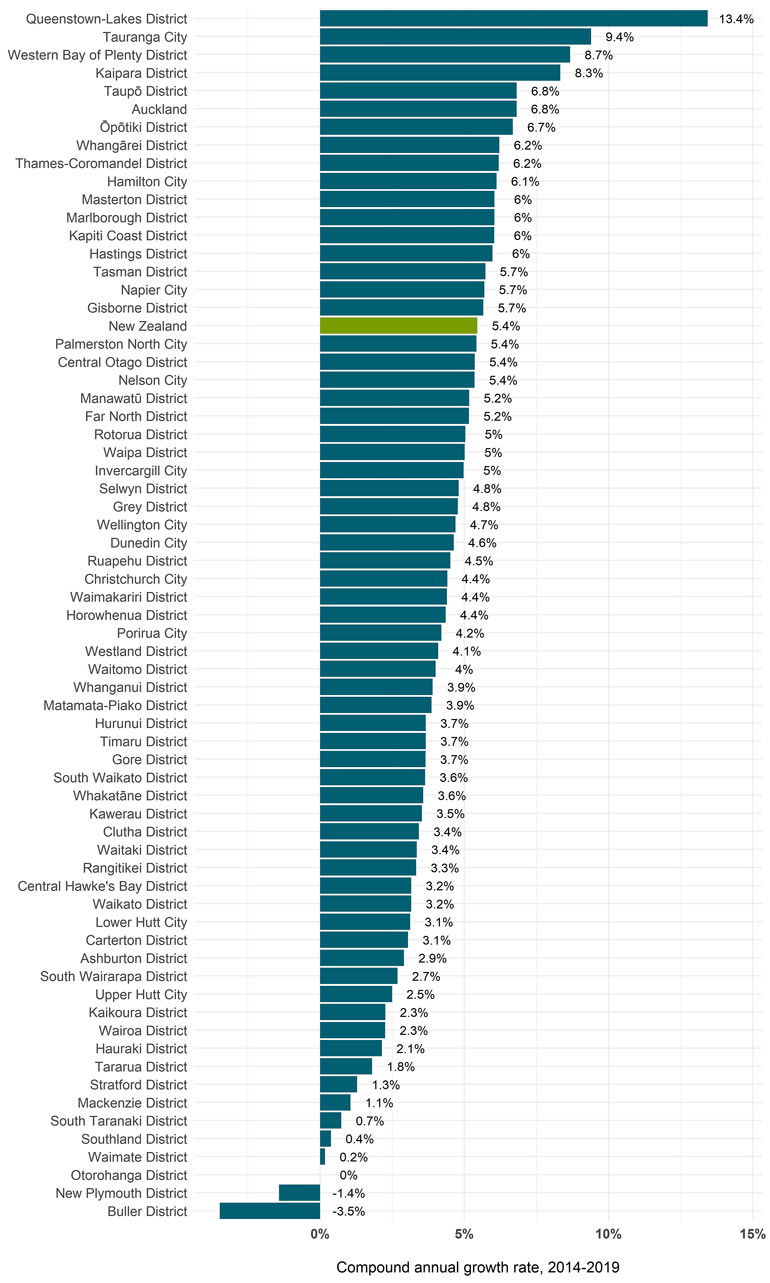 Last updated: 30 June 2020