Regional Economic Activity reports
We publish reports on economic activity in the regions including summaries of key statistics, in-depth Regional Growth Study reports and Regional Economic Activity Reports.
On this page
Regional factsheet generator
This tool allows you to generate short summary factsheets on regions of interest.
Regional factsheet generator(external link)
To access our older regional RTO reports for each region of New Zealand go to the document library.
Regional Growth Study reports
In-depth Regional Growth Study reports are also available for these regions:
Regional Economic Activity Reports 2013-2015
These earlier Regional Economic Activity Reports summarise and compare economic activity across New Zealand's main regions.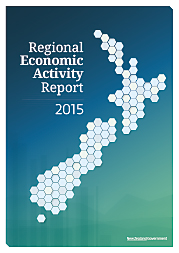 2015 Regional Economic Activity Report [PDF, 12 MB]
2014 Regional Economic Activity Report [PDF, 15 MB]