Countdown kicks off for FIFA Women's World Cup 2023™
Published: 20 July 2022
The countdown is on to the FIFA Women's World Cup Australia & New Zealand 2023™ with 20 July marking one year to go until the world's largest women's sporting event kicks off.
On this page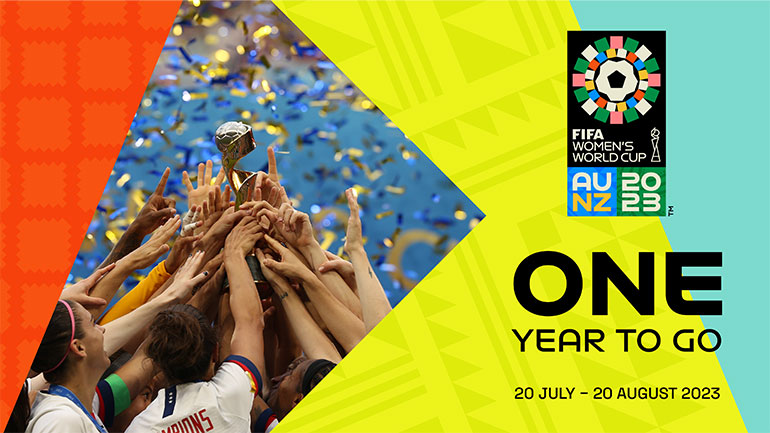 Aotearoa New Zealand is co-hosting the FIFA Women's World Cup 2023™ with Australia from 20 July to 20 August next year with matches being played in Auckland, Hamilton, Wellington and Dunedin.
The Ministry of Business, Innovation & Employment's Manager Major Events, Kylie Hawker-Green says hosting an event of this magnitude will generate significant social and economic benefits for all New Zealanders and leave a lasting legacy for football and women's sport in this country, and our communities.
"The FIFA Women's World Cup will be unlike anything we've ever hosted before. Hundreds of the world's best female athletes will descend on Aotearoa New Zealand and Australia as 32 teams compete for the World Cup," says Kylie.
"The eyes of the football world will be on us during July and August as more than one billion people from across the globe tune in to catch some of the World Cup action. We also expect thousands of fans to follow their teams to Aotearoa New Zealand, which will provide a massive boost to our tourism and hospitality sectors and have flow-on effects right across the country as they travel around.
"It's also a once-in-a-lifetime opportunity for many New Zealanders to experience a high-profile FIFA World Cup event and watch some of the world's best football players in action."
Celebrations are taking place across Aotearoa New Zealand and Australia today to mark the occasion, including a dawn ceremony in Hamilton, a community event at Parliament, community football matches in Dunedin, and a FIFA light display on iconic monuments, such as the Sky Tower in Auckland.
In Sydney, FIFA unveiled a Unity Pitch which represents the cultures of both host countries and the coming together of the 32 participating countries to mark the occasion. The Unity Pitch is a temporary football pitch that will travel around the nine host cities over the next year in the lead up to the tournament to help build excitement about the event amongst communities.
Tickets for the FIFA Women's World Cup 2023™ will go on sale on 6 October 2022.
Keep up to date with the latest news about the FIFA Women's World Cup:
FIFA Women's World Cup Australia & New Zealand 2023™(external link) — FIFA
https://www.mbie.govt.nz/about/news/countdown-kicks-off-for-fifa-womens-world-cup-2023/
Please note: This content will change over time and can go out of date.