Destination brand building and improving the visitor experience
To ensure the sustainability of the tourism sector, we need to develop and promote high-quality, authentic visitor experiences that draw on manaakitanga, our unique visitor proposition of our people and our place and tell our stories in way that engages and enlightens.
On this page
This will also support the Government's goals of visitors being regenerative visitors and leaving New Zealand-Aotearoa as storytellers, able to share our unique stories with the world. We also need to ensure that domestic tourism thrives and that kiwis will continue to be encouraged to explore the wonders in their own backyard.
The initiatives currently underway to support these goals are:
attracting high quality visitors – Tourism New Zealand
Ngā Haerenga New Zealand Cycle Trails
Provincial Growth Fund tourism
Attracting high quality visitors – Tourism New Zealand
Tourism New Zealand is responsible for marketing New Zealand- Aotearoa as a visitor destination for the long-term benefit of New Zealanders.
Tourism New Zealand approaches this with a regenerative lens that supports the Government's goals for the sector. To ensure tourism gives back more than it takes, Tourism New Zealand targets 'high quality visitation'. High quality visitors are defined by more than the money they spend. Tourism New Zealand's activity targets types of visitors who consider their scope of activities, how they travel across seasons and regions, their environmental consciousness, and engagement with our culture and communities.
Tourism New Zealand is currently focused on four priorities to support transition to a regenerative tourism system:
Build brand for a New Zealand-Aotearoa holiday, making New Zealand-Aotearoa a preferred and aspirational destination among the most discerning travellers.
Accelerate recovery by targeting investment in priority portfolio markets and segments.
Maximise contribution from both domestic and international visitors while they are here, ensuring that they spend more, and on higher-quality experiences.
Toitū Toiroa, working with other government agencies and industry partners to achieve an enduring and regenerative tourism recovery.
Case study: 'Within your wildest dreams
New activity launched in Australia in March 2022 to build demand for travel to New Zealand as we prepared to open our border. The Tourism New Zealand activity sought to persuade Australians that our unique landscapes, hospitality and the friendliness of Kiwis are now 'within your wildest dreams.'
It highlighted some of the most popular experiences sought out by Australian visitors, such as fine dining, jet boating, cycling through vineyards and even star gazing in a hot tub in internationally- renowned dark sky reserves.
Case study: Domestic tourism
As part of the recovery from the COVID-19 pandemic, Tourism New Zealand continues to encourage domestic travel. Recently they launched new domestic winter activity showcasing a range of Aotearoa winter experiences. Despite borders opening for overseas travel, new research shows that around two thirds of New Zealanders intend to take a domestic holiday in the next 12 months. The research also shows that winter is our second favourite season for holidaying.
Ngā Haerenga New Zealand Cycle Trails

Each year more than 2 million people enjoy the Great Rides of Ngā Haerenga, the New Zealand Cycle Trails.
As well as offering world-class visitor experiences that showcase some of the best landscapes and scenery that New Zealand-Aotearoa has to offer, the trails create ongoing job opportunities and economic, recreational and health benefits for New Zealanders.
Up to $8 million is available annually for the maintenance, development and promotion of the New Zealand Cycle Trails to ensure they remain a high-quality tourism asset.
Cycle tourism is a low carbon activity that can help connect visitors to local communities, experience local food, beverage and artisanal products, and create a direct link with the local culture and heritage.
Case study: The Lake Dunstan Trail
Built with funding from central government and local community trusts, the new Lake Dunstan Trail connects the historic settlements of Cromwell and Clyde with a new cycle trail along the shores of Lake Dunstan. The trail showcases Central Otago landscapes, tells the history of the region from early European interactions with local Māori, the gold rush era of the 1860's, the development of agriculture and horticulture in Central Otago, and hydroelectricity on the Clutha River/Mata-Au.
Opened in May 2021, the Lake Dunstan Trail attracted over 84,000 users in its first year of operation, helping support local cafes and restaurants, wineries, accommodation providers and bike hire services in Cromwell, Clyde and the wider region.
Provincial Growth Fund tourism funding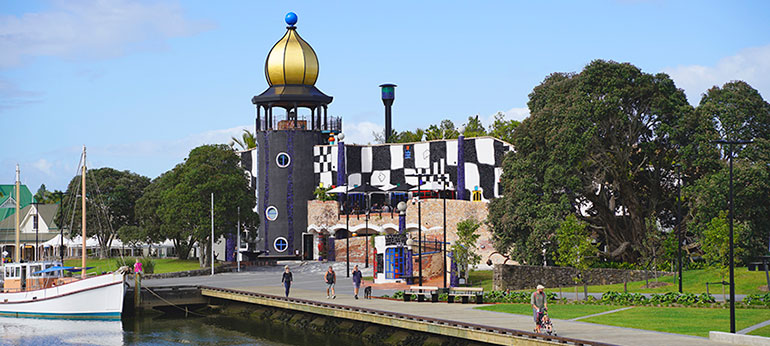 To date, over 200 tourism projects worth over $500 million have been funded through the Provincial Growth Fund
Through the Provincial Growth Fund, the government seeks to ensure that people living all over New Zealand can reach their full potential by helping build a regional economy that is sustainable, inclusive and productive
The Provincial Growth Fund has invested in projects which:
encouraged year-round tourism to a greater number of regions
reduced existing pressure on tourism infrastructure, particularly in communities which lacked local funding capacity
added value to the tourism and visitor economy
enhanced the productivity of tourism businesses, drove innovation and supported professional tourism career development
improved the industry's sustainability and helped it transition to a low-emission footprint
developed Māori cultural assets.
Case study: Hundertwasser Art Centre
Government investment of $18.5 million from the Provincial Growth Fund was provided towards the development of the Hundertwasser Art Centre and Wairau Māori Art Gallery in Whangarei Town Basin. This centre was 30 years in the making, with the idea first being proposed in 1992. However, construction did not begin until 2018, and the centre was opened three years later in February 2022.