Regional Economic Activity mobile app
This easy-to-use mobile app is great for anyone interested in New Zealand's regions with information on incomes, house values, rents, employment, migration, GDP, and much more.
On this page
About the app
The app makes access to information on New Zealand regions instant and easy, with users able to browse figures and charts on 16 regional council areas and 66 territorial authority areas.
To make exploration easier, the main indicators are grouped into several themes:
social and income
housing
workforce
education
population
economic
agriculture
tourism.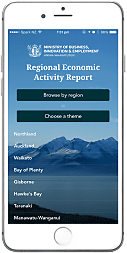 Download the app
The app is designed for Android(external link) and iPhone 4S(external link) or later model phones.
Access the full data
This zip file contains all the data used in the app.
Disclaimer
The Ministry of Business, Innovation and Employment will not be held accountable for any error, inaccurate findings or interpretation within the data. We're also not responsible for the results of any actions taken on the basis of this information.

The data are licensed under a Creative Commons Attribution 3.0 New Zealand Licence(external link).
Last updated: 26 September 2023