Renewables
The share of renewable energy in New Zealand's total energy consumption was at an all-time high in 2022. This was driven by strong renewable resources from hydro, geothermal, and wind energy production.
On this page
Around 30% of New Zealand's total energy consumption comes from renewable sources. This is closer to 12% for countries that belong to the Organisation for Economic Co-operation and Development (OECD). New Zealand's average share of renewable electricity production is over 80% most years — much higher than the OECD average of around 30%.
New Zealand's renewable energy consists of renewable energy for electricity generation and direct use. Renewable sources for electricity generation are geothermal, hydro, solar, and wind.
Renewable energy for direct use includes:
geothermal energy used as heat for industrial applications
woody biomass (such as black liquor)
liquid biofuels (such as sustainable aviation fuels)
biogas (such as sludge gas and landfill gas).
Renewables at a glance
Electricity generated from renewable sources
Total primary energy supply from renewable sources
Share of total final energy consumption from renewable sources
The Government funded 13 projects that could abate 900 kt of CO2 in 2022
New Zealand has one of the highest renewable electricity shares in the world
New Zealand imported its first sustainable jet fuel in 2022, which is partially made of waste animal fat.
New Zealand performs well for its production of renewable energy, but there is more work to do
New Zealand ranks well internationally for the proportion of energy produced by renewable sources. This is mainly driven by hydroelectric and geothermal resources. A little over 80% of our electricity comes from renewable sources, and around 30% of our total energy consumption is renewable.
The Government has committed to reaching net zero for long-lived gases by 2050. New Zealand also has a target that 50% of total energy consumption will come from renewable sources by 2035, and an aspirational target of 100% renewable electricity by 2030.
Find out more about the New Zealand Energy Strategy
New Zealand will need to make changes to the way we produce and consume energy to meet these targets.
New Zealand has one of the highest shares of renewable electricity in the world
Electricity
Over 80% of New Zealand's electricity supply is powered by renewable energy (Figure D.1). Our hydro and geothermal resources provide abundant electricity, but this means that our share of renewable electricity is heavily dependent on rainfall in any given year. New Zealand's hydro lakes are relatively shallow, so we are reliant on consistent inflows to support renewable electricity generation.
New Zealand's share of electricity generation from renewable sources is one of the highest in the world. Only a few countries such as Norway, Iceland, and Costa Rica have higher shares than New Zealand. In Australia it is below 40%.
Direct renewable energy use
Only 30% of New Zealand's total energy consumption comes from renewable sources (Figure D.1). Total energy consumption includes petrol and diesel used for transportation, and coal and natural gas used for industrial processes. The energy consumption of some of these sectors is hard to 'abate' or difficult to switch to renewable sources of energy. For example, high-heat industrial processes might require prohibitively costly heating to electrify.
Learn more about the electrification of industry(external link) — IEA
Currently, several industrial and commercial processes make use of other renewable energy, particularly geothermal and woody biomass.
Figure D.1 Share of renewable electricity generation and total energy consumption in New Zealand, from 1990 to 2022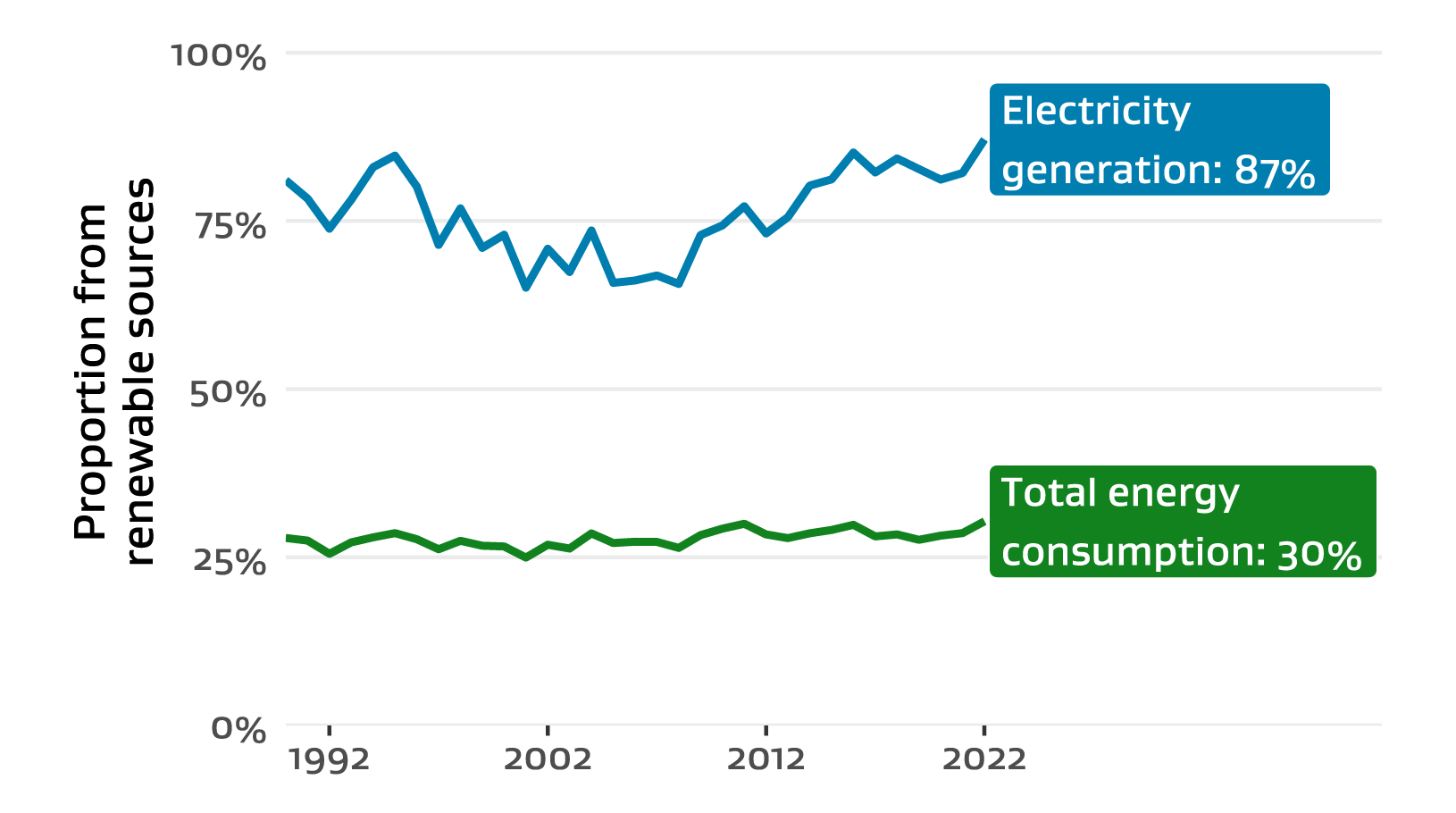 Text description for figure D.1
Box D.1 New Zealand's direct use of renewable energy
Geothermal energy
Geothermal energy is extracted from heat deep beneath the earth's surface. New Zealand is particularly rich in geothermal energy, especially in the Taupō and Kawerau regions. Geothermal energy has been used in New Zealand for hundreds of years — first by Māori and then by European settlers and tourists. Since the 1950s, geothermal energy has been used increasingly as direct energy for uses such as heating homes or generating electricity. Kawerau, where geothermal steam is a significant source of energy for pulp and paper mills, is among the world's largest user of direct geothermal heat concentrated in one location.
Geothermal energy is often used for electricity generation. However, it's estimated that around 7.30 petajoules (PJ) of geothermal steam was used for direct heat in 2022. These uses include drying paper or milk in industrial processes, or in residential or commercial heating, such as the heated pools in Rotorua. Just under 60% of this was in industrial applications, 33% in commercial and the remainder in residential and agricultural applications.
Other examples of the direct use of geothermal energy in New Zealand include:
timber drying — Tenon's wood processing plant near Taupō uses geothermal energy to heat its timber-drying kilns
aquaculture and tourism — the Huka Prawn Park near Taupō is the only geothermally heated prawn farm in the world. Heated discharge water from the nearby Wairakei geothermal power station helps heat the ponds
horticulture — the use of geothermal energy to heat the glasshouses of Rotorua-based PlentyFlora and Taupō-based Gourmet Mōkai has reduced the production costs for flowers (PlentyFlora) and tomatoes/capsicums (Gourmet Mōkai)
milk drying — the Māori-owned dairy company (Miraka) based near Taupō is the first milk‑drying facility in the world to use geothermal energy
space heating — Rotorua Hospital uses geothermal energy via a heat exchanger for space heating and hot water heating. The system, commissioned in 1977, has proven to be a very reliable source of energy.
Woody biomass
Pulp and paper mills and wood processors use the majority of woody biomass (around 40 PJ) to provide heat energy and generate electricity (cogeneration). Households use a smaller quantity, estimated at 7.44 PJ, for space heating. Current estimates for the use of wood for residential space heating are based on census data for the proportion of households that use wood burners, and the Household Energy End-use Project (HEEP). HEEP surveyed household energy use from 1995 to 2005. At the time of writing, an updated HEEP study is underway which will provide further insight into New Zealand's residential use of woody biomass energy
More information about HEEP(external link) — BRANZ
Black liquor
Black liquor is a dark liquid generated during the paper-making process. Throughout the wood‑pulping process, chemicals are added to help separate the fibres from the lignin, which acts as a binder holding the fibres together. This resulting combination of chemicals, lignin, and wood fibres is a dark, viscous liquid known as black liquor.
Rather than being discarded, this black liquor is utilised as a valuable energy source at several industrial sites in New Zealand. The organic materials can be incinerated to generate heat and steam, reducing the mill's reliance on external energy sources.
Liquid biofuels
Liquid biofuels are renewable, low-emission fuels that can be blended with petrol and diesel to reduce greenhouse gas emissions from transport. They are also less dependent on new vehicles (for example, electric vehicles or hydrogen fuel cell vehicles) because they can be used in existing internal combustion engine (ICE) vehicles.
Currently, the use of biofuels in New Zealand is very low and domestic production is limited. New Zealand uses very little biofuels in transport and our use is not increasing. Biofuels currently cost more than fossil fuels.
Sustainable aviation fuels
Sustainable aviation fuel (SAF) is a type of jet fuel produced from renewable feedstocks, such as vegetable oil or animal fat. It is very similar to traditional fossil jet fuel in its chemical composition and is generally blended with traditional fuel to reduce the emissions of aviation transport. New Zealand does not currently produce SAF. Air New Zealand imported the first 1.2 million litres of SAF in September 2022.
Biogas
Originating from a variety of non-fossil sources, such as wastewater and sewage, biogas is primarily a mixture of methane and carbon dioxide which is combusted to produce heat and/or electricity.
Sludge Gas
Sludge gas is derived from the anaerobic fermentation of biomass and solid wastes from sewage. In New Zealand, Fonterra produces sludge gas at the Tīrau dairy‑processing facility in Waikato using cattle effluent. The sludge gas provides heat for the seasonal milk-processing facility, open from September through to December each year. Sludge gas is also produced at several municipal wastewater treatment plants around the country, where it is used to generate electricity.
Landfill gas
Landfill gas is derived from the anaerobic fermentation of biomass and other organic solid wastes in landfills. About a dozen sites around the country collect landfill gas and use internal combustion engines to produce electricity.
New Zealand is working to increase supply and use of renewable energy
The Government's aspirational goal is for New Zealand to reach 100% renewable electricity generation by 2030. This will require dealing with the 'dry year problem' — how we generate clean electricity when inflows for hydroelectric generation are insufficient. This may involve investing in solutions to better store electricity when it is plentiful and allow for more generation when lake levels are low.
Under the umbrella of the Energy Strategy, the Government will look at the roles of hydrogen, gas, and offshore wind in achieving our transition to the 100% target. Further work will consider what, if any, additional support measures might be needed in the electricity market to help New Zealand achieve its targets for renewable energy and emissions reduction.
Different solutions are needed to increase our renewable energy consumption across sectors
New Zealand's energy consumption from non-renewable sources is currently 70%. The transport and industrial sectors are most reliant on non-renewable energy sources (Figure D.2). To reach 50% renewable energy consumption, we need to move some of this industrial or transport energy use towards renewable energy, such as biomass or liquid biofuels, or direct electrification. Most processes have very different needs, so the most cost-effective solution is likely to be different for each application.
Figure D.2 Energy consumption by sector in 2022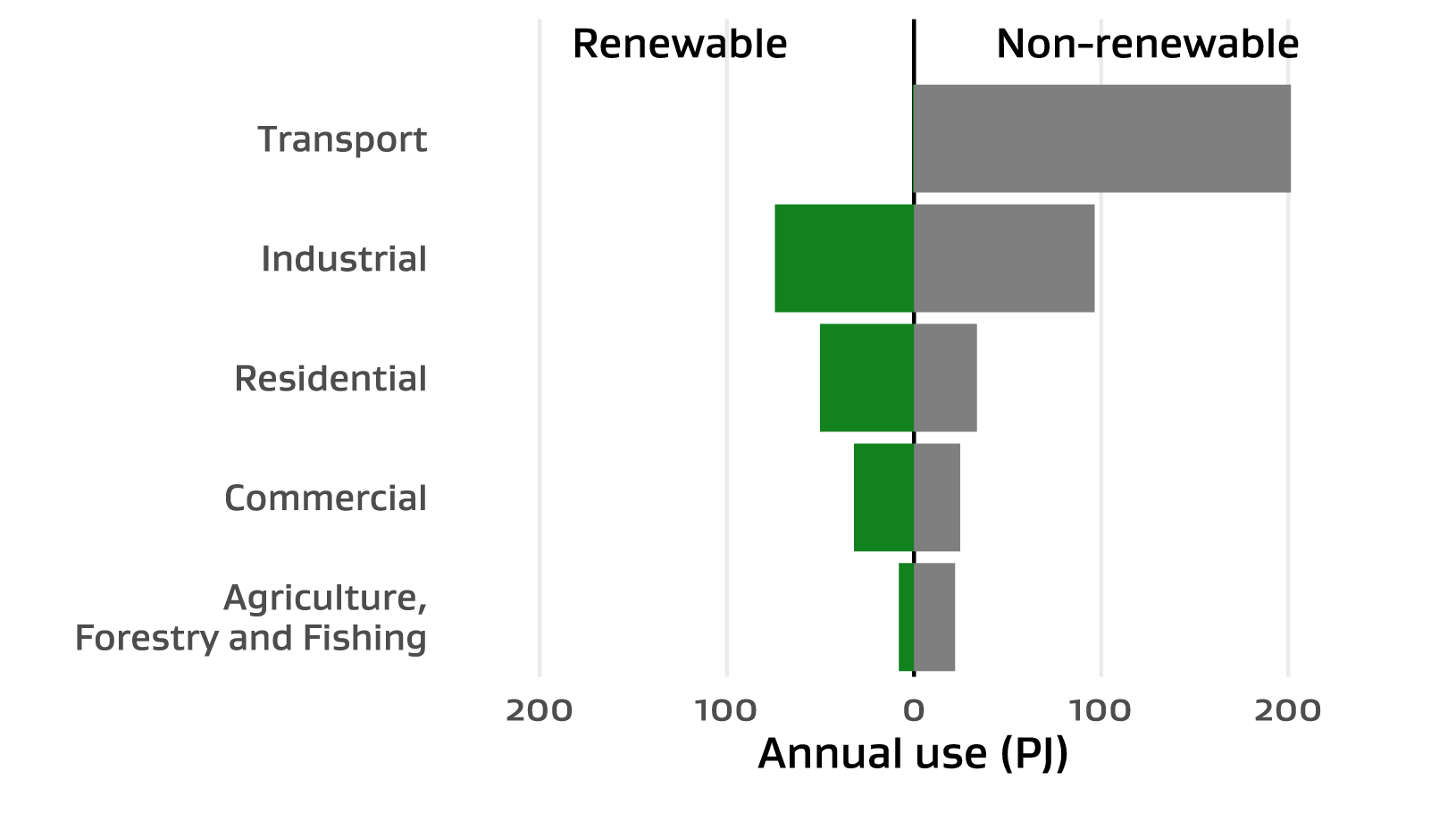 Text description of figure D.2
The Government has several programmes intended to assist with our renewable energy targets. The Government Investment in Decarbonising Industry (GIDI) fund supports industry to move from fossil fuels to cleaner renewable options, while the NZ Battery Project aims to identify a solution to New Zealand's dry year problem. More information about GIDI is included in Box D.2.
The industrial sector's use of energy
Industrial energy use often involves process heat, where businesses require high temperatures to run industrial processes, such as pulping wood into paper or creating milk powder. Many of these processes can be hard to decarbonise because not all fuels can reach the same levels of heat. For example, coal is considered to be a cost-effective way for the dairy industry to produce the necessary heat for their processes.
Box D.2 The Government Investment in Decarbonising Industry (GIDI) fund
The Energy Efficiency and Conservation Authority (EECA) announced its list of approved projects from round 3 of the GIDI fund in April 2022. The GIDI fund is a multi-year programme to support businesses as they carry out energy efficiency measures and switch from fossil fuels to renewable energy sources in industrial and commercial sectors.
More information about GIDI(external link) — EECA
The 2022 funding round was made up of 13 projects with the potential to abate over 900 kilotonnes of carbon dioxide. This is the equivalent of taking 14,000 cars off the road. Projects include high temperature heat pumps, replacing coal with biomass, and heat recovery systems.
This funding round built on the 2 rounds of funding announced in 2021, which included:
a total of over $55 million dollars in Government co-investment projected to abate 6.5 million tonnes of lifetime emissions through energy efficiency initiatives
the replacement of fossil fuel boilers with wood pellet boilers
the installation of high temperature heat pumps for process heat purposes.
In May 2022, the New Zealand Government announced that this fund, originally $69 million dollars, would be expanded to $650 million over 4 years. The scope of the fund is also expanding to cover regionally targeted decarbonisation plans, network upgrades, and streamlined processes for smaller projects.
Further projects were announced in early 2023, including a major upgrade to electrify coal-heavy process for New Zealand Steel, saving 800 kilotonnes of emissions a year.
The transport sector's use of energy
Electric vehicle (EV) registrations are currently at an all-time high, and the rate of new registrations is increasing. More New Zealanders are buying EVs. BEVs made up about 6% of all new car registrations during 2022. The total number of BEVs in the fleet doubled between mid-2021 and the end of 2022. The electricity section has more information about EVs.
Charging electric vehicles will have an impact on the demand from the residential sector
Other renewable energy options for transport include liquid biofuels, such as sustainable aviation fuel, or hydrogen fuel cells.
In 2022, domestic aviation accounted for 5.4% of all New Zealand's oil consumption, and the vast majority of this is non-renewable consumption. Aviation is a challenging industry to decarbonise — electric or hydrogen-based aviation fuel alternatives are not feasible for long-haul flights in the short to medium term.
Sustainable aviation fuel (SAF) is a type of jet fuel produced from renewable feedstocks, such as vegetable oil or animal fat. It is very similar to traditional fossil jet fuel in its chemical composition. SAFs emit up to 80% less carbon than the fuels they replace, depending on the feedstocks used or production method. The current cost of SAF is prohibitive — around 10 times that of traditional, fossil-based fuels.
It's estimated that it would take the fat of 753 pigs to fuel a flight from Auckland to Christchurch. This is derived from Cerulogy's estimations for Transport & Environment. Cerulogy estimated that approximately 0.7 kg of category 1 and 2 fats and 6.8 kg of category 3 fats can be recuperated from one dead pig. The number of animals required per flight is then derived from the average HEFA conversion factor (0.76 kg of fuel per kg of fat, from Biograce) and the average fuel consumption of such flights (4.29 tonnes of fuel per flight between AKL and CHC, according to ICAO's emissions calculator).