Our approach
The tourism industry is a complex, broad and multidimensional network that is deeply connected to and integrated with all aspects of Aotearoa New Zealand society. To really understand how the system works, we have cast the net wide in terms of the materials we have reviewed and the people we have engaged with.
On this page
We have worked closely with the Advisory Group members to learn from their perspectives and gather their input; and we have usefully drawn upon them to test our thinking.
Our approach has been based on systems thinking and the 4 wellbeings: social, cultural, environmental and economic.
Taking a systems approach has enabled us to stand back and understand the dynamic connections of cause and effect between the many and varied actors in the visitor economy. As a result, our recommendations do not seek to address adverse symptoms of previous practices, but instead to address the causes of those symptoms and, in effect, reprogramme the system to produce desired outcomes.
The 4 wellbeings have provided us with a clear anchor for envisioning a future, one where the visitor economy delivers net benefits across all 4 wellbeings.
We have followed a coherent process to understand the issues, gather our thinking and form recommendations by:
Confirming the current state, issues and successes.
Defining the core problems to be solved.
Understanding New Zealanders' desired Future State for Aotearoa New Zealand.
Identifying a vision for the future.
Defining the Future States.
Defining the 4 wellbeings within these states.
Backcasting from the Future States to identify the system changes required to enable the new future.
Initially, the Taskforce began by working with the 4 capitals in Treasury's Living Standards Framework (as stipulated in the Terms of Reference) and mapped them across to the Māori values of Kaitiakitanga (sustainability), Manaakitanga (care and responsibility); Ōhanga/Whairawa (prosperity) and Whanaungatanga (kinship and connectedness).
However, the notion of capitals did not resonate well with many of those we were engaging with, but the concept of the areas of wellbeings did. While understanding the idea of capitals in the Living Standards Framework as stocks of value, the Taskforce decided to use the language of wellbeings, which is the same language used by local government and, therefore, communities. The 4 wellbeings also explicitly recognise a cultural wellbeing, which the Taskforce feels is a critical element of a thriving visitor economy.
The Terms of Reference (see Appendix D) ask the Taskforce to advise on options that will enable the sector "to contribute more than it consumes" against the 4 capitals/wellbeings. We have interpreted that to mean the same as the emerging term 'regenerative tourism'. This means that in the desired future, the visitor economy will deliver net benefits and positive impacts for our people, our communities, our culture, our environment and our economy.
We've set out briefly below how the capitals from the Living Standards Framework align with the 4 wellbeings, and how this connects with the visitor economy.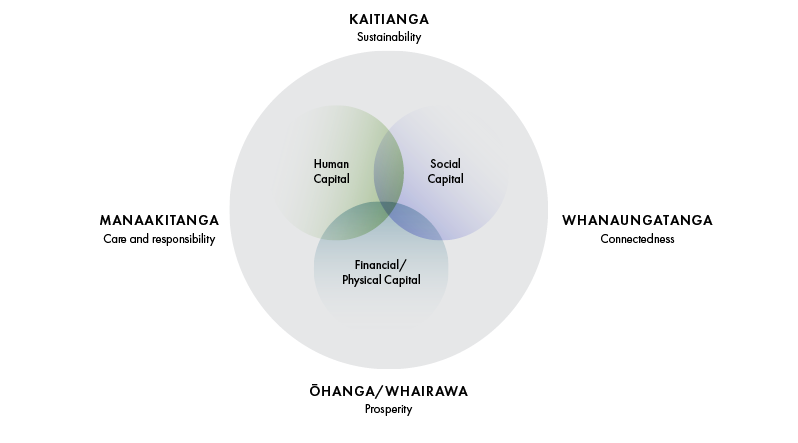 Text description of diagram
Natural Capital – environmental wellbeing
Tourism depends on a healthy, flourishing natural environment as its primary appeal is Aotearoa New Zealand's unique and diverse landscape and ecology. But tourism activities can, without careful management and in some cases restraint, also harm those ecosystems and subject them to overuse and degradation. Regenerative tourism, however, requires stakeholders in the system to repair damage, and work with nature to enhance its capability to thrive and evolve naturally.
Human Capital – social wellbeing
The success of tourism businesses depends on their access to a sufficient supply of well-developed human capital (a workforce possessing the right knowledge, skills and attitude to welcome and serve visitors). While tourism has sometimes relied on temporary and low-paid labour, it has the potential (by applying different operating models, investing in education and training, greater internal collaboration and the judicious use of technology) to create sustainable livelihoods and offer a diversity of longer-term career choices. The visitor economy can expand the opportunities for New Zealanders to also improve their physical and mental health and fitness via diverse ways of accessing and enjoying Aotearoa New Zealand's nature and diverse culture.
Social Capital – social and cultural wellbeing
Social cohesion is based on three pillars: social inclusion – the extent to which people can participate on an equal footing in all aspects of living in Aotearoa New Zealand; social capital – the trust that exists between people and their sense of belonging and engagement; and social mobility – equality of opportunity and the capacity to thrive and realise their full potential.
The success of a visitor economy clearly depends on all three aspects of social cohesion within Aotearoa New Zealand, especially now that the domestic market has become, for the near to mid-term, the primary source of visitors. As the value generated by tourism stems from positive encounters between guests and hosts, that value can be greatly enhanced if Aotearoa New Zealand's cultural capital can be enriched and celebrated.
The uniqueness of Aotearoa New Zealand comes from our people and their identity. The New Zealand culture and the essence of Te Ao Māori are taonga which should be celebrated so that those experiencing the Aotearoa New Zealand way of life can enjoy our warmth and genuine nature. In tandem with celebration, there is a need for protectionism to ensure the authenticity of who we are and to continue to enrich society with our ideals and guiding principles.
The kind of visitor economy envisioned by the Taskforce is one that embraces traditional Māori values by embedding them throughout the system and makes significant contributions to social cohesion by making sure that all New Zealanders (regardless of income, physical ability, age or gender) can access a wide range of leisure-recreational opportunities, contribute to shaping the way they wish to welcome visitors into their communities, and develop a stronger sense of belonging and identity by so doing. We can build a more cohesive society by having a visitor economy where sharing our stories and heritage is embodied in all aspects of the industry and society in general.
Financial-Physical Capital – economic wellbeing
The visitor economy is dependent on the diverse supply of a well-maintained physical infrastructure (including airports, roads, accommodation, parks and trails); access to investment and working capital; and collective agreement on appropriate levels of taxation and regulation. Tourism is also a major provider of income to businesses; tax revenue to various levels of government; and jobs for Aotearoa New Zealand's citizens.
Stakeholder Lens – taking a stakeholder perspective
A more humanised, and sometimes easier, approach to understand the capitals and wellbeings is to match them with the real people and stakeholders who stand to lose or gain depending on how the visitor economy performs. The Taskforce was grateful to draw on the insightful work of Carol Sanford*. Carol's work describes a reciprocal and symbiotic approach to regenerative commerce based on relationships which are adding value for, and in partnership with, each of five stakeholders through good and mindful design.
Co-creators are all the diverse hosts, employees, suppliers and facilitators of the tourism system who bring their own unique contribution to attracting and welcoming guests. Their purpose is to enrich the lives of their customers and they thrive by working with other co- creators who share the same purpose.
Customers are all the visitors to Aotearoa New Zealand's varied communities, regardless of their origin or purpose of visit. What matters is that their experience rejuvenates and fills them with vitality. By experiencing how they and the places they visit in Aotearoa New Zealand are cared for, they return with an intent to care for their own places.
Earth provides the Mauri – life force – that makes human activity possible. It is part of the co-creators' role to protect, nourish and steward it, because their capability to thrive depends on it.
Communities are the places and people who live there. Story of place informs their culture and gives them a strong collective ownership of where they live. Communities are where people come together to discover their unique identity and culture, so that they can express and extend hospitality in their own distinct way.
Investors provide the financial energy and guidance that ensures business and commerce are vital and healthy, which sustains the tourism system through the provision of capital and financial accountability.
*Adapted from Carol Sanford's stakeholder pentad model introduced in her book, The Responsible Business: Reimagining Sustainability and Success (2011).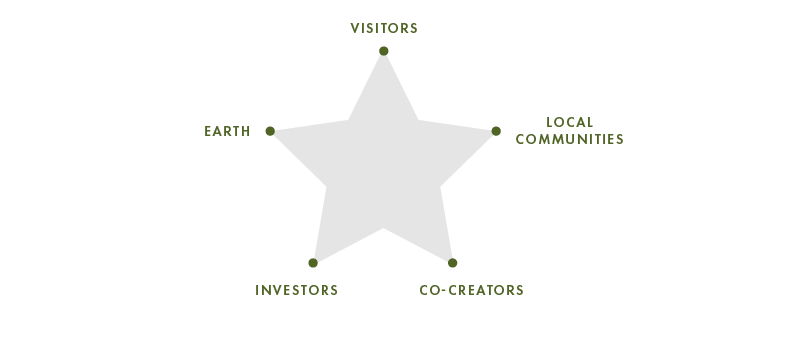 Text description of diagram