Our vision for the tourism workforce
On this page
We are here to nurture this place, enriching generations with livelihoods, experiences, and stories to share. We must own the impact of our actions and enable Aotearoa New Zealand to thrive by giving back more than we take.
New Zealand Tourism Futures Taskforce [1]
The Better Work Action Plan will enable people working in tourism to thrive and drive a regenerative tourism system, one that gives back more than it takes.
The figure below, from the Tourism Futures Taskforce Interim Report 2020 [2], illustrates how the tourism industry relies on thriving communities and environment (Te Taiao) in order to succeed, and therefore, why a regenerative tourism system is important for the industry. Improving the outlook for the tourism workforce is an important first step in that journey.
He Mahere Tiaki Kaimahi
To make transformational shifts in the tourism system, we must look at the foundation of the system: people. Investment in those who work in tourism is fundamental to the achievement of other transformational shifts.
We know that people working in tourism can only thrive when the businesses they work for are healthy, as is the wider system. We have aimed to keep this 'systems perspective' in mind: for our people to thrive, a positive environment of opportunity needs to surround them. The 6 Tirohanga Hou in this plan reflect the systems view.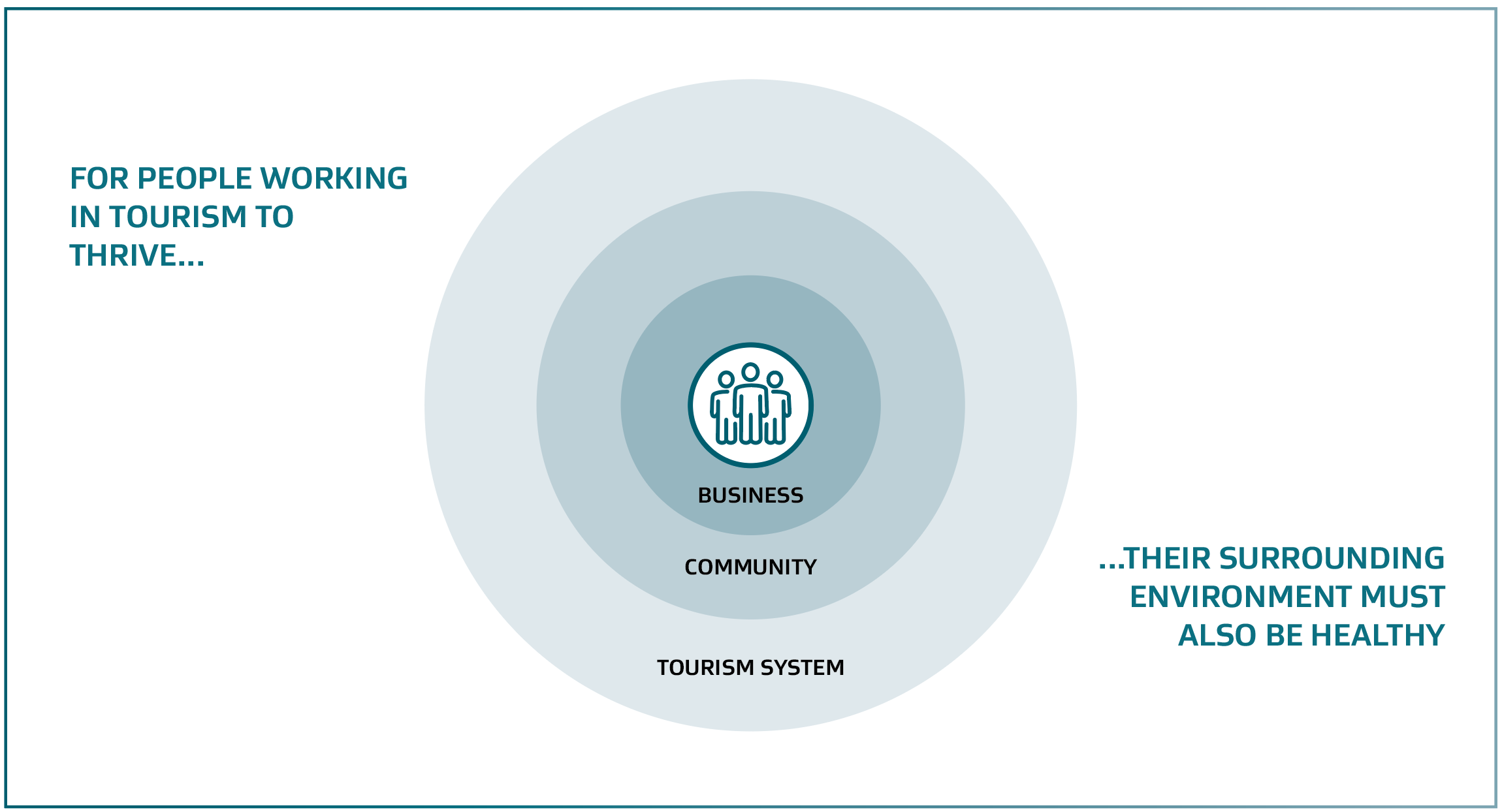 The Better Work Action Plan aims to pave the way for a future where:
Those who work in tourism are consistently treated well and can easily identify which businesses to work for and where they will find rewarding work. Consumers can identify and choose to support tourism businesses that are treating their people well.
Businesses are driven by purpose and values, and contribute to a regenerative tourism system with thriving, engaged workers.
Businesses develop or make better use of emerging technologies to develop new products and adopt new processes or business models. This will deliver greater efficiency, provide workers with more time to focus on their higher-value activities, and help businesses grow.
The tourism workforce is regarded as one of Aotearoa New Zealand's most culturally competent workforces, renowned for being culturally appropriate and delivering authentic storytelling.
Tourism is recognised as an industry which provides skills for life, where there are many ways to learn that suit both employees and employers well. There is an effectively skilled workforce, prepared for the future of tourism.
Entities within tourism collaborate with each other, and with other industries, to embrace opportunities presented by peaks and troughs of consumer demand. This attracts people to the industry who find working across different roles, businesses, and industries rewarding.
Tourism is recognised for its capable and knowledgeable leaders, operators, and owners. Employers are skilled in creating enriching employment environments, which create positive employee experiences.
People are proud of working in tourism, and it is an industry that people want to work in.
Tourism is able to welcome all people into the industry – not only those who are gender and ethnically diverse, but also people starting out in their careers, older/returning workers, people living with disabilities, and workers who are seeking flexibility in the timing and location of work.
We want to make sure people know it is possible to have a rewarding lifelong career in tourism. However, we do not define success as keeping people for the entirety of their working lives. The tourism industry will provide a space for people to move in and out (and back in), as they please – and this exchange of people, ideas, and skills will be valued. Tourism will give people skills for life, and this will contribute to the overall health of the tourism system, the economy, and the development and wellbeing of workers.
In the future, the Aotearoa New Zealand public, especially those with influence over young people (such as parents, school teachers, and career advisors) will have an enhanced perception of what tourism is, and what work in tourism can offer.
Last updated: 28 June 2023