Staying connected kete
This kete supports teams to think about ways to stay connected and well throughout this unsettling period. We are all working in different environments, no matter what team we are in.

This is a great opportunity to focus on mahi tahi and think about how you can connect and collaborate with your colleagues.

We have shared some tips below to support our MBIE people as we all practice social distancing.
On this page
Settling into your new work space
For many of us our homes may be our new workplace. Making sure you are working in a comfortable and sustainable position will reduce the risk of discomfort and injury.
Make your workstation as healthy as possible – have a supportive chair, use books to keep monitor at eye level and cushions to double up as foot rest.
If you can, separate work from home by working away from the bedroom and switching devices off at the end of the work day.
Manage the risk to the security, privacy and confidentiality of information when using your laptop and phone for work and ensure work papers are kept confidential.
Our Health and Safety team have also created a working from home checklist to help you identify and minimise risks.
The balancing act
Working from home can be challenging as we struggle to manage and share our family responsibilities and stay motivated. Remember it's as normal as possible and as flexible as necessary.
Consider having a routine just like your normal work day – meal times, bedtimes, exercise, work etc. Work your regular hours if you can and feel no pressure to do more hours if you have lost a few managing your family and other needs.
Take regular breaks and make sure you are hydrated well.
If you have young children, have internet issues or are simply not coping, talk to your People leader to see if you can both make a plan to work around this. Altering your work hours or workload is always an option.
Set up news ways to communicate
Picking up the phone and calling each other is a simple and effective way of engaging. Explore video conference calls and apps to stay connected.
Consider creating a group chat for work-related questions or fun, social messages. Make sure you separate your work and social conversation threads so that your team members aren't overwhelmed with messages.
Use 'Signal' and set up a team channel. Keep the messages flowing and be considerate. Download the 'Signal' private message app from your App Store on either an MBIE or personal mobile device and give it a trial.
Zoom is a video and conference platform with chat functionality that has now been licensed for use on MBIE devices.
Remember turning on your video camera feature during meetings is always optional. Video can help us feel connected, but we should never feel pressured to turn on our cameras. Sometimes video can feel like an invasion of privacy, and it is always your decision whether you want your camera on or not.
Remember to check-in
Keep in regular communication with your team by scheduling phone calls or video conference calls to discuss how they are going and how they are managing work under these circumstances. Don't forget to check-in and see how what you have put in place is working for your team.
Be bold and brave and take the time to know more about each other. Be curious and create a safe space to share stories.
Embrace your colleagues' personal environment. We are all part of a family. If a child, spouse, or pet interrupts during a call, say hello to them, if they are willing. MBIE encourages you to bring your whole self to work – well now you can bring your whole family too.
Foster inclusion and wellbeing into your daily discussions and be mindful of the language you use.
It's not always about work: use your group emails to send each other a quick photo, meme, or anything that makes you happy. Signal has some amazing stickers for you try too. Having a virtual coffee-chat is another great way to ensure that you stay connected.
Managing work
Each of us is experiencing a new way of working as we continue to support the Government through the alert level 4 of the COVD-19 Alert level system.
Our people have now been split into Incident response teams, Essential services teams and Business as usual teams.
At this time we are prioritising network space for the COVID-19 Incident Response and Essential Services teams. This means for those of us in the Incident response and Essential services teams work has increased, while for those who are part of BAU teams, work might have slowed down. If you are part of the BAU team and your work has decreased:
Feeling as though you are valued and contributing where possible is an important part of mental health and wellbeing. But please remember its ok not to be busy. Take the time to invest in self-care and your wellbeing. By staying at home and leaving the network free, we're all doing our bit to stop the spread, break the chain and save lives.
Take the opportunity for Māia and explore new ideas that you can implement when we return to the office.
Act on the 'list' of process improvements, process guides or other documentation that you haven't had the time to get onto.
This might be a great opportunity to take up some new learning that relates to your role or personal development goals. Sharing your learning might also help keep each other motivated and engaged. Learn@MBIE

(external link)

and our partner site Percipio

(external link)

has a wealth of resources for you to access and pick up a skill or two.
Set simple challenges for each other to achieve and celebrate every milestone. Using Values shout cards is great way to live our Values and helping other feel valued.
If you are part of the Incident response and essential services teams:
Try and structure your days one day at a time – be right here, right now! Remember you are in your special role and it's ok to not do your BAU.
A daily team stand-up/conference call may help to minimise your team and you feeling overwhelmed.
Remember to take breaks, stretch and take care of yourself.
Switch-off at the end of the day. It's important that you find time to take notice

(external link)

and remember the simple things that give you joy.
Self-care and wellbeing
Be Māia and acknowledge the anxiety you and your colleagues may be facing.
There are a range of tips and articles available in MBIE's wellbeing hub Te Puna Ora Library

(external link)

. If you are registered, the hub is available to you even if you can't log in from an MBIE device.
It could also be useful to explore with your team the Five Ways to Wellbeing

(external link)

over this time from the Mental Health Foundation.
Our Wellbeing support services index has helpline details to specific agencies that can help you with any specific concerns.
Please continue to report any wellbeing concerns or incidents so we can work together to find alternatives. You can use Zambion, found on your desktop or on the app on your MBIE device, to report any incidents. If you are unable to access the app, you can also email the Wellbeing, health and safety team on safetyandwellbeing@mbie.govt.nz
As always, your concerns and requests will be treated in confidence.
Here are some tips for Wellbeing that the Mental Health Foundation suggests
Tips
Focus on what matters and what you can control
Concentrate your attention on the things that matter and you can actually influence.
Remember you can only control your actions.
Following the advice and staying at home is the best thing you are doing.
Watch your media diet. Switch off! It's important to be informed, but over-exposure can add to our anxiety or worry, so make sure you find time to take notice and remember the simple things that give you joy - me aro tonu ki ngā mea māmā noa i ngākau harikoa ai koe.
Practise good hygiene and self-care we will be more resistant to the virus, and remember to keep things in perspective – most people who contract the virus make a full recovery.
Be kind to yourself and others
Being kind is proven to be a great way to support your own and others wellbeing.
Avoid making assumptions about communities, we need to mahi tahi – work together and be our best selves to get through this together. This is a time of angst for many.
Be considerate in your words and actions towards yourself and others.
Stay active and physically well
We know this is a tricky one without gyms or sports but it can be done!
Try out a new workout on YouTube
Go for walks or runs outside (just stay 2 m away from others!)
Clean the pantry and get some stretch
Take notice
There is a lot of good in the world. This is our time to notice what we would have missed in our busy lives.
Pause, reflect and watch your breath
Make a list of what you're grateful for, take the time to thank someone for how they make you feel
Do a group mindfulness exercise
Spend time with your babies – human, fur, plant, automobile, musical instrument and others
Spend time with nature
While staying at home doesn't mean you have to stay indoors all the time, it might feel safer for you to do so!
Think about how you can connect with nature from your home.
Pause, reflect and watch your breath
Make a list of what you're grateful for, take the time to thank someone for how they make you feel
Do a group mindfulness exercise
Spend time with your babies – human, fur, plant, automobile, musical instrument and others
Keep in touch with your friends and family
Connecting with others is so important for our wellbeing and helps to make us feel safer, less stressed and less anxious. We can support each other to get through this.
Call friends and whānau both in NZ and overseas
Stay in touch with your neighbours
Drop a text to the long lost friend and check-in.
Keep learning
Take the time to practice Te Reo and learn your mihi. Discover the name of the iwi, hapu, maunga and awa of the place you live.
Look up stories, myths and legends from different cultures.
Learn another language, pursue your hobby or pick up a course that relates to your role.
Learn@MBIE

(external link)

and our partner site Percipio

(external link)

has a wealth of resources for you to access and pick up a skill or two.
Be kind – show appreciation
It's always good to acknowledge the mahi your colleagues and teams are doing, particularly in such unusual circumstances. Send a text, set up a Zoom meeting, or a group chat on Signal to keep in touch. To make this more exciting, we also have some Values Stickers (please see attached) that you can use to appreciate your colleagues and cheer for your team that is living our Values every single day.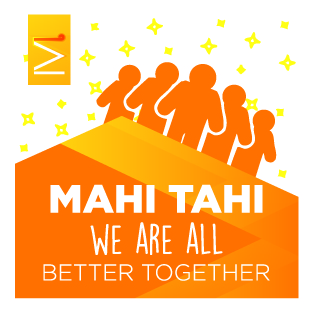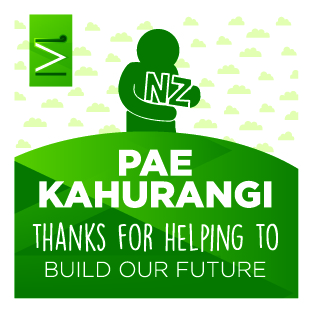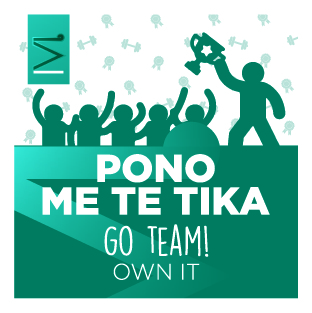 Last updated: 03 April 2020