Health and advice
Keeping well is essential for our whanau and communities, so it's important to follow the advice of the Ministry of Health. Practising good hygiene is the single most effective way you can help stop the spread of the virus.
On this page
Prevention
COVID-19, can be spread from person to person. When a person who has COVID-19 coughs, sneezes or talks, they may spread droplets containing the virus a short distance. You may get infected by the virus if those droplet contact you or you touch those surfaces or objects and then touch your mouth, nose or eyes.
That's why it's really important to use good hygiene, regularly wash and thoroughly dry your hands, and use good cough etiquette.
Cough or sneeze into your elbow or by covering your mouth and nose with tissues.
Put used tissues in the bin or a bag immediately.
Wash your hands with soap and water often (for at least 20 seconds).
Try to avoid close contact with people who are unwell.
Don't touch your eyes, nose or mouth if your hands are not clean.
Avoid personal contact, such as kissing, sharing cups or food with sick people.
Clean and disinfect frequently touched surfaces and objects, such as doorknobs.
Stay home if you feel unwell.
For the latest health advice, see the Ministry of Health.
COVID-19 (novel coronavirus) – health advice for the general public(external link)
COVID-19 - Information sheets for the general public(external link)
Watch Prime Minister Jacinda Ardern, Dr Michelle Dickinson and Dr Juliet Gerrard answering questions on Facebook [8 March](external link)
If you are unwell
If you feel unwell, especially with symptoms of fever, cough, cold and flu or difficulty breathing, you should stay at home.
Symptoms of COVID-19 are similar to a range of other illnesses such as influenza. Symptoms do not necessarily mean that you have COVID-19.
You can telephone the dedicated COVID-19 Healthline number on 0800 611 116 (or +64 9 358 5453 for international SIMs) for health advice and information. It is free and available 24 hours, 7 days a week.
Alternatively, you can contact your usual health provider by phone.
Also discuss what is happening with your people leader.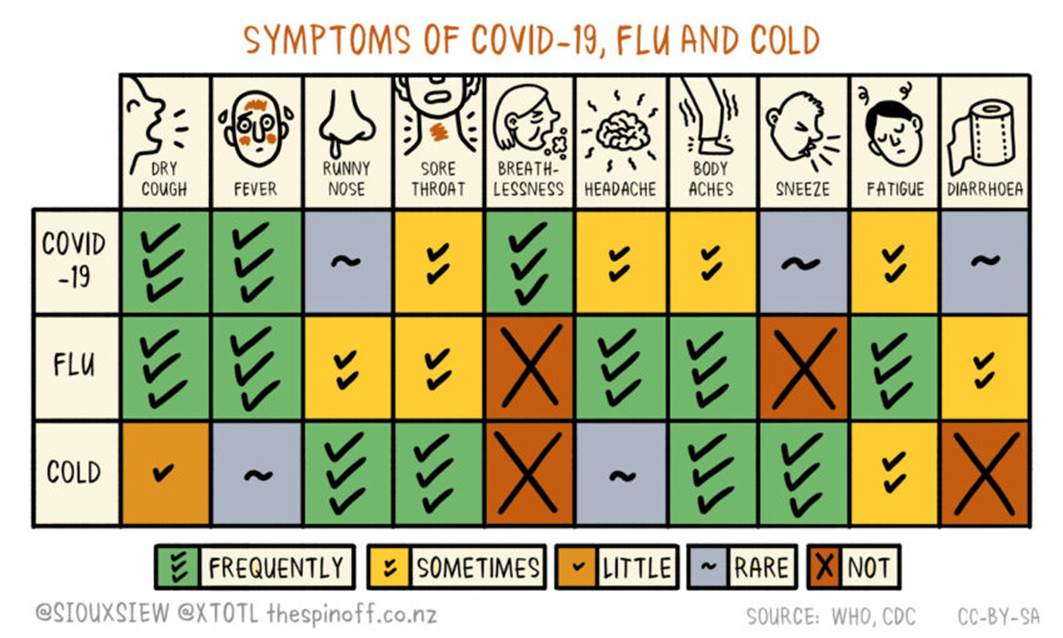 Workplace illness
For a confirmed case of COVID-19 in the workplace, ring Healthline for free on 0800 358 5453 immediately. Confirm the individual has been requested to move themselves into self-isolation.
If someone becomes unwell at an MBIE site and believes they have been exposed to COVID-19, they should find a room or area where they can be isolated behind a closed door, such as a staff office. If they need to go to the bathroom, they should use an isolated bathroom such as a disability bathroom. They should be asked to exit the building, contacting as few surfaces and people as possible and self-isolate.
If a member of staff or the public with COVID-19 has recently been in your workplace, areas of work and high touch points within the building should be cleaned by a professional cleaning company.
Reporting self-isolations, suspected cases and confirmed cases of COVID-19
If you or someone in your household have a suspected case of COVID-19 please report this to your GM and the Wellbeing, Health and Safety team. This will help us manage the spread of COVID-19 in the MBIE workplace.
Please provide the following information:
Full name and your location
The name of your People Leader
Your current status, i.e. self-isolation, being tested, confirmed.
Remember, if you feel unwell or showing symptoms of a cold you should stay at home.
Self-isolation
Self-isolation means staying at home. Staying home is a precautionary measure to protect those around you. You can go outside, but you need to limit your contact with others.
'Close contact' is considered to occur in any situation where you have face-to-face contact closer than 2 metres for more than 15 minutes. You should avoid having visitors into your home, but it's OK for friends, family or delivery drivers to drop off food and supplies.
If you have returned from any country, except those in Category 2 countries and territories, , or if you have been in close contact with a person who has a confirmed case of COVID-19, you will be required to self-isolate for 14 days.
Category 2 countries and territories(external link)
If you are living with someone in self-isolation, you do not need to self-isolate. Instead you need to keep some physical separation between yourself from the person in self-isolation.
Minimise the time you spend in shared spaces such as bathrooms, kitchens and sitting rooms as much as possible and keep shared spaces well ventilated. Avoid sharing any eating or drinking utensils. Clean surfaces after you use them and try to avoid touching them after you have cleaned them. Don't share beds or linen and clean regularly.
COVID-19 – staying at home (self-isolation)(external link)
Stress and anxiety
With continuous media coverage, unverified stories and uncertainty as things change so quickly, the COVID-19 outbreak may lead you to feel a little overwhelmed.
Some things we can do to take care of ourselves are:
Know the facts, get information from reputable sources like the Ministry of Health's website or World Health Organisation.
Switch off! It's important to be informed, but over-exposure can add to our anxiety or worry so take a break.
It's understandable to be concerned, but if we practise good hygiene and self-care we will be more resistant to the virus. And remember to keep things in perspective – most people who contract the virus make a full recovery.
Practice good hygiene to protect our precious taonga, you and your whanau, colleagues and friends. The Ministry of Health and World Health Organisation encourage good cough and sneezing etiquette and washing hands with soap and water to reduce the risks.
Avoid making assumptions against communities, we need to mahi tahi – work together and be our best selves to get through this together
It's good to connect and talk, whether that's with whanau and friends or with independent resources.
Contact EAP Services to access support. Remember that in busy times you can access a faster service by arranging a telephone discussion, rather than face to face. You can call them on 0800 327 669, int +64 9 353 0906.
Or you can call or text 1737, Need to talk? This service is free, available 24 hours a day, 7 days a week and gives you the chance to talk it through with a trained counsellor.
MBIE's wellbeing hub, Te Puna Ora, has a variety of resources and support tools available for you.
Te Puna Ora (you will have to log in using your MBIE email account)(external link)
Offshore offices
If you are based offshore your best source of up-to-date information is from the World Health Organization (WHO).
Influenza vaccination programme 2020
When New Zealand moved to COVID-19 Alert Level 4, we had to make changes to MBIE's influenza vaccination programme, however the programme will go ahead.
We can now confirm that flu vaccination vouchers will be available to all staff from 27 April 2020, though we will still have to be flexible about when we run vaccination clinics on MBIE sites.
Who is eligible for the vaccination?
All our MBIE people are eligible for the influenza vaccination programme. A priority system has been in place in response to the COVID-19 pandemic for healthcare and frontline workers and the vulnerable, and more information can be found on Te Taura.
All remaining New Zealand based staff will be able to access 'flu vaccination vouchers from 27 April 2020.
How do I book a clinic time, voucher or get a reimbursement?
Clinics
Once Alert Levels have changed to allow us to set up clinics in MBIE locations, we will confirm the schedule and you will be able to register for a clinic local to you via MBIE's wellbeing hub, Te Puna Ora. We will inform you of the clinic schedule here on Te Taura, so watch this space.
If you haven't registered on Te Puna Ora already, you can do so now – it's a simple, one off registration. You can register from home, using your MBIE email address and log in.
Redeemable Vouchers
Redeemable vouchers are available to be used at any participating Life or Unichem pharmacy. Vouchers can be arranged through Te Puna Ora, by clicking on "redeemable voucher'. Vouchers will be available to book on Te Puna Ora from 27 April 2020.
Booking is easy. Go to Te Puna Ora
Click on the flu vaccination tile on the dashboard which will take you to the dedicated flu vaccination page
Select "redeemable voucher"
Complete your name and email address
Click 'submit'.
Reimbursable vouchers
Reimbursable vouchers are also available to be used at your preferred medical centre, GP or Pharmacy, by clicking on 'reimbursable voucher' on the flu vaccination tile in Te Puna Ora. We recommend phoning your clinic to confirm they have vaccine supplies available to you. These will be available from 27 April 2020.
To claim back the cost of your vaccine the Finance team need the following information:
If you are already set up in FlexiPurchase
A photo or scanned copy of your vaccine receipt
Please note that if you have the FlexiPurchase app on your phone already, you are able to claim your vaccine through the app. If you get stuck, just send us the receipt and we will claim it for you.
If you are not set up in FlexiPurchase
A screenshot/image of your bank account number and account name, or a bank deposit slip
Your cost centre number if you know it (or just state what branch you are in)
A photo or scanned copy of your vaccine receipt
Email any of the above to financesupport@mbie.govt.nz. They will process the claim on your behalf. Please allow 5-10 working days for your request to be processed as we are reliant on network availability to process it.
If you're not sure if you have access or not, please contact financesupport@mbie.govt.nz and they can confirm this for you.
Flu Tracker
Ministry of Health is encouraging us to register for the flu tracking survey to help their surveillance efforts, by providing early detection of community spread of the flu and also of COVID-19 symptoms.
Register at flutracking.net(external link)
Will the vaccination protect me against COVID-19?
The flu vaccination doesn't prevent COVID-19, however improving the population's protection against the flu will improve the ability to manage any increased demand on health services as a result of COVID-19. Participating in the vaccination programme allows us to protect our precious taonga, our people.
Let's work together to make sure we can still succeed in keeping ourselves, our whanau and colleagues safe in these unprecedented times. We appreciate your patience as we remain flexible to the changing circumstances. For more information on the New Zealand flu campaign visit Fight Flu(external link).
Last updated: 17 April 2020