Tabana Nius Newsletter Issue 7
This is the March 2018 issue of our quarterly newsletter, Tabana Nius. It provides updates on our progress delivering the Pacific Economic Strategy and our work relating to Pacific communities.
Issue seven
Foreword: Jo Hughes – Head of Office of the Chief Executive
Talofa, malo e lelei, fakaalofa lahi atu, taloha ni, kia orana, bula vinaka, kam na mauri - Greetings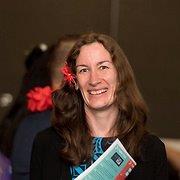 Welcome to our first Tabana Nius for 2018. It has been an exciting start to the year. In November 2017 we welcomed our new cohort of Tupu Tai interns. We were honoured to be joined by Minister Jenny Salesa and Minister Kris Fa'afoi who welcomed and provided words of encouragement to the interns. We also heard from our amazing Tupu Tek interns in the Information Computer Technology (ICT) world who have now started full time roles in the private sector.
There are many opportunities to engage with our Pacific community in the next three months, particularly in the areas of housing, employment and technology. I encourage you to check out the work that we are doing to build a better understanding of the many opportunities in ICT and how Pacific communities can benefit from it.
This edition will also feature the co-design work that we have undertaken with the Southern Initiative and the Ministry for Pacific Peoples to understand the barriers facing Pacific people in work and prototyping some of the solutions which have surfaced from the work so far.
I look forward to supporting our Pasifika work in MBIE.
Tupu Tai interns
On Friday 9th February, the Tupu Tai Public Sector Internship Programme for 2017 officially came to a close.
The 2017 cohort of 18 interns were placed in nine public sector agencies for 10 week internships in policy, project management and procurement.
On the last day, each intern presented to their fellow interns and team members who attended in support. Following the presentations, an official closing ceremony was held in the evening with Chief Executives from some of the partner agencies, the interns' families and their team members.
Of the 18 interns this year, five had graduated and were looking for jobs. By the end of their internship, three of these graduates were offered jobs in the public sector and one in the private sector. The rest of the interns have returned to complete their studies. Two of them have commenced their postgraduate studies with a master's degree and PhD degree.
We wish the 2017 cohort all the best in their future endeavours.
A special thank you to our partner agency whanau who took on interns and who have helped make Tupu Tai 2017 such a success!
The Tupu Tai programme was established in 2015 and is now in its third year. In 2015 there was one internship offered, this number grew to six internships across 4 agencies in 2016 and most recently 18 internships across nine agencies in 2017. We are looking to increase these numbers in 2018!
Tupu Tek interns
The Tupu Tek Pasifika Internships are a new initiative created through a partnership between Summer of Tech, the premier IT internship programme for NZ, and MBIE.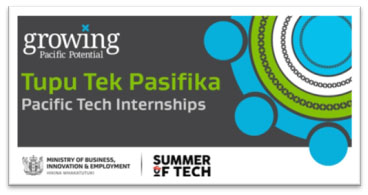 Tupu Tek is a targeted internship programme that encourages Pacific learners to take up paid work experience within the tech industry. Read more about the programme on the Summer of Tech blog.
Profiling Pasifika success
Wilber Tupua – Tupu Tai intern
Wilberforce Tupua is a Tupu Tai 2017 intern who was placed with the International Strategy team within MBIE. Read about his experience below:
Kia Orana!
This summer I was given an incredible opportunity, as part of the Tupu Tai programme, to work as a Policy Intern with the International Strategy team. The Tupu Tai programme provides internship opportunities to top Pasifika students at undergraduate and postgraduate levels to work in policy, procurement or project management across the public sector.
My name is Wilber Tupua. I am 23 years old and I recently moved from Auckland to Wellington. I was born and raised in Apia, Samoa, but I immigrated to New Zealand seven years ago. I am currently in my final semester of a LLB/BA(Hons) majoring in Politics and International Relations at the University of Auckland.
I have thoroughly enjoyed my experience of working with the International team. The content of the work is absolutely fascinating. Prior to this internship, I had a desire to practice law after university but this experience has shifted my career trajectory towards policy. I found it fulfilling to work in a space where, by virtue of your input, you can influence the direction of policy or legislation.
One particular highlight for my internship was having the opportunity to write a brief for Chief Executive Carolyn Tremain on impending EU-NZ free trade negotiations. Subsequently, I accompanied her to a meeting with the delegation from the EU and Carolyn invited me to contribute to the conversation. The experience was unimaginable for an intern, but this was only possible because I had the confidence of my manager, Katherine MacNeill, and the team that I can adequately complete the task.
We are approaching the end of our tenure and I can confidently speak on behalf of the other interns when I say that it has been a privilege to be part of the Tupu Tai programme.
Massey Isa'ako – Tupu Tek intern
Massey Tufulasi Isa'ako is Tupu Tek 2017 intern who was placed with the team at SilverStripe. Read about his experience below:
SilverStripe intern Massey Tufulasi Isa'ako isn't afraid to fail. In fact, he believes it's the fastest way to learn in a new environment.
Being involved in the first cohort of Tupu Tek interns in conjunction with Summer of Tech, Massey secured a developer role with open source CMS (content management system) company SilverStripe. Tupu Tek is run in partnership with MBIE, and aims for greater diversity in the tech sector by creating opportunities for Pasifika students. Through mentorship and various projects, Massey has been given desirable experience as a developer, where he can put his learnings from studying at Yoobee School of Design into practice.
Prior to securing his internship, Massey attended core-skill 'bootcamps' with Summer of Tech, and strongly recommends the CV and interview bootcamps. "The CV bootcamp helped me to set up the interview; the interview bootcamp helped me land the internship". Professional skills are strongly desired by employers, and Massey made the most of the free workshops available for tertiary students.
During his time at SilverStripe, Massey's main aim has been to gain real, industry-credited experience with the goal of obtaining permanent work at the end of his internship. The environment has been supportive, with mentors and colleagues taking their time to clarify technical knowledge beyond Massey's current understanding. He believes the best quality he has developed is the willingness and speed to learn, which he describes as invaluable in any profession.
He believes progression within the tech industry as a developer is measured by how fast you fail, and how fast you are to learn. Whilst it sounds daunting, Massey's advice to future interns is not to be afraid to fail, as the learning experiences involved in failure are vital to a developers' growth. Massey's goal through Summer of Tech and Tupu Tek was to secure an internship, and to land permanent work once the internship ended. He believes more companies need to take a chance in hiring new talent, and that interns are an investment for organisations to reap the benefits from further down the line.
Digital Moana: Tech Week 2018
In April, a Digital Moana communication campaign will feature successful Pacific people who have navigated the Information Computer Technology (or Tech) world.
This year we are partnering with the Ministry for Pacific Peoples, Pacific Business Trust, Dev Academy, Summer of Tech, Mahuki, Creative NZ, Young Enterprise and others to showcase the talents that already exist in our Pacific community in the ICT sector. We also want to showcase the variety of employment opportunities that exist in Tech now and into the future.
Things to look out for include the Digital Moana campaign in April, the Pacific ICT Conference in May and the ICT internships and scholarships that we will be announcing as part of Techweek 2018.
Co-design project update
Co-design project update: 'Accelerating Pacific peoples' progression in the labour market'
Update following workshops in January/February 2018.
In our previous Tabana issue we mentioned the co-design project that MBIE Pasifika team is leading together with the Auckland Council and TSI in identifying key barriers to Pacific people progressing in work, and testing potential solutions to these issues.
In January 2018 the project reached interview stage where a range of Pacific employees, and employers/organisations who hire Pacific employees were interviewed on their experiences.
On Friday 23 March, creative workshops were held at MBIE which looked at framing potential solutions to these issues.
What's on/Coming up
Tech Week 2018 - May 19–26
Samoa Language Week 2018 - May 27–June 2
Keep in touch
You can subscribe to our newsletter(external link) to receive regular updates.
We are very interested in hearing from you and sharing our plans and progress with as many individuals and organisations as possible. Email us at: pasifika@mbie.govt.nz.