Māori Economic Development Advisory Board (MEDAB)
He Kai Kei Aku Ringa (HKKAR) is the Crown-Māori Economic Development Strategy that provides a framework for an all-of-government focus to support Māori aspirations for economic wellbeing. The Māori Economic Development Advisory Board (MEDAB) was established to provide on-going stewardship, monitoring and evaluation of HKKAR and how it is implemented.
On this page
About the Board
The Board reports to the Minister of Regional Economic Development and Minister of Māori Affairs.
In carrying out its role, the Board will:
provide advice to our Ministry on the implementation of an action plan
provide regular reports to the Minister of Regional Economic Development and Minister of Māori Affairs
provide an annual report on progress to our Chief Executive
work with us to produce recommendations at 5-yearly intervals on renewing the strategic direction.
Tania Pouwhare (Co-chair) – Ngāi Tūhoe
Tania is a Social Entrepreneur for The Southern Initiative team at Auckland Council. Her role is to support and enable social and community innovation in South Auckland to tackle some of our tough socio-economic challenges, and to be a change-maker inside a massive bureaucracy.
She is leading The Southern Initiative team's work on procurement and employment and skills. Before moving to The Southern Initiative team 2 years ago, she held strategy roles.
Chrissie Hape (Co-chair) – Ngāti Kahungunu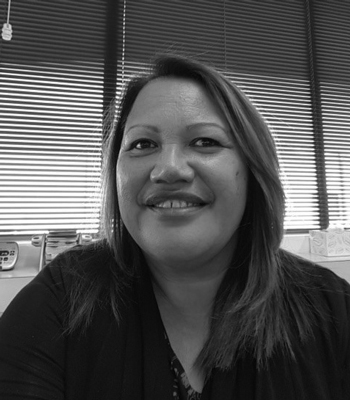 Chrissie has over 25 years of management experience both within central government and in community sectors. She is an agile experienced leader and has managed people, projects and services with an emphasis on building strong effective relationships for the best outcomes for our community. She has the ability to lead strong cohesive teams with diverse responsibilities and priorities that meet the needs of our people. She is currently the chief executive of Ngāti Kahungunu Iwi Incorporated.
Sasha McMeeking – Ngāi Tahu
Sacha has a LLM Honours and brings a serial entrepreneur's approach to working with and for Iwi Māori. From instigating United Nations proceedings to developing a Māori social enterprise fund and leading commercial negotiations, she is known for solution-building that meets Iwi Māori aspirations.
As the General Manager of Strategy and Influence with Te Rūnanga o Ngāi Tahu, Sacha was responsible for government relations, public policy, strategic planning, stakeholder engagement, and inter-Iwi collaboration which included commercial opportunities.
In 2015, Sacha was appointed head of Aotahi (the School of Māori and Indigenous Studies at the University of Canterbury) and co-director of Maui Lab. Sasha is also a partner in Tū Māia Partners, a collaboration of Ngāi Tahu women to deliver inspirational leadership and entrepreneurship programmes, from a base of ngākau Māori and with insight into catalysing and growing our people.
Shay Wright – Te Rarawa
Shay is the co-founder of Te Whare Hukahuka, an education organisation focusing on empowering indigenous community organisations, their leaders and communities. He is currently involved in Kahui Māori (Māori Advisory Board) Science for Technological Innovation Science Challenge and is a Board of Trustee member for Teach First NZ. Shay was listed in Forbes 30 Under-30 Asia as a social entrepreneur.
Hinerangi Edwards – Ngā Ruahine, Taranaki, Te Pakakohi, Tangahoe, Ngāti Ruanui, Te Arawa
Born and raised in South Taranaki, Hinerangi Edwards has an extensive background in employment, youth and workforce development. Her board experience spans agriculture, education, iwi and funding sectors. She is director of her consultancy company Aatea Solutions. Hinerangi also serves as a Māori Language Commissioner (Te Taura Whiri i te Reo Māori), chairs PKW Education Trust, and is a director of women's and Māori economic development entities.
Dave MacLeod – Ngā Ruahine, Ngāti Ruanui, Ngāti Mutunga, Atiawa, Taranaki, Kāi Tahu and Ngāti Porou
An electrician by trade and owner director of a Taranaki based electrical business, Dave has accumulated vast experience and significant business acumen. Involved in the SME community as well as his various iwi, Dave is also versed in regional development, has agriculture sector knowledge and as a result, extensive business and iwi networks
Robyn Kamira – Te Rarawa
Robyn Kamira is the founder and principal of Paua Interface, a long established technology consulting company, as well as, the founder and CEO of Incredible Skies, a drone company. A board member on the Institute of IT Professionals, Robyn has held a number of digital advisory roles. She is also a current member of the Ministerial Advisory Group for Digital Economy and Inclusion.
Last updated: 16 August 2022