October 2021
This is a bi-monthly Digital Boost stakeholder newsletter – designed to keep our key government partners up to date on our collective digital initiatives for small businesses.
On this page
We know that many businesses are doing it tough out there at the moment – especially our Auckland businesses who are still under Alert Level 3 lockdown. It's now more important than ever for small businesses to consider their digital future.
More and more Kiwi small businesses are getting digital with Digital Boost
Since our last update in August 2021 – we now have over 40,000 business owners, business starters and employees engaging in our Digital Boost Skills Training and Support initiative.
The platform has seen a number of new developments and new content since the last update, which include the following:
Te Reo Māori experience
During Te Wiki o te Reo Māori in September, te reo Māori was integrated into the free Digital Boost Skills Training platform. This exciting update is part of our commitment to make the Digital Boost training content accessible and relevant to Māori business owners and encourage the use of te reo Māori in the workplace.
Digitalboost.co.nz now includes over 90 educational videos in te reo, with the option for English subtitles. To allow for a varied level of fluency, videos can also be viewed in English with te reo subtitles. More videos will be created over the next year.
After 3 weeks of being live, over 800 video views across the 6 core 'how-to' categories have been viewed in te reo with the most popular currently being 'Ingoa kauwhanga' on domain names.
Translations on the Digital Boost platform were undertaken by Māori content and TV producer the Adrenalin Group and a number of kaipakihi Māori and te reo Māori speakers were also involved.
As new digital terms are frequently emerging, the team was faced with the task of coming up with translations for new words in the digital business world.
Pukamata & Paeāhua – Facebook & Instagram
Tōnuitanga/Ngā Pāraha Tōnuitanga – Productivity
Whakatairanga Matihiko – Digital Marketing
Hokohoko ā-ipurangi – eCommerce
Raraunga me Ngā Tātaringa – Data & Analytics
Urupare Kiritaki – Customer Feedback
Atamai Tāwhaiwhai – Artificial Intelligence (AI)
Ipurangi ā-taputapu – Internet of Things
He Mōhiotanga Pakihi – Business Insights
Paerangi Matihiko – Cloud
The platform also offers 4 translation options ('how to') content in the following languages: Simplified Chinese, Hindi, Samoan, and Tongan.
Remember that the digital skills training is available to any small business who has begun to explore the digital world and wants a boost to accelerate their business becoming digital. We need your continued support to help us spread the word and get another 35,000 people on board. Please tell the small businesses in your networks about Digital Boost, and encourage them to sign up.
Sign up for Digital Boost(external link) – Digital Boost website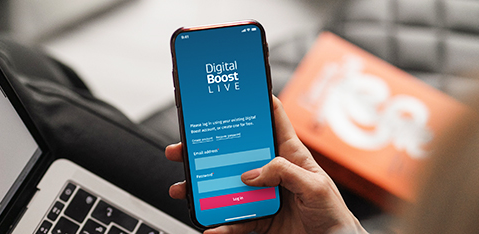 Experience the new Digital Boost Live app
Our new Digital Boost Live app means businesses can upskill anytime, anywhere using a smartphone or tablet. The app provides access to all of the platform's learning resources and has exclusive app-only features including podcasts and playlists.
Download the app from Google Play(external link)
Download the app from the Apple App store(external link)
Digital Boost communications pack – resources to help you spread the word
We are continually updating our Digital Boost communications pack for stakeholders, which has been designed to enable you to join us in spreading the word about Digital Boost to the small businesses in your own networks. We have lots of new and amazing content to share with you and for you to on-share!
The attached pack includes:
An overview of the Digital Boost programme – including its new and evolving parts
Key comms messages
Marketing collateral to use across various channels
Further details and contact information
Please do share this with the communications and channels teams within your agency/organisation.
You can find additional Digital Boost brand assets – including logos, imagery and how they can be used in our Digital Boost Dropbox folder.
Digital Boost(external link) – dropbox.com
We really appreciate you helping spread the word about Digital Boost for the benefit of all Kiwi small business owners and their employees.
---
Digital Boost Navigator RFP now live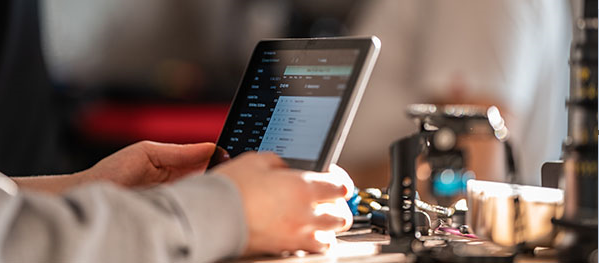 We're excited to announce that the Request for Proposal (RFP) to co-design and develop the next phase of the Small Business Digital Boost programme – the Digital Boost Navigator – is now live on GETS. The closing date for the RFP is 4 November 2021.
The intent of the Digital Boost Navigator initiative is to support small business owners across the motu with developing a Digital Action Plan to prioritise where they focus their time and effort on digitalising their business for the best return, as well as enabling them to have more informed discussions with tech and tool providers, digital advisors and lenders as appropriate.
We know that adopting digital can be overwhelming for some small business owners. While participation in the Digital Boost Skills Training initiative provides great foundational skills, there are still multiple options and tasks for the business to undertake, including selecting the most relevant digital tools and providers to work with. Prioritising these options and tasks can be a challenge.
The Digital Boost Navigator initiative is about working together to deliver a truly personalised experience to small business owners.
We hope to have the preferred supplier in place by early December, with the first services operational by March 2022.
Small Business Digital Boost: Navigator Initiative(external link) – gets.govt.nz
---
Digital Boost Alliance Aotearoa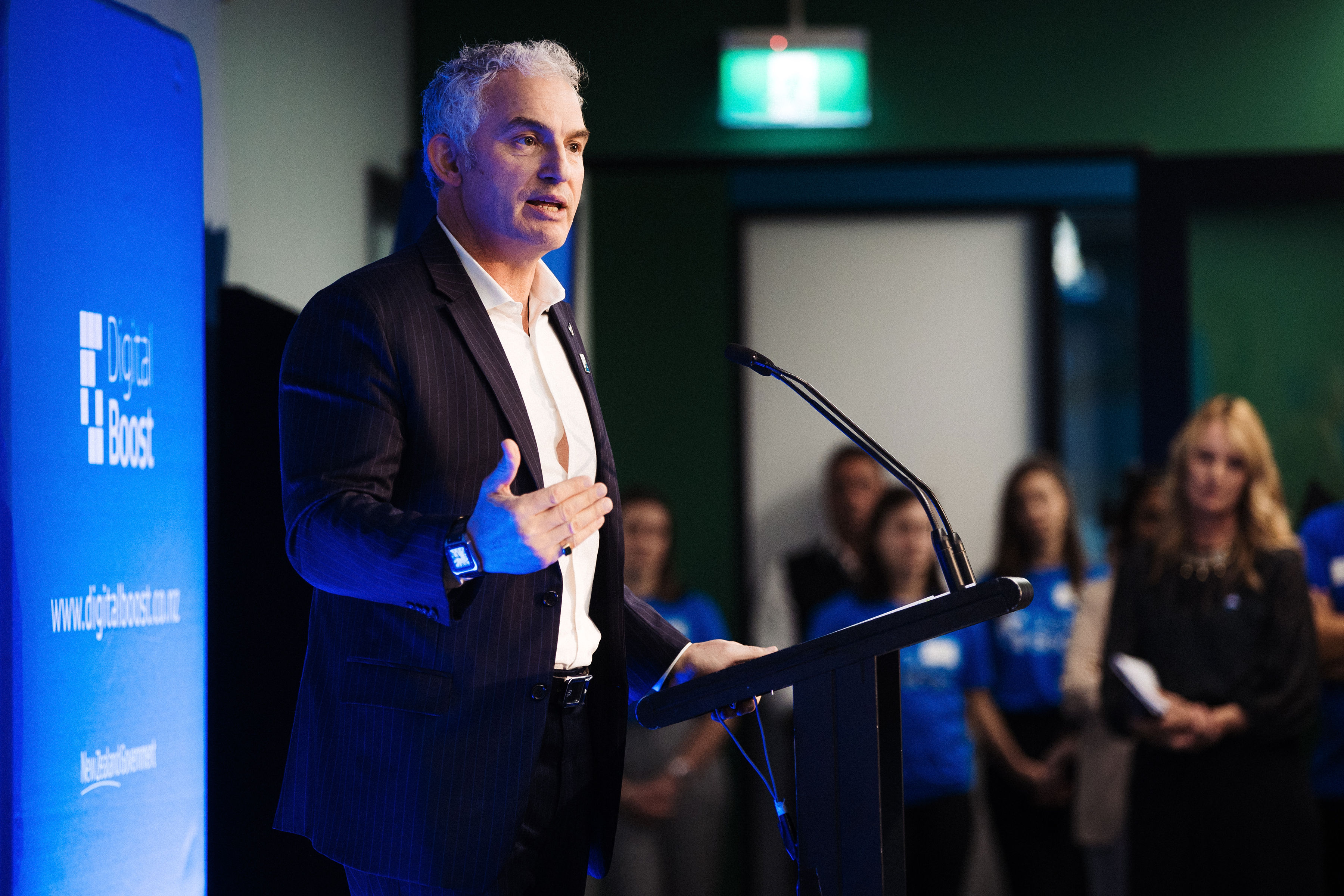 The Digital Boost Alliance has received a flood of requests from businesses throughout New Zealand who are keen to join the community and assist in helping bridge the digital divide.
The Digital Boost Alliance is a public-private sector group of influential (mostly larger) organisations collaborating to motivate and inspire small businesses and individuals across Aotearoa to lift their use of digital technologies.
Find out more about the Digital Boost Alliance(external link)
The Digital Boost Alliance is currently developing a new website with the goal of providing an engaging and informative space for members and businesses, and easy access to the commitments on offer. The new website will officially launch in October.
The Digital Boost Alliance conducted a series of successful workshops this month, during which Minister Clark presented the intent and focus areas for his upcoming 'Towards a Digital Strategy for Aotearoa'. This was followed by a live Q&A session and discussions on themes such as digital inclusion, collaboration and establishing a road map for the programme's future.
View a selection of the workshop recordings on Google Drive(external link)
The planned Digital Boost Alliance Fielday event which was tentatively delayed until 3 November will now officially be held off until the first quarter of 2022. The Fielday events are all about face to face interaction – so members are happy to wait until this is possible in the New Year.
---
Research and insights from Better for Business (B4B)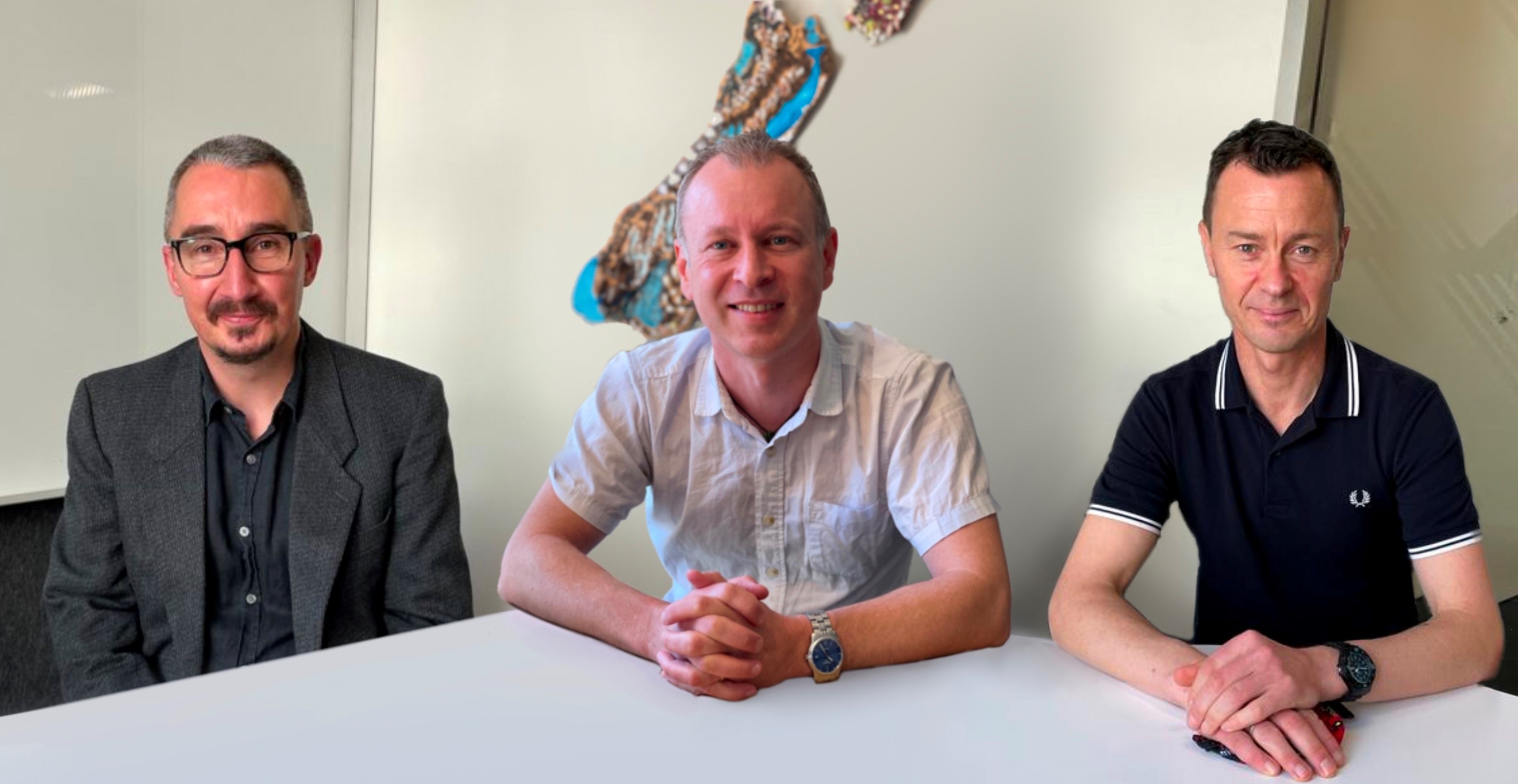 B4B's comprehensive digital index report is now online
A detailed report on the Better for Business digital index – expanding on the digital landscape summary that was published late last year – has now been released publically. Using the digital index as a foundation, the report provides an in-depth overview of NZ businesses' digital capability and an indication of their potential to adapt to technological change in future. It includes a number of recommendations to support the Digital Boost Alliance and other stakeholders across the public and private sectors who are interested in lifting the digital capability of NZ's small businesses. It also includes new analysis from Alliance member BNZ, looking at trends in uptake of digital services. An update to this research is planned in late 2021. Read the report below.
Understanding the digital capability of New Zealand businesses [PDF, 13.8 MB](external link)
Digital Boost impact research confirms early success of the programme
The first Digital Boost evaluation is now complete and results have been shared with the Minister for Small Business. A summary will be shared more widely in the coming weeks. In addition to high levels of satisfaction and a marked uplift in users' confidence levels, the evaluation revealed significant behaviour changes after only 3 months – which means participating businesses are already putting their new-found skills into action. The evaluation has also highlighted 3 areas of focus to support the continuous improvement of the Digital Boost programme.
New B4B insights materials about to be distributed to stakeholders
Within the next month, the following new insight products will be made available:
Understanding Kiwi business digital adoption
Aimed specifically at government agencies, this insight summary explores the varying rate of adoption of digital technologies among NZ businesses – and why this affects how government should support, communicate with and design services for those businesses.
Beyond business demography: the next step in understanding New Zealand businesses
This one-page insight summary expands on existing reporting by Stats NZ and MBIE on business demography, introducing some new perspectives on the NZ business population and how businesses operate.
Business dealings with government: an introduction
An introduction to what NZ businesses do with government agencies and how they go about it.
---
Have your say on Aotearoa New Zealand's digital future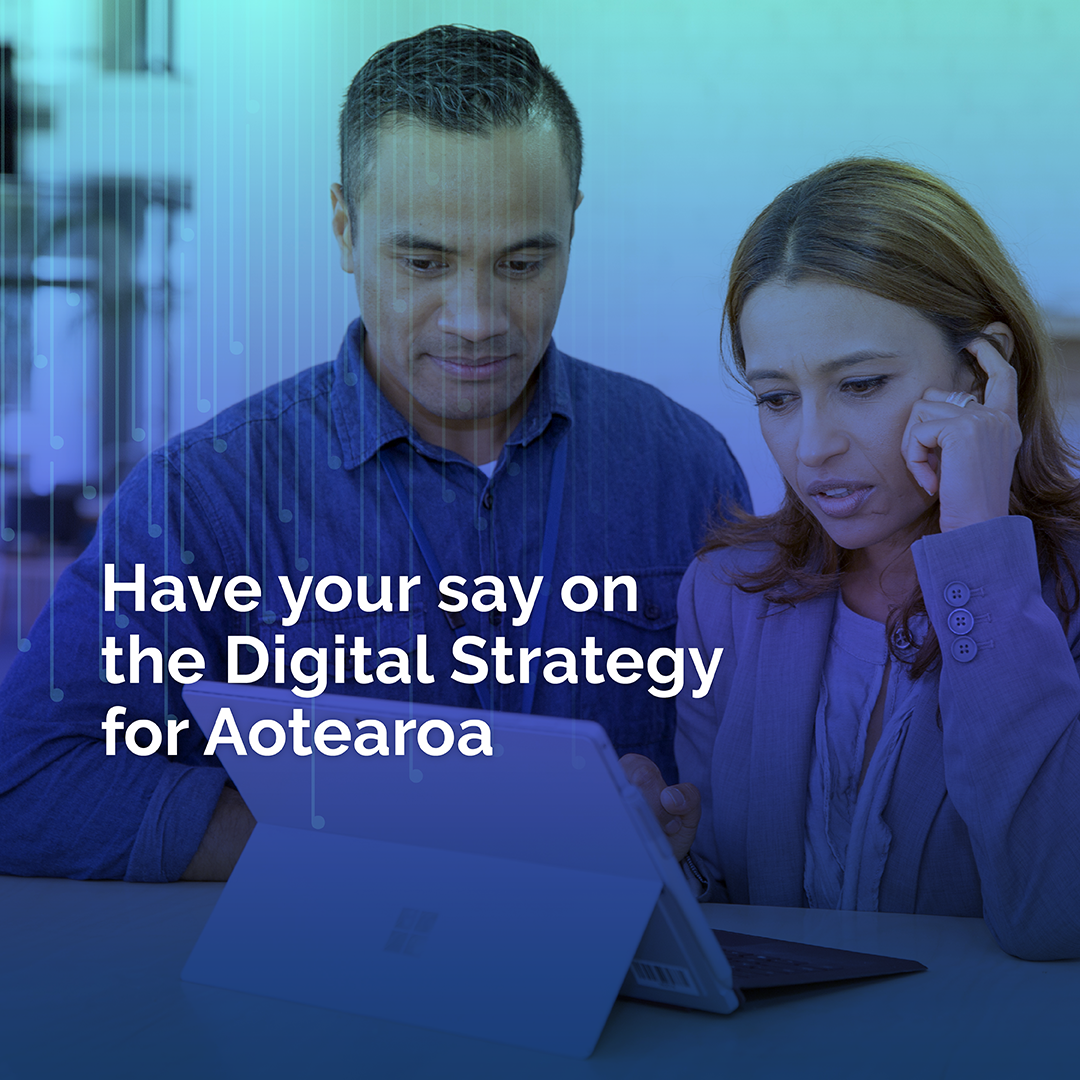 The Government is developing a Digital Strategy for Aotearoa and wants to know what you think is important for New Zealand's digital future.
The Strategy will be a blueprint for a higher productivity, lower emissions future where all New Zealanders have the opportunity to flourish in a digital world.
A discussion document has been released and is available at digital.govt.nz
Have your say – Towards a Digital Strategy for Aotearoa(external link)
It covers 3 key themes: Mahi Tika – Trust, Mahi Tahi – Inclusion, and Mahi Ake – Growth.
As part of the work towards creating a Digital Strategy for Aotearoa, an important step is realising the potential that digital tools and processes can bring to small businesses.
The Digital Boost programme is an important part of our efforts here. Through this programme, many businesses are now well on their journey towards digital transformation. But we can't stand still in a digital world. And as a country, we need a shared plan for how we will use digital technologies to improve our lives, businesses and communities.
Small businesses will play an important role in creating a Digital Strategy for Aotearoa, one that considers and supports the aspirations of all New Zealanders. The Government wants to hear from you about what the ambition, direction and approach to our digital future should look like.
A series of virtual hui will take place over the course of the engagement period which will run until early November. More information about how to attend a virtual hui and how to have your say is available on digital.govt.nz
---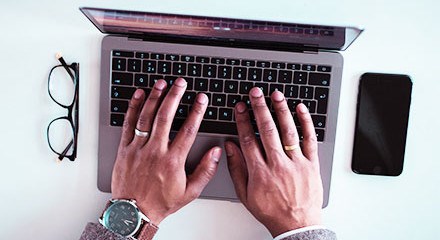 Over 115,000 sole traders are now doing business with their New Zealand Business Number (NZBN), tapping into the system's extensive range of unique benefits.
These sole traders join a community of over 870,000 businesses in New Zealand with an NZBN who will be able to more swiftly adopt digital ways of working and transact safely and digitally with government and other businesses in the ever-changing digital economy.
As a business or sole trader, having an NZBN allows them to carry out a range of digital transactions with government and with other businesses. It saves time and money, increasing the accuracy of transactions and ultimately future proofing their business.
The NZBN is a globally unique identifier, available to every Kiwi business. It makes life easier because it links back to the core business information (name, address, etc), that they're often asked to share with other organisations, streamlining the process when dealing with customers, suppliers and government.
The NZBN is now a common requirement in business because it provides certainty and allows information to be verified against the NZBN register. Companies are automatically allocated an NZBN but it is voluntary for unincorporated entities like sole traders, partnerships and trusts to have one.
However, with applicants for Inland Revenue's COVID-19 resurgence payments and small business cashflow loans needing an NZBN, there has been a steady increase in sole traders, partnerships and trusts signing up.
See more information about NZBN and how to get an NZBN(external link) – NZBN website
---
NZTE in partnership with Amazon offers a guide to selling on its marketplace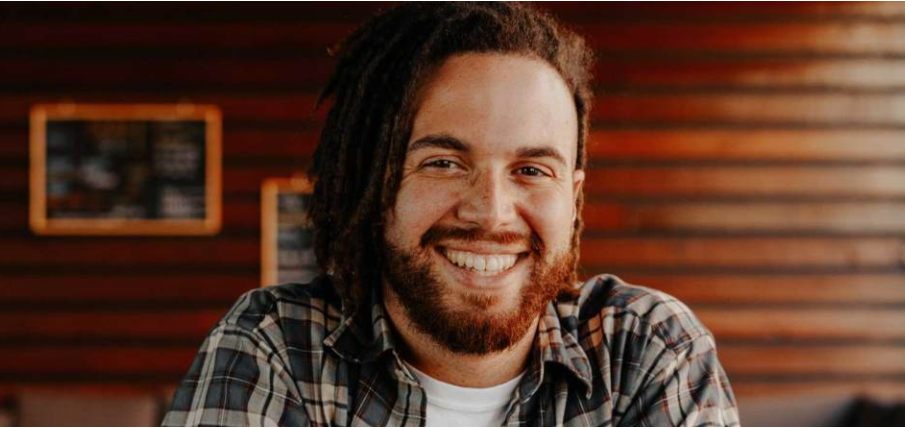 In March 2021, New Zealand Trade and Enterprise and Amazon partnered together to present a series of webinars designed to help businesses understand the fundamentals of selling on Amazon Australia, USA and beyond.
Businesses can attend the webinars by registering with Amazon:
Selling on Amazon: a live webinar series for NZ businesses(external link) – amazon.com.au
The topics covered include:
Why sell on Amazon? From Australia to the United States
An introduction to how selling online can help you reach more customers, the components of online sales, and a tour of available resources available to help you get started on your selling journey. This session also covers how you can set up selling accounts in the US, the costs involved and key considerations to think about before you start selling overseas.
Selling Partner insights
In this session, we sat down with a New Zealand Selling Partner, Meat Mates, to discuss their experience of selling on amazon.com.au and amazon.com
Listing fundamentals
This session aims to help you create your Amazon listings. We provide easy to follow tips to prepare your listings and help you understand the different options to create high quality detail pages that will delight and inspire customers.
Deliver smiles
A tour of resources available to help you provide an amazing customer delivery experience and maximise storefront conversion. We walk through shipping settings, pricing features and best practices for seller fulfilment. Learn how leveraging Amazon's fulfilment network can help reduce costs and streamline your order processing while making your products Prime eligible.
Build your brand
Here we share the tools to elevate your business through optimising your listings and pricing for success. We discuss and give a program overview of the different tools available to help you scale your business on Amazon and maintain a high bar for customer experience.
---
Support for new business from Inland Revenue
Inland Revenue offer a great deal of support to new businesses. Their website holds information that will help when business owners look to start working for themselves. A few useful links to what's available via Inland Revenue are:
---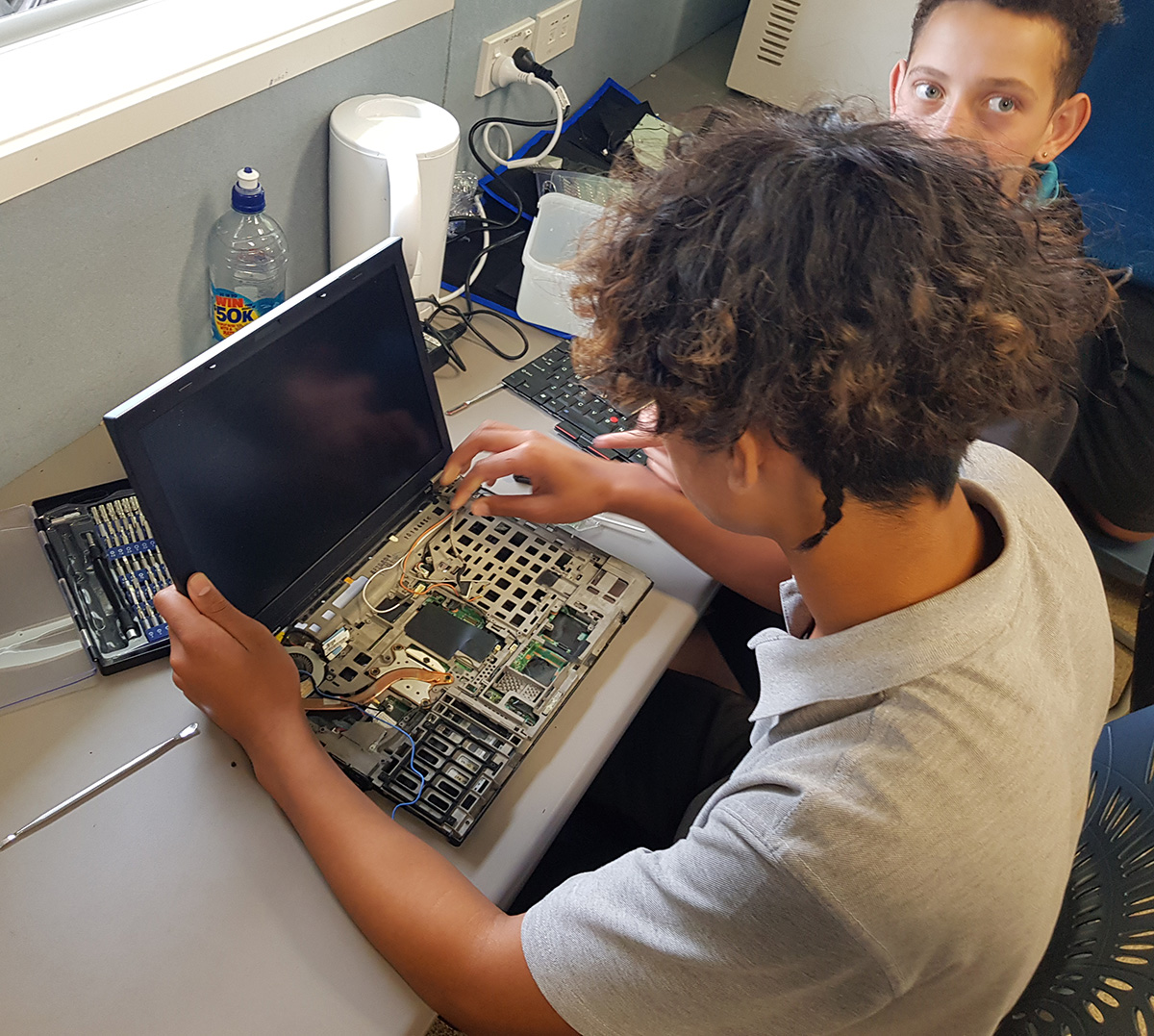 Recycle a Device (RAD) aims to close the digital divide, by bringing laptops and tech engineering skills to students and young people who need them. RAD accepts donations of second-hand laptops (less than 10 years old, with a charger).
RAD offers a low cost, low effort and data secure opportunity to ethically get rid of outdated IT equipment while contributing to local community improvement and development and making progress towards corporate social responsibility and sustainability goals. They accept and are able to teach students to refurbish almost any laptop that is less than 10 years old and comes with a charger. Once refurbished, devices are donated to young people that need them to access education, employment and participate in everyday life.
Why donate to RAD?
Generate positive PR with a charitable contribution to community and embrace social responsibility, receive a donor badge for your website along with social media collateral and social media shout outs from the RAD account.
Divert harmful e-waste from landfill and make progress towards company sustainability goals.
Encourage and support development of tech skills and a STEM focus within high schools, and do something tangible and immediate to make a positive difference in the life of a young person.
Join the ranks of previous donors including Spark, Christchurch City Council, New Zealand Trade and Enterprise, Qrious, Catalyst IT, Verizon, Aurecon and InternetNZ.
Donating is very quick, easy and data secure.
If companies and individuals are able to donate even a portion of their outdated laptops, it makes a huge difference to RAD and the communities they support. To talk about donating devices or funding, email team@recycleadevice.nz or call Rebecca on 02040196510
Check out Recycle Advice for more details(external link)
---
The scope to transact more online
Transacting with customers digitally is become increasingly important. As well as being safe during the COVID pandemic, being open online allows businesses to broaden their markets and extend their trading hours.
Given these and many related benefits, there is scope for increased digital transactions across many categories of consumer goods. To illustrate, the chart below shows the split of digital vs in-person transactions across 15 merchant categories in the 4 weeks prior to the Delta lockdown.
The 3 merchant categories with the highest portion of digital sales are areas where we now instinctively shop online rather than visit a physical store.
The fourth – IT equipment/software – has seen strong growth in online transactions as many Kiwis have set themselves up for working from home. In fifth place, the rise of streaming services has no doubt helped the entertainment category get close to 2 thirds of sales online.
Below this are a range of merchant categories associated more with in-person transactions. Products in some of these categories will necessitate being there in person (e.g. petrol). However, in others there will be scope to benefit more from the convenience of online shopping. For example, beauty stores have less than half the share of online transactions in furniture/appliances.
Giving customers the ability to easily shop and engage online will become increasingly important in competing and gaining market share. Keeping a watching brief not only on your competitors, but also on how leading businesses are innovatively delivering more for their customers online, may be critical to future revenue growth.
Digital spending from consumer card transactions, top 15 merchant categories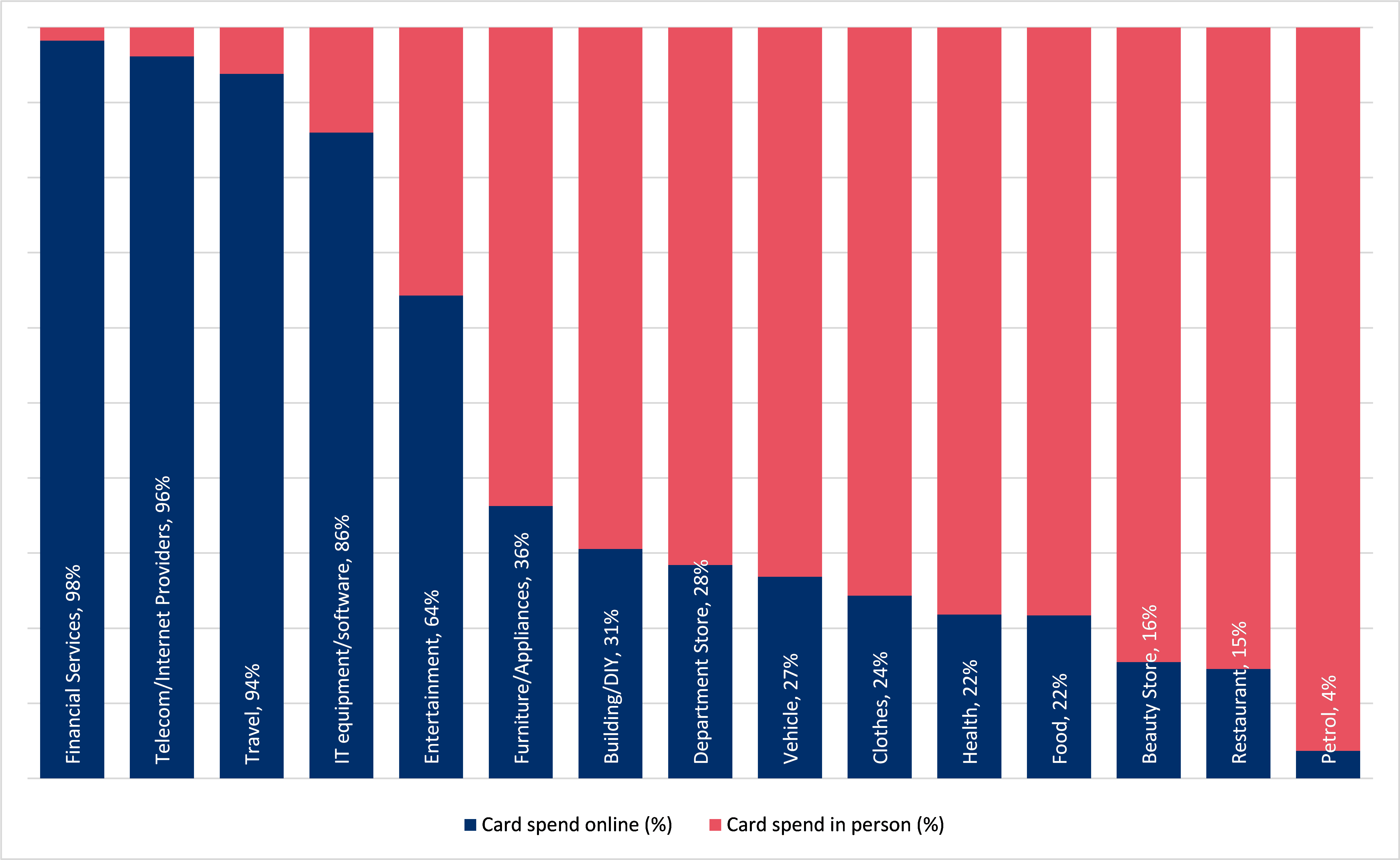 Last updated: 11 October 2021