Lake Onslow option
Pumped hydro storage at Lake Onslow is one option being explored.
On this page
Facts and figures for Lake Onslow project
The Lake Onslow option referenced by the Interim Climate Change Committee could be anticipated to provide at least 5TWh of annual generation/storage. It is estimated to have a construction timeframe of 4-5 years, with commissioning and filling taking a further 2 years. At its construction peak, it is expected to create 3,500-4,500 skilled and semi-skilled jobs.
What services can a pumped storage project like Lake Onslow provide?
Dry year storage—we are specifically investigating Lake Onslow given its ability to store up to 5-7TWh for dry year support
Intermittency back up—our existing hydro lakes can increase or decrease their output to offset the variation in wind or solar generation, but this capacity is limited. Pumped hydro could provide a form of back-up to ensure electricity supply and demand is met when generation from solar, wind and existing hydro are not enough.
Fast response reserve—pumped hydro can potentially provide technical services that ensure system stability in the electricity market.
What is the estimated cost of a project like Lake Onslow?
Early estimates indicate a project like Lake Onslow could cost about $4 billion. Our feasibility study will provide greater certainty about the costs.
How would it be funded?
Funding and financing models along with any potential subsequent levies, will be determined through the feasibility study. The use of a levy would need to be justified via a demonstration of significant public good in a feasibility study, including through overall lower prices for consumers in the long term.
Where is the Lake Onslow option located?
The Lake Onslow option is located north-east of the Clutha River in Central Otago.
The diagram shows what a 5TWh proposed lake would look like at the 760 metre contour. This is not the only possible option for Lake Onslow.
The NZ Battery Project is considering pumped hydro projects at a range of different locations, in addition to alternative technologies.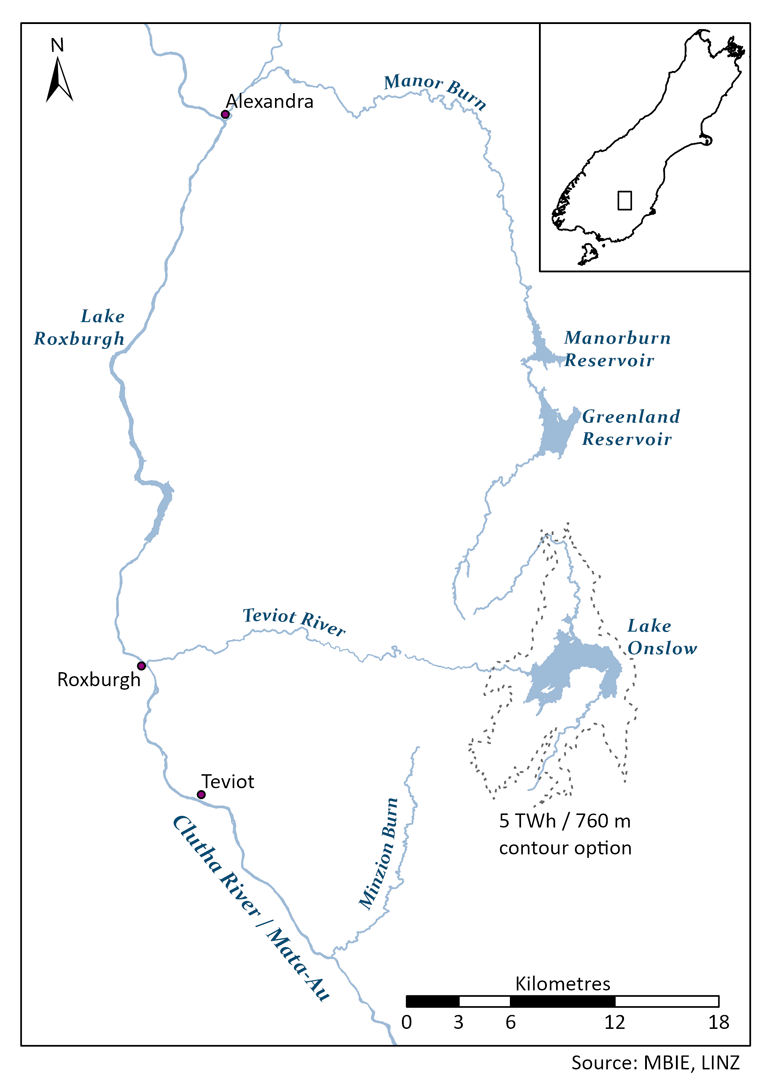 Feasibility study
In October 2021, the Energy and Resources Minister announced a significant contract to investigate the engineering, environmental planning and geotechnical feasibility investigations at Lake Onslow had been awarded to Te Rōpū Matatau.
Te Rōpū Matatau is a consortium of firms led by engineering consultancy Mott MacDonald New Zealand, with engineering consultancy GHD and environmental planning and design consultancy Boffa Miskell.
This work, along with the environmental and cultural investigations already underway, will give a better picture of the feasibility and costs of the Lake Onslow storage scheme.
Te Rōpū Matatau's Lake Onslow feasibility study is broadly divided into 2 parts – Phase 1A and Phase 1B – which are part of the first phase of the NZ Battery Project.
Phase 1A largely focuses on desktop studies that investigate possible designs of the scheme and the environmental effects, as well as undertaking some early field work, and determining the detailed geotechnical field work programme in Phase 1B.
Early field work is required during Phase 1A to establish key elements of feasibility and cost for an update to Cabinet in May 2022. These elements include information on nearby availability of material for dam construction, geology of the possible dam wall area and better understanding of tunnelling costs. At this point, Ministers will have preliminary geotechnical information, a preferred design option or options, and an understanding of the environmental and cultural implications of a pumped hydro scheme at Lake Onslow.
Phase 1B of Te Rōpū Matatau's feasibility study includes further geotechnical and engineering field work to understand the regional geology, rock properties and faulting and will help determine the best possible location and design.
The fieldwork investigations are likely to include drilling shallow and deep boreholes to better understand the underlying geology, the best route for a tunnel and the best location for a potential underground powerhouse.
The environmental planning work will also look at consenting options and what further work may be needed to assess the environmental effects.
These geotechnical, engineering and environmental studies are required to provide a further level of certainty for a full feasibility-level decision by Ministers, currently planned for December 2022.
Read the press release from the Minister of Energy and Resources:
Major contract awarded to power NZ Battery investigation(external link) — beehive.govt.nz
Geotechnical investigation
Te Rōpū Matatau has lodged and received resource consent applications with relevant agencies to undertake the geotechnical, geological and hydrogeological investigations to inform the Lake Onslow feasibility study. Further applications for this work are expected to be lodged during April and May.
The granted consents and upcoming applications propose investigative work at a number of sites near Lake Onslow, between the lake and Clutha River / Mata-Au, and at various locations in the Teviot Valley area. Most proposed sites are on public land. Any work proposed on private land will be discussed with the landowners prior to applying for resource consent.
The feasibility geotechnical investigations have multiple objectives and if resource consents are granted, will occur at multiple locations to help build a broad picture of how the regional geology could best support a pumped hydro scheme.
The proposed programme of geotechnical investigations aims to understand:
regional geology such as faults, shear zones and landslides
whether rock strength and other properties vary between locations
groundwater and surface water interactions
suitability for pumped hydro infrastructure at different locations.
This would be achieved by drilling for core samples and groundwater monitoring, excavating or digging test pits to observe soil and rock material near the surface, collecting rocks samples for testing, and non-intrusive geophysical surveys.
Prior to applying for consents, independent experts are contracted to assess the potential effects of each site, including ecological, cultural and archaeological effects. Sites are selected where the impact on these values and on the local community is considered low or could be avoided or mitigated.
We will be applying for resource consents for work that, if granted, would occur at various times throughout the remainder of this year.
Last updated: 07 April 2022