Lake Onslow option
A detailed business case is being developed on a pumped hydro scheme at Lake Onslow. This is one of two options currently being explored in Phase 2.
On this page
Facts and figures
A pumped hydro scheme at Lake Onslow is expected to provide between 3 and 8.5TWh, depending on the size of the enlarged lake. It is estimated to have a construction and commissioning timeframe of between 7 and 9 years.
A large construction workforce would be required. It is currently estimated that up to 2,500 people would be required over the construction period, with a peak of about 1,300 workers at any one time.

This would include specialist plant operators, construction workers, site and supervising engineers, trade people, drivers and administrative staff.

These figures will be further refined as part of developing the detailed business case. The NZ Battery Project will also investigate the needs of a large and temporary workforce and the likely impacts this will have on the community.
Services pumped hydro can provide
Dry year storage — storing energy that can be converted to electricity during a dry year event. The NZ Battery Project was established to investigate the ability of pumped hydro to address New Zealand's dry year problem.
Intermittency back up — hydro lakes can increase or decrease their output to offset the variation in wind or solar generation, but this capacity is limited. Pumped hydro could provide a form of back-up to ensure electricity supply and demand is met when generation from solar, wind and existing hydro are not enough.
Fast response reserve — pumped hydro can potentially provide immediate power when there is a sudden energy shortfall in the electricity market.
Early estimated costs
Based on Phase 1 investigations, the estimated cost of the Lake Onslow pumped hydro scheme is about $15.7 billion.
The earlier stated estimate of $4 billion was developed by the Interim Climate Change Commission prior to the NZ Battery Project being set up. This figure was updated from a high-level desktop estimate in 2006.
There has been considerable design and geotechnical work completed since then, and the revised total figure includes assessment of the all-in costs for the scheme, including escalation, contingency, supporting works such as road and bridge construction and land acquisition.
The figure of $15.7 billion is the expected cost of the reference case (1000MW of generation capacity, and capable of storing about 5TWh), and remains an estimate as work on this option is continuing.
The estimate is based on an industry standard that gives 50% confidence that the final cost will be the stated value or less, in accordance with industry best practice for this stage of development. This includes risk-based contingency (developed using a quantitative risk assessment) and escalation. The certainty of costs and schedule estimates will increase as further work is done.
Only the most immediate transmission costs are included in this figure. Early estimates provided by Transpower for necessary transmission upgrades to support a pumped hydro scheme operating at Lake Onslow would cost an estimated $615m. This estimate is also based on the industry standard practice of a 50% confidence rating that the final cost will be this value or less, which is appropriate for this stage of the project. This includes risk-based contingency and escalation.
Not all transmission upgrade costs would be attributable and payable by the NZ Battery Project, as other loads and generators would benefit from these upgrades.
Funding and financing
If this option continues to advance to the later stage of Phase 2, the funding and financing models will be determined as part of the final investment decision.
Location
The Lake Onslow option is located north-east of the Mata-Au / Clutha River in Central Otago.
The diagram shows what a 5TWh proposed lake would look like at the 760-metre contour. This is not the only possible option for the size of a Lake Onslow pumped hydro scheme.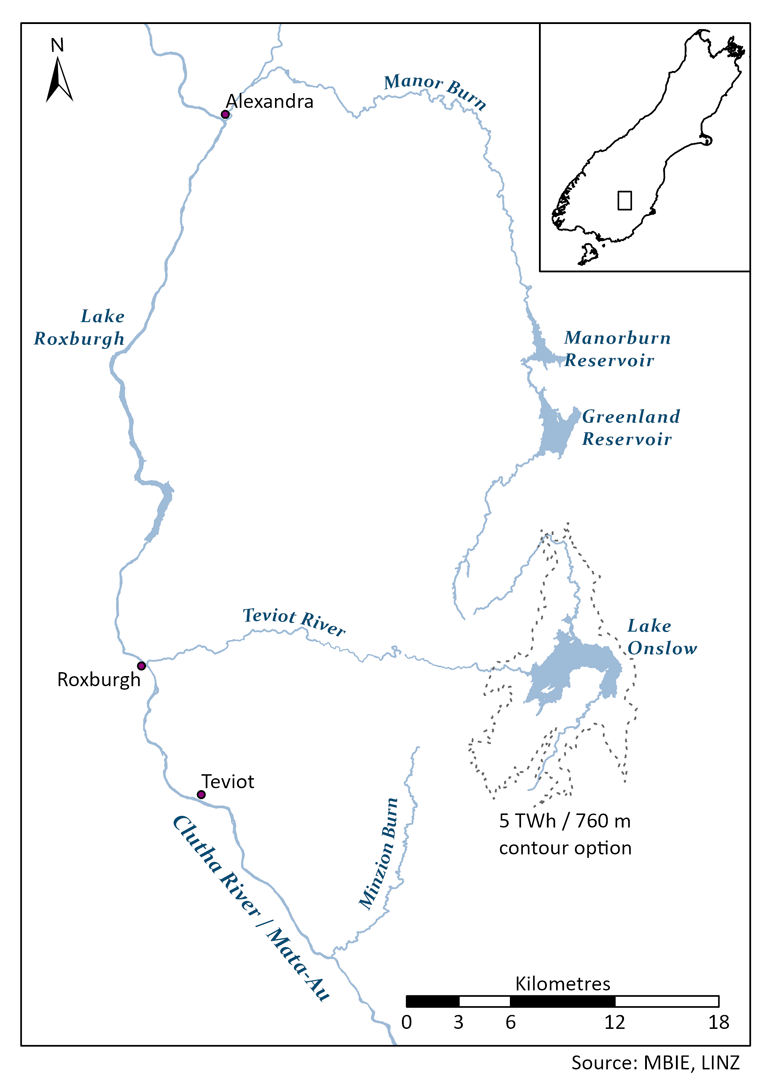 Investigations
The Lake Onslow investigations take into account the technical, environmental, social, cultural, archaeological and commercial considerations of a pumped hydro scheme.
Phase 1
In Phase 1, Te Rōpū Matatau was commissioned to oversee the engineering, environmental planning and geotechnical investigations of the Lake Onslow option. It also considered consenting options and what further work may be needed to assess the environmental effects.
Te Rōpū Matatau is a consortium of firms led by engineering consultancy Mott MacDonald New Zealand, with engineering consultancy GHD and environmental planning and design consultancy Boffa Miskell.
More information about the scope of Te Rōpū Matatau's Phase 1 work is outlined in the Energy and Resources Minister's October 2021 press release below.
Major contract awarded to power NZ Battery investigation(external link) — beehive.govt.nz
The project team is working through procurement options for further work in the next stage.
The results of Phase 1 investigations are listed below.
Phase 2
Further field work is needed in Phase 2 to better understand the Lake Onslow option. This would likely include further geotechnical investigations, and detailed assessments of environmental, cultural and social impacts.
In July 2023, Cabinet Ministers agreed to progress the portfolio approach along with the Lake Onslow option, to the next stage of the Project and with the aim of identifying a preferred solution by mid-2024. With two options being progressed, the first step for the Project is determining what activities are taking place and when. Some activities may be undertaken as part of the detailed business case, others might be undertaken as part of the Final Investment Decision stage, should Lake Onslow be identified as the preferred solution.
Geotechnical investigation
Te Rōpū Matatau oversaw the geotechnical, geological and hydrogeological investigations to inform the Lake Onslow feasibility study in Phase 1.
Work was carried out at a number of sites near Lake Onslow and in the Teviot Valley between April and October 2022.
These feasibility geotechnical investigations included drilling for core samples and groundwater monitoring, excavating or digging test pits to observe soil and rock material near the surface, collecting rock samples for testing, and non-intrusive geophysical surveys.
This work helped build a broad picture of how the regional geology could best support a pumped hydro scheme and provided valuable information to help understand:
regional geology such as faults, shear zones and landslides
whether rock strength and other properties vary between locations
groundwater and surface water interactions
suitability for pumped hydro infrastructure at different locations.
Before applying for consents, independent experts assessed the potential effects of the geotechnical work on each site, including ecological, cultural and archaeological effects. Sites were then selected where the impact on these values and on the local community is considered low or can be avoided or mitigated.
Permission from landowners was sought before lodging consents for fieldwork on private land.
Further geotechnical investigations would be needed to further develop an understanding of geology to support detailed design and option selection.
Environmental values
In Phase 1, ecologists and scientists undertook desktop studies and fieldwork to identify the species and habitats in the lake area. They also began looking at ways to offset, compensate and mitigate the likely environmental effects if the scheme was to go ahead.
This research aimed to help understand the:
species in the lake and their habitats (studied by NIWA, Cawthron Institute, University of Otago, Fish & Game)
water quality (studied by NIWA)
species and their habitats around the lake (studied by the Department of Conservation, Wildlands)
local lizard populations (studied by herpetologists).
The ecology of the area is important to mana whenua, and the potential environmental effects identified through this work are being considered as they affect cultural values.
Environmental effects - Phase 1 findings
The Phase 1 environmental studies provide an overview of the likely effects on environmental features and values, and the significant environmental risks. This early environmental work didn't consider the broader, national climate benefits.
Ecosystems
The dominant ecosystems in the proposed inundation area around the lake are tussock grassland, high-producing exotic grassland and wetlands. Up to 7100ha may be flooded to create the enlarged lake, although this would depend on the size of the scheme. Of this, between about 1270ha and 1330ha of wetlands would be flooded. The vegetation communities of these wetlands are relatively intact and primarily contain indigenous wetland species. Some of these wetlands are considered nationally significant.
Offsetting and mitigating the loss of habitats will be especially challenging and further work on this would be needed.
Freshwater fish
The scheme would alter the lake's depth and create greater variability in lake levels, and could affect water quality. It would also result in loss of fish habitat and food sources, affecting indigenous and introduced fish species found in the lake and its tributaries.
The Teviot flathead galaxias (Threatened-Nationally Critical), which is only found in Te Awa Makarara / Teviot River, would risk losing parts of its known habitat, potentially resulting in significant loss of its population. Translocation trials of this species are planned in Phase 2.

Other possible mitigation measures to minimise the impact on some freshwater fish species could include restoring streams in the tributaries, enhancing fisheries elsewhere, and installing fish screens to stop fish from entering the pumped hydro system. These mitigation measures would need to be explored further.
Lizards
4 lizard species were found during the Phase 1 environmental surveys, including the Burgan skink (Nationally endangered). Increasing the size of the lake would result in loss of lizards and their existing habitats in that area.
Possible mitigation measures could include translocating lizards to protected areas, installing predator-proof fences, creating new habitat or enhancing existing grassland and rock outcrop habitat.
Birds
Lake Onslow supports a large number of indigenous bird species, especially those associated with lake, river and wetland habitats. Increasing the level of Lake Onslow will alter lake margins, flood existing wetlands, river gullies and tussock grasslands that provide important habitats to native birds such as the black-fronted tern, pārere grey duck and the kārearea eastern falcon. Some species in the Lake Onslow area are considered taonga species by iwi.
The Phase 1 Lake Onslow Environmental Impact Statement has more information:
Feasibility Study Report: NZ Battery Project, Lake Onslow Pumped Storage Scheme [PDF, 22 MB]
Phase 2
More research would need to be undertaken to fill information gaps and better understand how a changed and changing environment will impact on local plant and animal species.
Further work would also be required to determine which measures would have the most success in minimising, avoiding or offsetting the likely adverse environmental impacts.
Recreational values
Lake Onslow is a popular and valuable fishing spot for brown trout. Almost all of the trout spawning habitat would be lost if the scheme was to go ahead, with subsequent effects on the brown trout population.
One possible compensation measure is to improve other trout fisheries in nearby lakes in the Clutha River catchment.
There are currently cycling, walking and four-wheel drive tracks, which would be impacted by the enlarged lake. Further engagement with the local community would be necessary to improve the understanding of the area's recreational values and identify opportunities to enhance the recreational opportunities.
Landscape values
The Lake Onslow Basin landscape has been modified over time to support pastoral farming and hydro electricity generation. However, the naturalness of the area is still high and it reflects the wider landscape of the East Otago Uplands. The naturalness and uniqueness of the values in the area would be impacted given the size of the proposed scheme, and the loss of wetlands and tussock grassland, which link across the landscape. The infrastructure and operation of the dam would reduce the naturalness of the landscape and back-country character. A detailed assessment of natural character, landscape and visual impacts would be required to more fully understand the impacts the scheme would have on landscape values.
Social values
During Phase 1, work was conducted to look into the likely impacts the proposed scheme would have on the community.
The interim assessment drew on statistics, council records and historic documents. It was also informed by interviews with affected landowners, a community forum, meetings with farmers, council and community board representatives and a local business group.
The report noted a mix of positive and negative social impacts, including:
disruption from geotechnical fieldwork and construction
on-going stress and uncertainty for landowners on potential land loss and continued disruption to farm operations
employment opportunities
boost for local businesses
housing needs for construction workers
impact on fishing
need for new or expanded social services and infrastructure
disruption during the construction period, including increased noise, dust, traffic and visual effects such as signage
new tourism and recreational opportunities.
A full social impact assessment would need to be carried out to expand on the interim assessment. This would include exploring ways to actively manage the likely negative effects and consider how to maximise the benefits for the community.
The NZ Battery Project recognises the importance of hearing directly from the community to ensure their perspectives and ideas are understood and considered.
Cultural values
Parts of the project area are culturally significant. It's important the NZ Battery Project investigations capture the effects a pumped hydro scheme would have on cultural values.
There is a long history of human activity in the area, and there is potential for unrecorded archaeology to be present. There are also historic goldmining sites of interest.
Following conversations with mana whenua for the Lake Onslow area, an assessment of cultural values related to project areas was commissioned in Phase 1. This included reviewing archaeological records.
Wāhi tūpuna and aro tawhito
Lake Onslow, Mata-Au/Clutha River and Te Awa Makarara / Teviot River are wāhi tūpuna (ancestral places). Lake Onslow and Te Awa Makarara are wāhi mahika kai (food-gathering sites), and Mata-Au / Clyde River is an ara tawhito (ancestral trail).
Wai Māori (freshwater)
Wai Māori supports ecological systems and provided food and resources to tūpuna (ancestors), driving cultural practices related to knowledge and intergenerational succession. Wai (water) holds mauri, a spiritual life-force. When the health and mauri of the waterways are degraded, this has a flow-on impact to the ecosystems, habitats and species it supports, and its people.
Ecology
Protecting and caring for te taiao (the natural environment) is central to the status of mana whenua. There are a number of native freshwater fish and bird species identified as taonga species in legislation, and are present in the Lake Onslow area. Other freshwater fish species are identified as mahika kai (practices, knowledge and activities related to food gathering).
Archaeological sites
There are a number of known archaeological sites in the project area. These sites are important to mana whenua as they provide information about the tūpuna (ancestors) and their daily lives.
Equity
Māori have borne, and continue to bear, the costs of loss and inequity from colonisation. Mana whenua values equity by growing their people through building skills, new jobs, and governance opportunities that enable the exercise of mana and rangatiratanga (chiefly authority) in their takiwā (territory).
The project team will continue to work with mana whenua in Phase 2. A cultural impact assessment would need to be commissioned to explore opportunities to avoid, remedy, mitigate or offset adverse effects.
Archaeological surveying would also be needed to help fill information gaps.
Archaeological and heritage values
Assessments in Phase 1 by independent experts examined existing records and found there is a range of sites and features in the project area that have heritage or archaeological value.
They found 8 publicly recorded archaeological sites that sit within the proposed inundation area, including one assessed as having 'high' significance. An additional 6 publicly recorded archaeological sites within 1km of the inundation area may also be adversely impacted because of changes in lake water levels.
In addition, these archaeological and heritage experts were also commissioned in Phase 1 to advise on the appropriateness of each prospective fieldwork site prior to any geotechnical investigations commencing. They also briefed all contractors on how to identify archaeological evidence and what to do if something was uncovered during the physical geotechnical work.
No archaeological evidence was found in the Phase 1 geotechnical work.
Next steps
The Phase 1 desktop assessments did not cover the whole project area – particularly as the exact locations of some infrastructure are still unknown. Comprehensive physical archaeological surveys would be needed to fill information gaps where no existing records are available.
The same protocols will be applied before commencing geotechnical fieldwork in Phase 2 to ensure sites are carefully selected and contractors are trained in identifying archaeological material and how to respond if material is found.
Last updated: 09 August 2023