Round 3 funding round - focus areas
Applicants for the third funding round should use this information when designing their project.
On this page
The focus for round 3 is on pilot projects that:
fill gaps in the projects funded to date in terms of the type of project, location, and the people and communities they target, and/or
build on the success of SEEC-funded projects to date, and
have the potential to scale.
Information to help applicants identify gaps across current SEEC initiatives and on what has been successful to date is below.
Filling gaps
We are focusing on filling gaps because we want to increase the diversity of the initiatives and spread the funding more widely. This will help us learn about providing different types of support in different locations and communities as an input to on-going evaluation and future policy and funding decisions.
We are encouraging you to fill gaps to cover regions that have received only a limited amount or no SEEC funding to date.
The map below shows all of the SEEC projects funded to date (rounds 1 and 2, and through the funding boost).
There are also opportunities to fill gaps in terms of the type of initiative funded or types of communities supported. Research shows that there are some communities that are over-represented in energy hardship e.g., New Zealanders with disabilities, students, and the elderly.
This map shows the locations of SEEC-funded initiatives to date.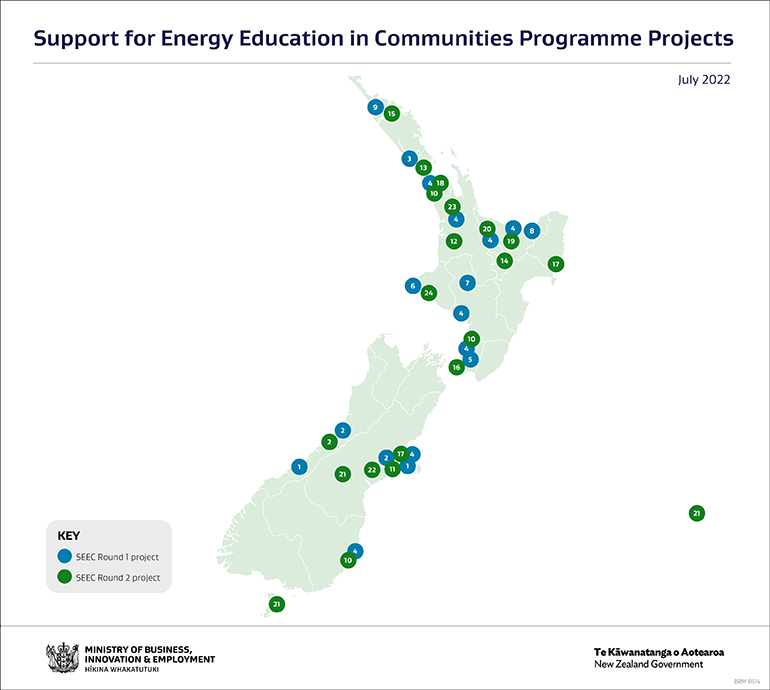 Image text description - SEEC projects by region
Details of each of these projects including the services being delivered and the target households, are available on the link below:
Building on successes to date
We have undertaken a preliminary analysis on the findings to date from SEEC initiatives. We have identified key features that have led to projects increasing the energy wellbeing of households.
Taking these into account when designing your initiative will help you fall within the focus areas for this round.
To date successful projects have:
reached communities that are over-represented in terms of households in energy hardship
been designed and planned in way that enables the organisation to be flexible in its delivery
implemented actions that lead to energy savings for households.
Reaching communities that are over-represented in energy hardship
Building trust within communities and households can take time but is an important foundation to enable house visits. Project teams could aim to leverage relationships with groups that have existing connections.
Forming partnerships with community groups such as Māori community service providers and Pasifika churches have proven to be successful in reaching communities.
Projects that utilise tikanga Māori principles have been effective in reaching Māori.
Marae-based initiatives and community events/hui have proved successful in reaching a large number of households in the targeted community.
Designed and planned in way that enables flexibility delivery
Most projects found success in completing a mixture of personalised assessments (both in home and through video calling) and community events/hui.
Providing free equipment such as blankets and heaters is an effective way to complement home education and increases the level of engagement of households.
The information and education provided, and the actions to support this advice, should be simple to understand and easy to do.
Providers could trial running assessments remotely (for example, through video-calling) if COVID-19 continues to impact on the ability to have face-to-face engagement with households.
Implement actions that lead to energy savings for households
The following actions can each deliver significant average energy savings, ranging from $180 to $230 per year:

more efficient heat pump use through cleaning filters
installing LEDs
installing an efficient showerhead and reducing shower times by one minute
turning off second fridges, and
switching electricity plans to a lower-cost option.

Small additions to the home such as curtains, draught stoppers, and appropriate seals also result in significant decreases in a household's power bill and increase the ability of a home to retain heat.
Undertaking simple repairs, identifying water leaks and eliminating mould have also proven to significantly increase the energy wellbeing of those living in the home.
Last updated: 07 July 2022