Just Transition opportunities
New Zealand is on the path to a low emissions economy and the Government has committed to making this process a "just transition"– one that is fair, equitable and inclusive.
On this page
MBIE has been leading the government's work programme on how the government is enabling a just transition, and how we partner with iwi, communities, regions and sectors to manage the impacts and maximise the opportunities of the changes brought about by the transition to a low emissions economy.
Who we are
We lead MBIE's just transitions work programme. A just transition inherently requires taking a long term view to planning and change. Therefore, the just transitions approach and the just transition work programme are only just beginning.
Since mid 2018, we have been focusing on three key areas:
We have been supporting Taranaki in the development of their Taranaki 2050 Roadmap; and co-hosting the National Just Transition Summit in New Plymouth
We lead MBIE's input into the government's climate change policy work programme, which involves working closely with the number of teams within MBIE who have an interest in climate change policy.
We work across government to embed a just transitions approach into policy-making.
We are now looking to extend our work programme into the next phase of activity and to recruit specific skills to allow us to this.
We are looking for people with experience in active partnerships and in implementing engagement processes that will deliver robust solutions to issues, whether they be leveraging opportunities or managing impacts.
We need people who can operate effectively when things may be ambiguous, and who are not afraid of pushing into new thinking and practical ideas. Experience in working within government at local or central government is preferable.
We also need someone to help build our capabilities around data and analytics, taking the perspective of how we understand the distributional impacts of different policies so that we can understand what support mechanisms may be warranted.
A low emissions economy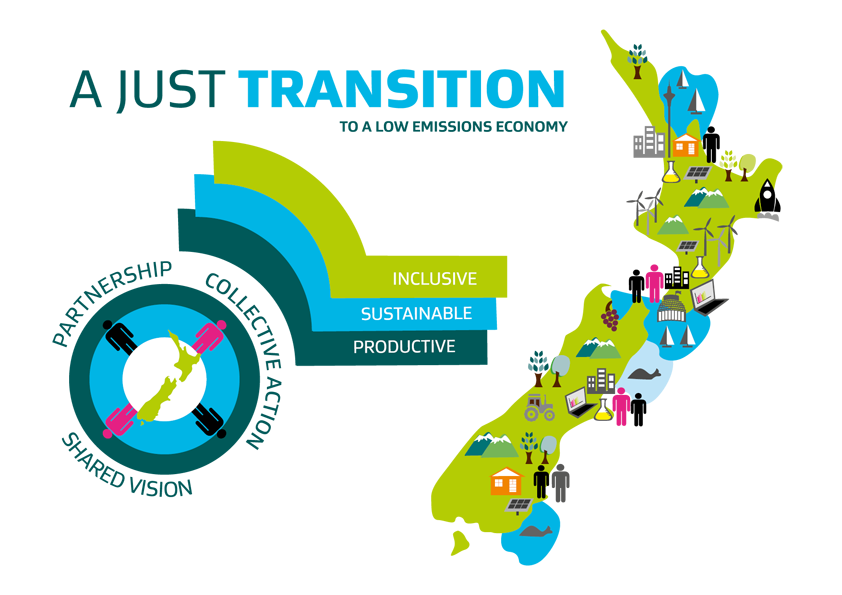 New Zealand is on a path to a low emissions economy. We need to actively plan for a future economy that is going to look very different in 30 years than it does today. These include new technologies, globalisation and demographic shifts, which will have impacts on the ways New Zealanders work and the jobs they do.
What we do
We work hard, on interesting topics and with a range of diverse stakeholders. We like to work collaboratively, and harness the knowledge and ideas of others with different perspectives and experience. We like to celebrate success, support each other on the challenges, and importantly, we enjoy what we do.
This is captured in MBIE's values which are:
Mahi Tahi– Better Together: Working collaboratively, sharing knowledge, treating each other with respect and connecting with others to make a meaningful difference.

Pae Kahurangi– Build Our Future: The future of New Zealand is at the centre of everything we do.

Pono Me Te Tika – Own It: Being accountable to ourselves and the public we serve.

Māia – Bold and Brave: Being innovative, trying new things and challenging the status quo.
Last updated: 22 July 2019