Meet our graduates
Meet some of our policy and procurement recent graduates.
On this page
Policy graduates
Francesca Goodman-Smith
I completed a Bachelor of Science and a Master of Science in Human Nutrition. My thesis was on food waste – pretty much my research was a 'load of rubbish'!
The Ministry of Business, Innovation and Employment (MBIE) hosted a promotional session at the University of Otago. After hearing about the wide range of teams and opportunities (in particular those related to science) at MBIE and talking to the managers who were there, I knew it was an opportunity not to be missed.
Experiencing the programme with a cohort of like-minded people who are in the same boat as you is invaluable. I also think the diverse range of development opportunities, training and challenging work you are exposed to through the programme is a real strength.
The programme is a development role which means you are given the chance to gain skills across a variety of policy areas, subject matter and areas of personal development.
I would highly recommend the programme if you are keen to learn the ins-and-outs of policy in a friendly, supportive environment that presents you with challenges and opportunities to grow.
Jonathan Mitchell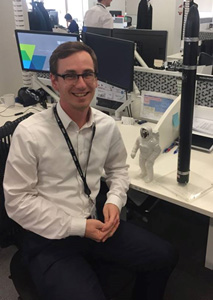 I have a commerce background with a Master of International Relations.
I've always been interested in a policy career and MBIE has a ton of different areas of policy work. The ability to rotate through different teams as part of the programme was really appealing.
I work in the Space Policy team within the New Zealand Space Agency to help implement New Zealand's regulatory regime for licencing rocket launches and satellites. Space policy regularly combines international law, domestic regulation and developments within a fast-paced industry – which means getting to work with a wide range of experts on some really interesting projects.
There's a high-level of trust afforded to graduates so you get significant responsibilities early on. It can be challenging but you also get plenty of support through training, your team and the graduate cohort.
Charlotte Adam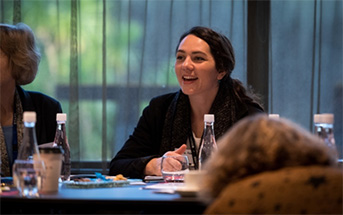 I have a Bachelor of Laws and Bachelor of Arts – majoring in Political Science.
As a policy grad at MBIE I have had a diverse range of work opportunities from helping to develop a Health and Safety Strategy for New Zealand to scoping minor and technical energy safety issues for regulatory reform. I find the flexible and varied nature of policy work at MBIE very appealing.
I believe my team, the high-octane Health and Safety Policy team at MBIE are the unsung heroes of the policy world, 'eliminating risks every day that you don't even know about'.
A highlight in the programme for me has been attending many stakeholder events around the country to talk about the issues that really matter around Health and Safety in New Zealand, particularly around developing a national strategy to enable better outcomes for all workers.
Eleanor Bell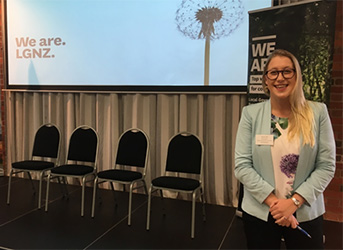 I have a Bachelor of Arts with Honours in French and Communication Studies.
I applied for the programme because one of the Senior Policy Advisors came down to Dunedin to speak to the students and made it clear that you didn't have to be a commerce or law student to be a policy advisor at MBIE. I liked that there was a diverse range of choices within MBIE and that they offered us such comprehensive training, seeing as I didn't know much about what policy was.
My favourite thing about the programme is our grad cohort, it's nice to feel like you have other people who are in the same boat as you and to bounce ideas off of. MBIE has a high trust and support environment, so you get to work on really interesting projects early on.
I've been working on a piece of policy that involves 5 different government agencies. It's really interesting to see how the agencies work together to ensure the best outcomes is achieved. As part of this I went to a local government forum to hear the perspectives of different stakeholders from around the country. It was great to get insight into how policies operate once they are in action.
Procurement graduates
Olivia Coleman
Current placement: New Zealand Defence Force (Airforce)
There is no opportunity quite like the Procurement Graduate Programme. People are welcoming and the relationship between the grads is really strong. You essentially get to have four different jobs in two years!
From understanding how the Government Rules of Sourcing work to analysing and managing contracts, the hands-on experience I've received is fantastic. I'm developing a keen interest in supplier relationship management and e-procurement tools.
Katrina Ross
Current placement: Ministry of Education
Completed placements: ACC, New Zealand Defence Force (Defence Commercial Services)
I came on board the programme with some experience in sales and customer relationship management. This earlier work experience has helped me to quickly adjust to the dynamic nature of this programme. I love telling everyone I get to "shop like a pro" for work! (That's short for procurer!)
The placements that I've been on have helped me identify my strengths and interests. I like working on continuous improvement initiatives and I find that there is a lot of room to add value in procurement. I can also reach out to my growing network of procurement professionals for advice.
Reagan Bourgeois
Current placement: New Zealand Health Partnerships
Completed placements: Auckland Transport, New Zealand Defence Force (Airforce)
The programme has helped me grow as a professional and hone the skills I have picked up at University and other jobs. I've become better at implementing change and managing multiple project deadlines.
I like that I can work across a range of sectors and understand how good procurement can shape better commercial or social outcomes. I'm also working towards professional qualifications in procurement as part of the programme and will complete my Diploma from the Chartered Institute of Procurement and Supply (CIPS) later this year.